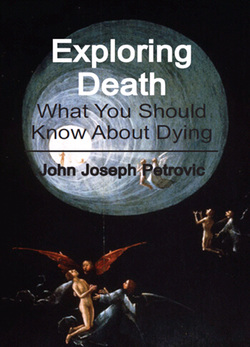 For a great many of us, the primal fear of death prevents us from fully experiencing the myriad joys of life. Paths leading to the greatest beauty and fulfillment are often not taken because they seem too hazardous for our survival. Even in our happiest and most secure moments, we sneak a peak over our shoulder to see if we are being stalked by death's angel. We push thoughts of death and dying into the far corners of our consciousness, only to fully surface when it finally is our own time to come face-to-face with the inevitable. This book leads the reader on a journey through the valley of death and to what may lay beyond. The reward for the journey is none other than the death of fear and, if you choose to explore this path, you will come to know this truth:

The day of your death is more joyous than the day of your birth.You may read this book for free below. Should you desire a paperback copy, it is available for purchase at amazon.com Two Different ViewsHow do you view your life here on Earth? Do you think it has a larger meaning and purpose in a continuum of cosmic flow, or are you just an infinitesimal speck on the surface of a small planet orbiting an insignificant sun on the edge of one of the 150 billion galaxies in the known, indifferent universe?

The famous philosopher Bertrand Russell thought the latter. Here is how he put it (1):

That man is the product of causes which had no prevision of the end they were achieving; that his origin, his growth, his hopes and fears, his loves and his beliefs, are but the outcome of accidental collocations of atoms; that no fire, no heroism, no intensity of thought or feeling, can preserve an individual life beyond the grave; that all the labours of the ages, all the devotion, all the inspiration, all the noonday brightness of human genius, are destined to extinction in the vast death of the solar system; and the whole temple of Man's achievement must inevitably be buried beneath the debris of a universe in ruins – all these things, if not quite beyond dispute, are yet so nearly certain, that no philosophy that rejects them can hope to stand. Only within the scaffolding of these truths, only on the firm foundation of unyielding despair, can the soul's habitation henceforth be safely built.

When I read Russell's words, I indeed find nothing but "unyielding despair" in them. A human life seems totally pointless and futile. Life has no larger meaning. What is the point of being here in the first place?

Now contrast Russell with the overwhelming experience that Richard Maurice Bucke, a Canadian physician and psychiatrist, had in 1872. Since Bucke considered himself to be a man of logic, he chose to write his account in the third person to express its factuality and accuracy (2):

It was in the early spring at the beginning of his thirty-sixth year. He and two friends had spent the evening reading Wordsworth, Shelley, Keats, Browning, and especially Whitman. They parted at midnight, and he had a long drive in a hansom (it was in an English city). His mind, deeply under the influences of the ideas, images, and emotions called up by the reading and talk of the evening, was calm and peaceful. He was in a state of quiet, almost passive enjoyment. All at once, without warning of any kind, he found himself wrapped around, as it were, by a flame-colored cloud. For an instant he thought of fire, some sudden conflagration in the great city; the next he knew that the light was within himself.

Directly afterwards came upon him a sense of exultation, of immense joyousness, accompanied or immediately followed by an intellectual illumination quite impossible to describe. Into his brain streamed one momentary lightning flash of the Brahmic Splendor which has ever since lightened his life; upon his heart fell one drop of Brahmic Bliss, leaving thenceforward for always an aftertaste of heaven. Among other things he did come to believe, he saw and knew that the Cosmos is not dead matter but a living Presence, that the soul of man is immortal, that the universe is so built and ordered that without any peradventure, all things work together for the good of each and all, that the foundation principle of the world is what we call love and that the happiness of everyone is, in the long run, absolutely certain. He claims that he learned more within the few seconds during which the illumination lasted than in previous months or even years of study and that he learned much that no study could ever have taught.

How reassuring it is to hear that there is a loving Cosmic Presence, that we have an immortal soul, and that "the happiness of everyone is, in the long run, absolutely certain". As a result of his experience, Bucke coined the term "Cosmic Consciousness", a phrase that I must say resonates with me on a deep level. Bucke's experience fills a person with hope for the future at the end of this lifetime. It makes one think that death is not the end, but rather a new beginning.




Thinking About Death

Have you thought about your death today? The vast majority of people will answer this question with a somewhat tremulous "No". They will then look at you a bit strangely for having asked the question in the first place.

Our death is not something we want to dwell on. We think such thoughts are morbid and depressing. Unless we have a terminal illness, we push these thoughts into the furthest recesses of our mind. We hope that we will not die today – or tomorrow. But the thought of death is nevertheless with us all the time, lurking in the background.

Here is something that puts such matters into a certain perspective. All those people who were living on Earth 125 years ago are now dead. Every single one of them. As I write this it is the year 2010, so that means every human being walking the planet in the year 1885 is now dead and gone. In 1885, the world population was approximately 1.5 billion people. This vast prior population is now no longer on the planet. A billion-and-a-half people have past out of earthly existence in this brief span of time!

Who was the oldest living person? The first chapter of the Bible, Genesis, says that people way back then lived to be very, very, very old. The Bible states that Adam was 930 years old when he died. Here is a listing of the life spans of some of the famous biblical figures as described in the Bible:

And Adam lived a hundred and thirty years, and begat a son in his own likeness, after his image; and called his name Seth. And the days of Adam after he had begotten Seth were eight hundred years: and he begat sons and daughters. And all the days that Adam lived were nine hundred and thirty (930) years, and he died.

And Seth lived a hundred and five years, and begat Enos. And Seth lived after he begat Enos eight hundred and seven years, and begat sons and daughters. And all the days of Seth were nine hundred and twelve (912) years, and he died.

And Enos lived ninety years, and begat Ca-i'nan. And Enos lived after he begat Ca-i'nan eight hundred and fifteen years, and begat sons and daughters. And all the days of Enos were nine hundred and five (905) years, and he died.

And Ca-i'nan lived seventy years, and begat Mahal'aleel. And Ca-i'nan lived after he begat Mahal'aleel eight hundred and forty years, and begat sons and daughters. And all the days of Ca-i'nan were nine hundred and ten (910) years, and he died.

And Mahal'aleel lived sixty and five years, and begat Jared. And Mahal'aleel lived after he begat Jared eight hundred and thirty years, and begat sons and daughters. And all the days of Mahal'aleel were eight hundred ninety and five (895) years, and he died.

And Jared lived a hundred sixty and two years, and he begat Enoch. And Jared lived after he begat Enoch eight hundred years, and begat sons and daughters. And all the days of Jared were nine hundred sixty and two (962) years, and he died.

And Enoch lived sixty and five years, and begat Methu'selah. And Enoch walked with God after he begat Methu'selah three hundred years, and begat sons and daughters. And all the days of Enoch were three hundred sixty and five years, and Enoch walked with God: and he was not, for God took him.

And Methu'selah lived a hundred eighty and seven years, and begat Lamech. And Methu'selah lived after he begat Lamech seven hundred eighty and two years, and begat sons and daughters. And all the days of Methu'selah were nine hundred sixty and nine (969) years, and he died.

And Lamech lived a hundred eighty and two years, and begat a son. And he called his name Noah, saying, this same shall comfort us concerning our work and toil of our hands, because of the ground which the Lord hath cursed. And Lamech lived after he begat Noah five hundred ninety and five years, and begat sons and daughters. And all the days of Lamech were seven hundred seventy and seven (777) years, and he died.

And Noah was five hundred years old. And Noah begat Shem, Ham, and Japheth. And Noah lived after the flood three hundred and fifty years. And all the days of Noah were nine hundred and fifty years (950), and he died.

These are the generations of Shem: Shem was a hundred years old, and begat Arphax'ad two years after the flood. And Shem lived after he begat Arphax'ad five hundred years, and begat sons and daughters. (Shem lived for 600 years)

And Arphax'ad lived five and thirty years, and begat Salah. And Arphax'ad lived after he begat Salah four hundred and three years, and begat sons and daughters. (Arphax'ad lived for 438 years)

And Salah lived thirty years, and begat Eber. And Salah lived after he begat Eber four hundred and three years, and begat sons and daughters. (Salah lived for 433 years)

And Eber lived four and thirty years, and begat Peleg. And Eber lived after he begat Peleg four hundred and thirty years, and begat sons and daughters. (Eber lived for 464 years)

And Peleg lived thirty years, and begat Re'u. And Peleg lived after he begat Re'u two hundred and nine years, and begat sons and daughters. (Peleg lived for 239 years)

And Re'u lived two and thirty years, and begat Serug. And Re'u lived after he begat Serug two hundred and seven years, and begat sons and daughters. (Re'u lived for 239 years)

And Serug lived thirty years, and begat Nahor. And Serug lived after he begat Nahor two hundred years, and begat sons and daughters. (Serug lived 230 years)

And Nahor lived nine and twenty years, and begat Terah. And Nahor lived after he begat Terah a hundred and nineteen years, and begat sons and daughters. (Nahor lived 148 years)

And Terah lived seventy years, and begat Abram, Nahor, and Haran. … And Terah took Abram his son, and Lot the son of Haran his son's son, and Sarai his daughter-in-law, his son Abram's wife; and they went forth with them from Ur of the Chaldees, to go into the land of Canaan; and they came unto Haran, and dwelt there. And the days of Terah were two hundred and five (205) years, and Terah died in Haran.

And Sarah was a hundred and seven and twenty years old. These were the years of the life of Sarah.

And these are the days of the years of Abraham's life which he lived, a hundred threescore and fifteen (175) years.

And the days of Isaac were a hundred and fourscore (180) years.

In the Bible, Jacob says that he was 130 years old when he met the Pharoah in Egypt, and it is said that he died at the age of 147. It is written that Joseph was 110 years old when he died. Moses is said to have been 120 years old at death, his brother Aaron died at 123, and Joshua died at 110.

One may note the decline in longevity as the lineage proceeds down from Adam in Genesis. The sharpest change is indicated to have happened after the Great Flood. Methu'selah holds the record at 969 years. By the time of Moses, the lifespan was "only" 120 years. David died at the age of 70.

Who was the longest-lived person in our historical times? That unambiguously documented honor goes to one Jeanne Louis Calmet who was born on February 21, 1875 and died on August 4, 1997, at the age of 122 years and 164 days. Jeanne Calmet lived her entire life in the town of Arles, France. She had the distinction of meeting the famous artist Vincent Van Gogh in the flesh, when she encountered him in 1888 as a thirteen-year-old girl in her uncle's fabric shop where he wanted to buy some canvas. Calmet described him as being "dirty, badly dressed and disagreeable", and said that he was "very ugly, ungracious, impolite, sick". Obviously, Jeanne was not a big fan of Van Gogh.

In 1965 at age 90 and since she had no living heirs, Jeanne Calment signed a contingency contract to sell her former apartment to lawyer André-François Raffray. Raffray, then aged 47, agreed to pay her a monthly sum of 2,500 francs until she died, an agreement sometimes called a "reverse mortgage". Raffray ended up paying Calment the equivalent of $180,000, which was more than double the apartment's value. After Raffray's death from cancer at the age of 77 in 1995, his widow continued the payments until Calment's death.

Those of you who still smoke may be interested to hear that Calmet gave up smoking at the age of 117, only five years before her death. When asked on one occasion about her prescription for a long life, she mentioned garlic, vegetables, cigarettes, red wine, and avoiding brawls. On another occasion, she ascribed her longevity and relatively youthful appearance for her age to olive oil, which she poured on all her food and rubbed onto her skin, as well as a diet of port wine, and nearly 1 kilo of chocolate eaten every week. In the end, Jeanne Louis Calmet died of heart failure at the very ripe old age of 122 (and 164 days). This was one healthy woman!

So, claims made in the Bible aside, no person has ever been documented to live to the age of 123.

Death is a subject that people definitely do not want to think about unless they absolutely must. Young people never think about death, it never enters their minds. They are too busy experiencing life and think they are indestructible and that, while they won't live forever, the end is a long, long way off. When I was young, that's exactly how I was. I only had brief exposures to death and thoughts about it.

When I was 22, a neighbor boy died suddenly in a car accident. This shocked me momentarily. My brother and I had spent many hours playing with him when we were younger and now he was abruptly gone. But it wasn't long until I put it completely out of my mind. At age 27, a coworker also died unexpectedly, again in a car accident. I remember thinking that I had been interacting with him just a few days before, and now he no longer existed. But, again, I stopped thinking about it.

The most interesting funeral that I ever attended occurred when my grandfather died at the age of 83. At the time of his death, my brother and I were in the process of hiking across the Grand Canyon in Arizona (from the North Rim to the South Rim).

I don't know how many of you have been to the North Rim of the Grand Canyon. It is significantly less accessible than the South Rim, which is where most of the tourists visit. To get to the North Rim, you have to drive through relatively unspoiled country and you certainly cannot get there on an interstate highway. But it's definitely worth the trip. The North Rim is beautifully pine forested since it is at an elevation of 9000 ft. The weather at the North Rim is relatively cool even in the summer and the Canyon vistas are superb.

Our intention was to hike to the Phantom Ranch at the bottom of the Canyon, spend the night camped out there, hike up to the South Rim the next day, and then get on a small plane to fly over the Canyon back to the North Rim, where we would rejoin our camping gear and car.

Early on a Saturday morning, we started descending from the North Rim on the North Kaibab trail, leaving all our camping gear as well as our car at the campground where we had camped the night before. It was a beautiful but steep downhill walk. On the way down, we had to walk around hikers who were sleeping in the trail (they had not quite made it to the top before dark the day before). We got to the landmark of Roaring Springs easily since we were moving downhill, and it was indeed a torrent of loud, roaring water. Eventually we arrived at the relatively flat Canyon floor.

And it was hot since we were doing this hike in August! But believe me, the only way to truly appreciate the Grand Canyon is to hike down into it. We had hiked 15 miles before we reached Phantom Ranch at about 2 pm in the afternoon. Then we proceeded to set up our camping spot there for the night, and once this was completed, we headed to the campground outhouse for a pit stop.

To our great surprise, there was a note pinned on the outhouse door, requesting us by name to see the Phantom Ranch Park Ranger as soon as possible. You should know that anyone who hikes the Canyon needs to register with the Park Service in advance, so they can be located if they experience problems or get lost.

Well, we immediately went over to the Park Ranger's office and he told us to phone home because our grandfather had just died. We proceeded to make the call and spoke with our grandmother who entreated us to attend the funeral. The funeral was on Tuesday, this was Saturday and we were physically at the very bottom of the Grand Canyon! But we couldn't say no and we told her we would do our best to be there on Monday for our grandfather's wake and his funeral on Tuesday. The "there" was Cleveland, Ohio.

After hanging up, we asked the Park Ranger about the fastest ways to get to the South Rim of the Canyon. He told us that helicopters were only used for medical emergencies and that the mule trains were fully booked up. The Ranger advised us that the only way we could get out quickly was to hike out!

By now it was 3 pm on Saturday, and we had just hiked 15 miles to get to the Phantom Ranch. But we were young and foolish, and filled with a high level of adrenalin. So we hastily pulled up camp and started hiking out of the Canyon in the heat of the afternoon in August. I remember hiking across the Colorado River on the suspension bridge. It was wild and beautiful. That was the easy part. Then we started hiking uphill.

The thing with hiking across canyons is that you do the easy downhill part first. It is much harder to walk uphill. Anyway, we set off on the uphill Bright Angel Trail towards the South Rim. At one point we had to stop while we road out a thunderstorm. At another point, there was a very refreshing pool of water beside the trail, and we went in, clothes and all (but not our packs). As dusk approached, we reached the plateau area below the South Rim, and the campground there called Indian Gardens. We only had enough energy left to pitch our tent, and then immediately went to sleep.

Early the next day, Sunday, we arose, broke camp, and started up the last steep portion of the Bright Angel Trail to the South Rim. Finally, we reached the South Rim at about 11 am.

Our next task was to figure out how to fly back to Cleveland. At a lodge on the South Rim, we made travel arrangements to fly early the next day, Monday, from Grand Canyon to Las Vegas to Cleveland. We would get into Cleveland on Monday at 2 pm. This was the earliest that we could book anything to return for the funeral. So we stayed at the lodge Sunday night. I remember watching astronauts walk on the moon on the TV in the lounge area of the lodge. What a contrast between raw nature and raw technology.

We awoke early Monday morning, then boarded a flight at the Grand Canyon airport and flew to Las Vegas for our connecting flight to Cleveland. I recall walking past the numerous slot machines in the Las Vegas airport. Basically, we flew to Cleveland in our hiking attire and hiking boots, and with only the backpacks for luggage. Arriving at the Cleveland airport in the afternoon, we jumped into a taxi and went directly to the funeral home where our grandfather was laid out. In we went to pay our respects, in all of our rough hewn backpacking glory.

Our grandmother was very happy to see us that afternoon. As for our grandfather, well he was deader than a doornail in terms of his physical body. However, if his spirit was observing, I'm sure that he would have been pleased, since he had spent significant time during his life riding the rails and seeing a great deal of the vast American landscape.

As I remember, we didn't stay long in Cleveland. After attending the wake, we went to our parent's home to clean up and spent the night there. In the morning, we attended our grandfather's funeral and we then immediately left to fly back to the Grand Canyon. We were eager to get back right away, since we had left all of our stuff and the car on the North Rim of the Canyon.

When we arrived at the Grand Canyon airport, we made arrangements to fly from the South Rim to the North Rim in a light prop plane. The flight over the Canyon was spectacular and beautiful. The plane approached the North Rim and proceeded to land on a dirt landing strip there. We disembarked and then walked a little distance to the campsite to rejoin our camping gear and the car, which were still there and in fine shape.

I will indeed never forget the events surrounding my grandfather's death. As was the case with me, for young people death and funerals are only a backdrop for the activities of life.

However, for older people the situation is quite different. We start attending the funerals of relatives or friends, many of whom were not much older than ourselves. We pay our respects at these funerals to the living loved ones (it is irrelevant to the person who died whether we were there or not). We fulfill our social obligations. But we begin to think more and more about the finiteness of life and our own demise. These are not comfortable thoughts. When will we die and what will dying be like? Will it be painful? Will I cease to exist? We think about these things for a while, then try to remove them from the forefront of our mind. But they remain in the background, making us uneasy.

Yes, funerals force you to think about death, and with increasing frequency as you yourself get older. Gradually, the people who have died are your age, then, if you're lucky, younger than you. At this point most people definitely start thinking and worrying about dying.

Why do people fear death? There are a number of reasons. First, there is the fear of being wrenched from existence into non-existence. This has been my greatest personal fear. The idea that my existence and consciousness would suddenly and completely be gone forever is something that I find extremely difficult to accept. If this were actually true, then what is the meaning of life at all? What's the point in all the joy and suffering, all the highs and lows, all the beauty and creativity of life. There would seem to be no point at all. Life would be meaningless. I often wonder: Where was I before I was born? I was born in April 1946, so before July 1945 there was no physical "me" in any form on the Earth. But where was "I"? Did I still exist and have consciousness somewhere else, in the spiritual realm? My intuition tells me that I did.

Fear of the unknown is another reason that many people fear death. There is a distinct tendency for human beings to fear things that are mysterious to them. And death is, of course, perhaps the ultimate mystery. But the more people know about the subject of death, the less unknown it becomes. And there are a number of things that can be known. This book is an attempt to present some of the knowledge about death that is out there. Perhaps the best information is associated with the reports people make about near-death experiences, or NDEs. We will have much more to say about this informational base later on.

Then there are people who fear death because they dread God's judgment and retribution for evil things they may have done in life. They fear being damned to hell forever, as some religions say will happen to evildoers. People say that some ghosts are motivated to stay in the earthly plane after death for this reason. They do not want to move "into the light" because of their fear of judgment and punishment.

Finally, there is the fear of the dying process itself, the pain and suffering that may be associated with death. People do not want to entertain the thought of being shot, stabbed, or bludgeoned in a violent death, or mangled or burned beyond recognition in an auto or aircraft accident. Nor do they want to think of the prolonged suffering and pain as a result of a terminal illness such as cancer. Most people will say that they hope their own death will be quick and painless. In my own case, I would certainly prefer this scenario, since I do not myself look forward to the dying process.

But the fact of the matter is that you need to think about death, about your own death. Death is unavoidable, there is a 100% probability that you will die "at some point in your life". And this can happen at any time and in any place and under any circumstance, even the most freakish. Think about the people who came to work in the Twin Towers in New York City on September 11, 2001. How many of the 3000 people who died that day thought when they woke up in the morning that they would be dead by evening? Maybe a very few thought of this possibility, but most certainly did not. You need to think about your own death, not in a morbid way, but simply logically. As the old Boy Scout motto says, you need to "Be Prepared".




Causes of Death

Here are the things that can cause any particular person's death: accidents, sickness, war, natural disasters, murder, suicide, capital punishment, old age.

Accidents happen. Almost everyone has driven by the scenes of traffic accidents many times. Typically, many people slow down to get a better look at the accident scene and to see if anyone has been injured. Such slow-downs often result in additional accidents. However most people have not observed an accident scene with fatalities up close and personal. I did once. I was driving in the city one night, there was a smashed car on the sidewalk and there was a dead body right next to it. The police were already on the scene so I did not stop, but I did slow down and could readily see the corpse, a relatively young male, lying lifeless on the pavement. Since I was a young man at the time, the sight definitely gave me pause, at least for a little while. I didn't forget it, I simply repressed the memory.

In my life, I have thankfully only been in a serious automobile accident once. After a long day of graduate student work, I was driving home one evening when a car very suddenly made a perpendicular turn directly into my lane. I had only about one second to react and the only thing I could do was stomp on the brakes. This slowed me down significantly, but I still hit him broadside with the front of my car. The impact caused my head to hit the windshield (those were the days before people routinely wore seat belts) and left me dazed for a few minutes. The front of my car, a Volkswagen Beetle, was crunched in, but fortunately the gas tank which is in the front did not rupture in the crash. Had it done so, I would have been engulfed in flames and, in my dazed condition, it is unlikely that I could have opened the door and gotten out of the burning car in time. I was very lucky that night. I could have died.

Another type of accident that people can relate to is the airplane crash. The reason is that most people fly on planes, with more or less frequency. I, myself, have always been a rather nervous flyer. I have taken so many plane flights in my life, maybe on the next one my luck will run out. It does happen, although the airlines will always tell you that it's much safer to fly than to drive. The closest call I ever had on a plane flight was when the Boeing 707 I was taking from Washington DC to Denver blew an engine in flight over Cleveland. Fortunately, the 707 had three other engines, so we landed safely and securely - but in Chicago rather than Denver! Believe me, I was very happy to be on the ground in Chicago even though that was not my final destination.

Remember the collision of two 747's that happened in Tenerife in 1977, where 574 people died? Or the roof fuselage that blew out in flight in Hawaii where the stewardess was sucked out of the plane to her death? Or the flight that had an engine turbine blade failure in-flight that wiped out the plane's hydraulic systems. It crashed upon landing and half of the people on board died. Fortunately, half did not. The lucky ones.

Accidents can also take place on a large scale, usually in the form of industrial accidents. When I was a kid growing up in the inner city of Cleveland, Ohio, my playmates and I used to frequent a little play park. We had a great time there as kids, there were slides and swings and courts for basketball and a baseball diamond. But later in life I heard the story of why that park was there in the first place. It turned out that during World War II, the site was the location of a couple of large, liquid natural gas tanks. One night in October 1944, these tanks ruptured and the liquid natural gas was spilled into the surrounding residential neighborhood, causing 200 deaths and leaving 600 people homeless. This became known as the East Ohio Gas Explosion. So the reason why my childhood park existed was because of the death and destruction associated with that previous event.

People get sick and die all the time. But sometimes this occurs in large numbers, and sometimes in unexpected ways. Take the 1918 Spanish Flu pandemic, which killed 20 million people in the space of a year. In fact, more people died of the Spanish Flu than died in World War I. There was a little ditty that went around at the time: "I had a little bird, its name was Enza. I opened up the window, and in-flew-Enza". Even the President of the United States was said to have know this ditty. They thought it was the end of humanity. It wasn't, because the Spanish Flu "died out" on its own, but not as a result of any actions that human beings took.

Sometime sickness and death is expected, as when people get terminal cancer. But sometimes it comes in very unexpected ways. I remember the case of a teenage boy in the town of White Rock, New Mexico in the 1980's where I used to live. This boy stuck his arm into a hole in the ground in his backyard, and the next day, because of this action, he was dead! How was this possible? Well, it turns out that in New Mexico (as well as other Southwestern and Western States) the plague is endemic amongst the wild rodent population. So if you live there, you definitely need to keep your distance from, and especially do not handle, things like field mice, squirrels, burrowing rodents, and other wild animals, since the fleas they harbor may be carrying the plague. The hole the boy stuck his hand into was a rodent hole, and he was bitten by plague-infected fleas. Now normally, people pick up the bubonic form of plague (think Black Death) by such contacts, and the doctors in New Mexico know how to recognize and treat it effectively, so almost no one dies of bubonic plague there. Unfortunately, this boy was infected with the septicemic version of the plague, which is much more virulent and deadly. And so he died in a day. Image, someone in your neighborhood dying of the plague in this day and age! It seemed totally ironic to me at the time, and still does today.

War is a major human activity that causes large-scale deaths. Death in war goes back to the dawn of civilization. But with time, the scale and intensity of war has increased dramatically, particularly as the technology of war has escalated. There were 0.5 million primarily military deaths in the nineteenth century U.S. Civil War. In the early twentieth century, there were 16 million military and civilian deaths brought about by World War I, and in World War II, this number rose to 60 million! And most of these deaths, both soldier and civilian, were grisly. There are so many examples of the madness of war in World War II. The Nazi Holocaust, the cruelty of the Japanese occupation of China, the fire-bombing of Dresden, and the atomic bombing of Hiroshima and Nagasaki come prominently to mind. Modern wars have caused the demise of countless numbers of soldiers and, increasingly, civilians.

For me personally, the touch of war-related death has been slight. None of my immediate relatives and close friends died in wars. I do have a memory of two twin boys who I grew up with in my neighborhood. We went to the same grade school and played in the same baseball league. One of the twins went to college and the other went to Vietnam - and was killed there.

Certainly, war deaths have affected the course of history. The case of Joseph Kennedy Jr. comes to mind. Joe Kennedy Jr. was the Kennedy son designated by Joe Kennedy Sr. to someday become President of the United States. But Joe Jr. was killed piloting a plane on a mission in World War II. And so it was his brother John who became President, a President who was assassinated while in office. One has to wonder what the world would have been like if it was Joe, rather than John, who was elected in 1960.

In terms of death from natural disasters, there have been six major mass extinctions identified in Earth's history. The Cambrian-Ordovician extinction occurred approximately 490 million years ago and caused the termination of many brachiopod and trilobite species. The causes of this extinction are not known. About 440 million years ago, the Ordovician-Silurian extinction, thought to be caused by changes in sea levels due to glaciation, produced a 60% reduction in marine species. The late Devonian extinction of 360 million years ago (cause unknown) again killed 60% of the marine species that survived the earlier extinction. The Permian-Triassic extinction event is the largest known and happened 250 million years ago. As a result, 96% of all marine species and 70% of all land species died. It is thought that the P-T catastrophe may have been due to a comet or asteroid impact and perhaps impact-related volcanism. About 200 million years ago, the Triassic-Jurassic extinction killed many species and set the stage for the rise of the dinosaurs.

The most-investigated extinction is the Cretaceous-Tertiary (or K-T) event that happened 65 million years ago. Due to high iridium levels in the rocks marking this event, it is thought to have been caused by an asteroid impact which occurred at the site of the present Yucatan peninsula. This is the extinction that wiped out the dinosaurs and set the stage for the rise of the mammals, of which man is now the dominant species.

Natural disasters can cause great loss of life. The most dramatic recent example is the December 2004 earthquake-produced tsunami that killed 250,000 people across the Asian Pacific region. I had occasion to visit Chennai, India in February 2005, shortly after this tragedy took place. Although most of the deaths occurred in the Indonesian area, about 6000 people in Chennai died from the tsunami that hit the beach there on the Indian subcontinent. We stood on the beach where these tsunami deaths had occurred and talked to survivors about what had happened on that terrible day. Unfortunate people on the beaches there and other places that day would never have imagined that their lives would be cut short in such a way.

Through acts of violence, people are murdered every day. Such murders may be due to criminal activities, or random acts of violence, or premeditated acts. Quite a few murders happen because of family arguments that are taken to the extreme. The saddest murders are those of innocents.

We remember most vividly the murders of famous people. We remember where we were and what we were doing when it happened. In the case of President Kennedy, I was a freshman in college and attending a class the day of November 23, 1963. An announcement was made that the President had been shot and killed in Dallas. Although the class went on as scheduled, I could not concentrate on it at all. All I could think about was the shock of what had just happened. One wonders what Kennedy was thinking just before those shots range out in Dealy Plaza on that day in Dallas. His thoughts were undoubtedly far from what would transpire in just a few seconds. The abruptness of it all. One second the President of the United States riding in the sun through the streets of Dallas, the next second, a mortally wounded human being.

Mass murders happen in this world. The case of the genocide in Rwanda in 1994 comes immediately to mind, where 1,000,000 Tutsis were slaughtered by the Hutu's. At that time, there were reports of UN workers observing the killing of 1000 children in a Polish church there. Most of the Tutsis were killed by the Hutu neighbors in their villages. The favored form of extermination was to be hacked to death with a machete. Murder on a truly grand scale.

Death can happen by suicide. The famous author Ernest Hemingway took his own life, at the age of 61. In 1961 in Sun Valley, Idaho, Hemingway loaded a shotgun, put the barrel in his mouth, and blew his brains out. What motivated him to take his own life? He was having significant health problems at the time, as well as problems with memory loss. Perhaps he came to the conclusion that life was no longer worth living. People are increasingly choosing to end their lives, rather than experience the pain and suffering of illness or old age. Suicides often also happen when people become severely depressed and think that the only way out is to end it all.

Capital punishment is a way some people meet their demise. Death by stoning for adulterous acts is described in the Bible, and even happens in some Islamic countries right up to the present day. People have been executed by having their heads chopped off and being hanged by the neck. In recent times, technological advances have produced execution by firing squad, electric chair, and lethal injection. The murderer Gary Gilmore was executed by firing squad in 1977 after uttering the famous last words "let's do it". But of course the most famous case of capital punishment was the death of Jesus on the Roman cross. We will have more to say about this particular execution.

If one doesn't die from any of the above means, then death will come from one of the scourges of old age. As a person gets older, their body and mind begin to increasingly deteriorate. We can't do all the physical things that we used to do easily. We start having trouble remembering things (this usually begins with people's names). Older people have serious medical conditions – heart attacks, strokes, cancer. If they do not die from a medical condition, their minds start to go from Alzheimer's disease. With good genetics and a healthy lifestyle, a person can live a healthy and productive life into their 70's. But once they get into their 80's, typically things start to seriously break down. In the end, if nothing else gets you, you will succumb to "heart failure". No one lives forever.





Death Rituals What happens as a person grows older? If you are healthy, aside from the increasing daily aches and pains and the occasional "senior moments", you start to notice that people who you have interacted with are being to die off. If you get newsletters from the places that you have worked, you increasingly find yourself scanning over the obituaries section to see if anyone you knew has died recently. If you do see someone there, you think about that person and the interactions that you had with them. And you reflect on when your own time will come.

The "senior moments" start to become annoying. You search for a name or a word that should come immediately to mind and it doesn't. If this happens when you are in the middle of a conversation, you have to scramble to cover the fact that you cannot remember this information. You will notice that, later on, the information that you could not recall will pop back into your mind, but by then it is too late. Your brain's neurons and synapses are just not working as well as they used to.

There comes a time when you cannot live independently anymore, either for medical or mental reasons. My own mother was fortunate that she was able to live in her own home until her mid-80's. She could live at home and she was able to get around by car herself. But then she started to lose her mobility due to problems with her legs. Because of this, she could no longer climb the stairs to the second floor, nor could she go down into the basement. The steps that led down to the side door became a significant hazard for her. And she was not longer able to drive safely.

So it became necessary for her to radically alter her lifestyle and move into a senior nursing home. The nursing home was a good one with an excellent staff and facilities and my mother said that she especially enjoyed the food there. She shared a room with a woman who appeared older that she and bedridden. When I visited her at the nursing home, I was quite struck by the age and frailty of its residents. They looked old, moved old, and thought old. I couldn't help but reflect that in a few short years I would be in a similar position, and perhaps location. Yet, despite the pressures of age, most of them appeared reasonably happy. They enjoyed the company of each other and of the nursing home staff. They especially enjoyed visits from friends and relatives. My mother died suddenly and unexpectedly in that nursing home, with none of her relatives or friends at her side.

A hundred years ago, most people died in their own homes, in the presence of and attended by relatives. There might be a wake service held in the home, and then there was a funeral service and the deceased was finally laid to rest in the local cemetery. That's not how it is today.

Today things are different. Upon the death of a loved one, the first step is to call the local funeral parlor and advise them to pick up the corpse. This is followed by a visit to select a casket and arrange the details of the funeral. There is typically a wake, where the body of the deceased is displayed for family and friends to view. After the initial obligatory viewing and condolence wishes to close relatives, people stand around talking about the deceased as well as a myriad of other topics. Sometimes food and refreshments are available. The funeral parlor staff take care of all the details with the proper decorum.

I have always found wakes to be rather uncomfortable affairs. My mother's wake was no exception. I viewed her dead body and my thought was that it was truly an empty shell. That shell was not really my mother. She was now somewhere else and I didn't think she was anywhere near the wake room. At wakes, you get to see and talk to people (usually in muted tones) you have not seen for some time, and also many people who have known the deceased and you as a child, but who do not really know you as an adult. The young people at wakes are the ones that appear the most uncomfortable. They just want this over with so that they can leave and go on experiencing life. The exception to this, however, is the Irish wake. Irish wakes are never somber affairs. They are a celebration of the dead person's life, accomplishments, and good deeds. And of course everyone there is in good "spirits".

The day after the wake is the day of the funeral and burial. Arrangements have been made for a service at the local church and the casket arrives in a hearse from the funeral parlor, attended by a phalanx of funeral home staffers. The casket enters the church, followed by the close relatives and friends. Then the religious service begins. In my mother's case it was a Catholic service. The choir that she used to be a member of and which she loved very much sang beautifully and valiantly for her. Then the parish priest gave the standard requiem sermon. There were no eulogies.

When the service was over, the casket was taken out of the church by the pallbearers (I was one) and transferred into the hearse for the trip out to the cemetery. My wife and I road in a limo with my brother and his wife. This was followed by the usual caravan of flag-decorated cars.

At the cemetery, our limo stopped in front of the tent-covered burial site, which was right next to the grave site of my father; my parents had some years ago selected their grave sites. The priest said some final words over the casket, people draped the casket with a few flowers, and it was lowered into the grave. Then it was over and everyone quickly left to go home. As I left, I noticed that my father's grave stone had the same first and last name as my own (I was a jr. for a while). As I left the cemetery, my thought was that I definitely wanted to be cremated.

I consider cemeteries to be a colossal waste of land that could be put to much better use for society. I remember visiting a local cemetery in Cape Cod, Massachusetts once. Many of the gravestones were so old that the lettering on them had long ago worn completely away because of exposure to the elements. Who were these people? They had been totally erased by time. If you think about it, who visits the graves of people anyway? Typically, it is the close generational relatives, children, and perhaps the grandchildren of the deceased. After these relatives die off, the fact is that no one visits these graves anymore. The only exceptions are the graves of historically famous people, such as Samuel Adams in the cemetery in downtown Boston.

After the funeral is over, the grieving process may continue for some time, depending on the tendency of the grieving individuals. A century ago, the wife of the deceased might wear only black for a year after the death of her husband. Today, things are not quite that extreme, but the wife may be in the grieving process for some months. Society expects the close relatives to at least shown a little grief after the death of a relative, as a reflection of the loss of physical contact with that person. My father died twelve years before my mother did, and I know that, while she did not grieve for him openly throughout that twelve-year period, she certainly missed him on a daily basis. In my case, I had no grief over the death of either my father or my mother because I know that their essence continues in a more expansive level of existence.

Whether you are buried or cremated is a personal choice that is often dictated by your religious beliefs. There is no doubt that the Christian faith favors burial. The reason for this is that there is a belief in the resurrection of the body at Christ's second coming. This is very ingrained in Christianity. The Nicean Creed ends with the words: "We look for the resurrection of the dead, and the life of the world to come". It would seem that in this view, the resurrection of the dead requires some elements of the dead body to still be in existence, hence the favoring of burial. On the other hand, Hinduism and Buddhism have a strong commitment to cremation. In India, the dead person is cremated, and the ashes scattered in the sacred river.

Although I was born a Catholic, my personal preference is for cremation. This process is so much simpler than burial. No fuss, no muss. Just a small urn of ashes at the end. And what is done with the ashes depends either on what is stated in your will, or on the feelings of your closest relatives. If you were the black sheep of the family, they may want to get your ash out of there as quickly as possible.





Death Throughout History

Prehistory:

In the sequence of human evolution, the ability to make and use simple tools began with homo habilis about two million years ago. Homo habilis then evolved into homo erectus 1.5 million years ago who continued refining the use of tools. However, neither habilis nor erectus is thought to have evolved the capability of spoken language. The ability for language is considered to have begun with homo sapiens 500,000 years before the present.

There is no evidence that these early homo's took any special care about their dead. The dead were probably allowed to decay in the open where they died. What happens to a human corpse that dies in the open? First, the predators arrive to consume parts of the carcass. If the weather is warm, flies will descend and lay eggs in and on the body. The body begins to putrefy, swell, and bloat. It releases gases such as methane and hydrogen sulfide, which accounts for the horrible smell of death. Insects and their larvae feed off of the decaying flesh, and eventually all the bodily fluids soak down into the ground. At this stage, the corpse has turned black. Eventually, all soft tissue has been consumed by insects, and only the bones are left to dry in the sun and wind. Finally, the bones are overgrown by vegetation and, with time, they themselves disintegrate. This was the fate of nearly all those who died in the oldest prehistory of homo.

The development of rituals for the dead began with later homo sapiens. Actually, homo sapiens were composed of two groups, homo sapiens neanderthalensis and homo sapiens sapiens (who were essentially modern humans in physiology). Home sapiens sapiens living in Europe are referred to as Cro-magnons. Neanderthals inhabited Europe and parts of Asia from 230,000 to 29,000 years ago. Cro-magnons were thought to have come out of Africa about 120,000 years ago. Neanderthals and Cro-magnons co-existed together for thousands of years before the Neanderthals eventually disappeared. The Neanderthals were somewhat shorter than Cro-magnons, but interestingly they had a brain that was about 10% larger. Neanderthals were not as proficient at tool- and weapon-making as were Cro-magnons and it is thought that they did not possess the oral language abilities that Cro-magnons had developed. Interestingly, recent genetic studies have shown that Neanderthals and Cro-magnons interbred to some extent, since the DNA of modern European populations has been observed to contain approximately 5% Neanderthal DNA.

Neanderthals did appear to possess a rudimentary form of death ritual and burial. In some cases Neanderthal burials include grave goods such as bison and aurochs bones, tools, and the pigment ochre. However, Cro-magnon burials were more elaborate. At a 28,000 year old site in Russia were buried two young individuals and an older person. Each of the dead corpses was dressed in clothing that contained more than three thousand ivory beads sewn in for decoration. They also wore carved pendants, bracelets, and shell necklaces. Also found at the burial site were numerous bone tools and carved objects, including wheel-like forms and a small ivory horse decorated with a regular pattern of tiny holes. The bodies were flanked by two mammoth tusks that were over two yards long.

Sumeria:

One of the earliest known written literary works is the Poem of Gilgamesh, which was discovered by Austen Henry Layard in the library of Ashurbanipal in Nineveh in 1849. It is written in Sumerian text on clay tablets, and relates an epic story of Gilgamesh who was a Sumerian king in 2700 BCE. The story begins with an introduction to Gilgamesh of Uruk, the greatest king on earth, two-thirds god and one-third human, and depicted as the strongest king-god who ever existed.

The epic tells stories of Gilgamesh's many adventures with his friend Enkidu, and of his quest for immortality. The gods had created Enkidu, a wild-man, to help Gilgamesh mend some of his nefarious ways, such as sleeping with brides in his kingdom on their wedding night before their husbands had the opportunity to do so. Enkidu and Gilgamesh became great friends and had many grand adventures together during which they slew various beasts and demi-gods. But the gods dictated that Enkidu must die in retribution for Gilgamesh's and Enkidu's killing of some of their minions. So Enkidu fell ill. He became more and more feeble and described his descent into the Netherworld as he was dying, which he called the "House of Dust" where the dead wear feathers like birds, eat clay, and do without light. When Enkidu died, Gilgamesh mourned for him and would not leave the side of his body until a maggot fell from Enkidu's nose. Thereafter, Gilgamesh went on a quest to seek the means of attaining eternal life. In the hope that he could attain immortality, he made a perilous journey to visit Utnapishtim (the Faraway, a Sumerian mythology counterpart of Noah) and his wife, the only humans to have survived the Great Flood and who were granted immortality by the gods. After a long quest to find Utnapishtim, Utnapishtim told Gilgamesh of a boxthorn-like plant at the very bottom of the ocean that would give him eternal life. Gilgamesh managed to obtain the plant but unfortunately, when he left the plant on the bank of a lake to bath himself, a snake stole it and was "reborn" with a new snakeskin.

Egypt:

The primary death ritual book of Egypt is the Egyptian Book of the Dead, which is described in the Papyrus of Ani, a Scribe and Treasurer of the Temple of Egypt in the period about 1450 BCE. The Book of the Dead is said to derive from earlier Pyramid Texts, which appeared at the end of the Fifth Dynasty in Egypt's Age of the Pyramids about 2400 BCE. Essentially, the Book of the Dead describes the adventures of the dead Ani, as his spirit travels in the underworld presided over by Osiris, and it combines hieroglyphic text with illustrations of scenes.

The Book begins with introductory hymns to the Sun-God Re and to the Underworld-God Osiris. After these hymns, Ani is judged by the Judge of Truth, the God Thoth. Thoth judges Ani as follows (3):

I have judged the heart of the deceased, and his soul stands as a witness for him. His deeds are righteous in the great balance, and no sin has been found in him. He did not diminish the offerings in the temples, he did not destroy what had been made, he did not go about with deceitful speech while he was on earth.

Thus says the Great Ennead to Thoth who is in Hermopolis: This utterance of yours is true. The vindicated Osiris Ani is straightforward, he has no sin, there is no accusation against him before us, Ammit shall not be permitted to have power over him. Let there be given to him the offerings which are issued in the presence of Osiris, and may a grant of land be established in the Field of Offerings as for the Followers of Horus.

Thus says Horus son of Isis: I have come to you, O Wennefer (Note: Wennefer is another name for Osiris), and I bring Ani to you. His heart is true, having gone forth from the balance, and he has not sinned against any god or any goddess. Thoth has judged him in writing which has been told to Ennead, and Maat the great has witnessed. Let there be given to him bread and beer which have been issued in the presence of Osiris, and he will be forever like the Followers of Horus.

Thus says Ani: Here I am in your presence, O Lord of the West. There is no wrongdoing in my body, I have not wittingly told lies, there has been no second fault. Grant that I may be like the favored ones who are in your suite, O Osiris, one greatly favored by the good god, one loved of the Lord of the Two Lands, Ani, vindicated before Osiris.

If Ani had not been judged worthy, he would have been damned, but he was found worthy by Thoth and he is then approved by Osiris.

The Book of the Dead is essentially the Egyptian version of what might be referred to as "boilerplate death paperwork" that anyone could buy in advance and then have placed in their grave with the body. Although the particular version that has survived the ages fully intact is in the Papyrus of Ani, various other versions had blank spaces where the scribes could enter the name and titles of the decreased.

The Book is composed of 189 chapters (3). In chapters 1-16, the recently dead person enters the tomb and then descends to the underworld. There, the corpse of the deceased must regain the physical attributes and capabilities that it had while on earth. In chapters 17-63, the nature and mythological origin of the gods and key places in the underworld are explained. The dead person is transformed back to life so that he (or she) can arise as the reborn morning sun. In chapters 64-129, the deceased individual travels across the sky in the sun-bark in the role of one of the blessed dead. In the evening, the dead soul continues to travel through the sky in the underworld. Eventually, he appears before Osiris, the God of the Underworld, and other judges of the dead as someone who has already been judged worthy of continued honored existence. In chapters 130-189, the deceased assumes his power in the universe as one of the lesser gods.

The Egyptian Book of the Dead is a beautifully illustrated document to read, but it is also a very difficult one for someone from this day and age to understand and interpret. While Osiris has a human face, the initial Judgment God, Thoth, is depicted as a person with the head of an ibis and the god Horus also has the head of a bird. There are a great many gods and goddesses in the Book of the Dead, and it is not at all clear what celestial hierarchy there may be, if any. The two most important gods appear to be Osiris and Re, but there does not seem to be a single overarching supreme god above these. Similarly, the various rituals and procedures described in the Book of the Dead are very hard to fathom.

Perhaps the most famous and complete Egyptian death burial known to modern man is that of Tutankhamun. On November 26, 1922 Howard Carter in the presence of his mentor Lord Carnarvon first opened the burial chamber of King Tutankhamun. Carter broke a hole in the door and inserted a candle for light. Standing over his shoulder, Lord Carnarvon asked "Can you see anything?" Carter's reply was "Yes, wonderful things." And indeed they were. Carter was the first to glimpse the undisturbed burial treasures of a Pharoah of Egypt.

The burial treasures were absolutely fabulous. A gold sarcophagus that contained the mummy of the dead king. Items of furniture gilded in gold. Golden statues of Tutankhamun. The king's throne. Any many, many others.

But who was Tutankhamun? He was a boy-king who was born in 1341 BCE and died in 1323 BCE. He was Egypt's Pharoah from 1334-1323 BCE. Tutankhamun died at the age of 19, the cause of death thought to be a head injury. Many suspect that he had been murdered. He was buried, apparently rather hastily, in the Valley of the Kings. Although all the other tombs in the Valley of the Kings at Thebes were later plundered, the tomb in which Tutankhamen was ultimately buried was hidden by rock chips dumped from cutting the tomb of a later king. Thus, it lay undisturbed until Carter's discovery in 1922. With regard to Tutankhamun's lineage, the most common hypothesis holds that Tutankhamun was the son of Akhenaten, also known as Amenhotep IV, and his minor wife Queen Kiya. In terms of the significance of his reign, Tutankhamun is credited with reversing the one-god theology of Akhenaten, and reverting back to the pantheon of Egyptian gods and goddesses.

Hindu:

The Hindu civilization is a very old one. Some say that it even predates the Egyptian civilization. Ideas about death are contained in the Vedas (the oldest Hindu texts), the Upanishads which are later interpretations of the Vedas, and in the Bhagavad Gita, the most famous of Hindu writings.

The Vedas are the most ancient Hindu scriptures. Current anthropological thinking is that they were first placed in written form about 1700 BCE, although there are those who argue that their first written form dates back to about 3000 BCE, the time of the Mahabharata War, when they are said to have been first written down by the Brahmin priest Vyasa. The Rig Veda, the first of the Vedas, refers to the god Yama as the keeper of the afterlife. Those who have lived virtuous lives are accepted into everlasting blissful existence in paradise in the bosom of Brahman.

Somewhat later, the concepts of reincarnation and karma were introduced in the Upanishads. Death is viewed as part of the life-death cycle that is dictated by a person's karma. When one dies in the current life, they are reborn in a new life, based upon their karmic load. Karma is the sum total of a person's thoughts and actions in a given lifetime. If your karma is good, you can be reborn into a higher level. For example, Indian "untouchables", the lowest caste, can be reborn as Brahmins, the highest caste, if their karma has been good. Conversely, if your karma is bad, you can be reborn into a lower form of life, even as low as animals and insects. The purpose of this birth-rebirth cycle is to reduce your bad karma to zero. Once this has been achieved, you are no longer reborn but rather reside forever in the spiritual "ocean of Brahman".

Vedic scriptures provide a series of rituals called samskaras that are designed to help Hindus lead lives that generate good karma. There are samskaras for birth, child naming, education, marriage, retirement, and finally death. The death samskara involves cremation of the body. Once cremated, the person's ashes are distributed in water, preferably the Ganges River if at all possible.

The famous Hindu scripture, the Bhagavad Gita, is set in the Mahabharata War, which is said to have taken place about 3000 BCE in northern India. The two chief characters are Arjuna and Krishna. The Mahabharata War was a war between relatives, the people in both clans knew each other well and indeed in some cases were related by blood. Prior to the battle, the two sides are camped near one another with an open space, soon to be the battlefield, in between them. Arjuna is a prince of one of the adversarial groups, whose battle skill is archery. Krishna is Arjuna's charioteer. However, unknown to Arjuna, Krishna is also the incarnation of the Hindu god Vishnu.

Arjuna and Krishna ride out to the middle of the soon-to-be-battlefield on the night before the impending battle, and Arjuna laments that he does not want to have to fight and kill all his friends and relatives on the other side. Krishna then admonishes him and tells him that it is his duty and destiny to do so.

With regard to the subject of death, Krishna makes the following statements to Arjuna in the Bhagavad Gita (4):

There has never been a time when you and I and the kings gathered here have not existed, nor will there be a time when we will cease to exist. As the same person inhabits the body through childhood, youth, and old age, so too at the time of death he attains another body.

The impermanent has no reality; reality lies in the eternal. Those who have seen the boundary between these two have attained the end of all knowledge. Realize that which pervades the universe and is indestructible; no power can affect this unchanging, imperishable reality. The body is mortal, but he who dwells in the body is immortal and immeasurable.

You were never born; you will never die. You have never changed; you can never change. Unborn, eternal, immutable, immemorial, you do not die when the body dies. Realizing that which is indestructible, eternal, unborn, and unchanging, how can you slay or cause another to slay?

As a man abandons worn-out clothes and acquires new ones, so when the body is worn out a new one is acquired by the Self, who lives within.

No one who does good work will ever come to a bad end, either here or in the world to come. When such people die, they go to other realms where the righteous live. They dwell there for countless years and then are reborn into a home which is pure and prosperous.

In the Bhagavad Gita, Krishna describes the Self, which resides in the mortal body, as being immortal. The Hindu term for Self is Atman. It is the Atman that accumulates karma in a given lifetime. And it is the Atman that rejoins with Brahman when all bad karma has been eliminated. The "drop" that is the Atman rejoins the Brahmanic "ocean".

Judaism:

The central figures in Judaism are Abraham, Moses, David, and Solomon. According to Genesis in the Bible, Abraham was the 10th generation from Noah and the 20th generation from Adam. Historically, Abraham is thought to have existed in about 2000 BCE. God instructed Abraham to move from his original home of Ur to Canaan, the so-called promised land, where he would be the father of the Jewish people. It is said that Abraham died at the age of 175, and was buried by his sons Isaac and Ishmael alongside his wife Sarah.

Although it is not known precisely, some Torah-based estimates say that Moses was born in 1527 BCE and that the Exodus took place in 1447 BCE when Moses was 80 years old. It is interesting to note that Moses apparently had married an Ethiopian in his younger days. The Torah says that Moses died on the east side of the Jordan River at the age of 120, and was buried in an unknown grave on Mount Nebo by God Himself.

David slew Goliath and eventually became the greatest king of Israel. Biblical chronology sets his life from 1037–970 BCE, his reign over Judah from 1007–1000 BCE, and his reign over the united Kingdom of Israel from 1000–970 BCE. David clearly had his strengths and his weaknesses. One of his major weaknesses was his adultery with Bathsheba the wife of Uriah the Hittite while her husband is away at war, and his arrangement to have Uriah die in battle. Bathsheba became his favorite wife. David died a natural death in old age and was buried in the City of David, considered to be the original site of Jerusalem. Unlike Abraham and Moses, there is some archaeological evidence that David actually existed. An inscription found at Tel Dan dated to the time period 850-835 BC contains the phrase "House of David".

Solomon was the son of David by Bathsheba and became king of Israel when David died. He reigned for 40 years and is credited with building the first Temple of Jerusalem. According to the Bible, Solomon was quite prolific, having 700 wives and 300 concubines. He is also said to have had great wisdom, at least until some of his wives convinced him to start worshiping foreign gods. After that, his wisdom was lost, and the kingdom of Israel became fragmented. There is no description of the death of Solomon in the Bible or his age at death, but he is said to be buried in the City of David.

It is interesting that the Torah and the Talmud have very little to say about death and the afterlife. Their primary focus is how to live the current life. Some say that the lack of discussion of death and afterlife in the Torah is a negative reaction to the Egyptian emphasis on these aspects at the time of Moses and the Exodus.

When a Jewish person dies, the dead body is highly respected and is never left alone prior to burial. The corpse is covered with a simple linen cloth. The immediate family members are expected to rip their clothing in the vicinity of the heart to show their grief, either immediately upon the death, or at the funeral or the burial. The Jewish dead are always buried and there is no acceptance of cremation as the final condition of the body.

The afterlife is conceived to be either heaven or hell. Heaven is referred to as Olam Ha-Ba, or the world to come. The location of heaven is referred to as Gan Eden. This is not the garden of Eden of Adam and Eve, but rather a place of spiritual perfection. For the wicked, the destination is Gehinnom. However, the person is said to spend only twelve months in Gehinnom at most. After that, the evil-purged soul ascends to Olam Ha-Ba. But it is believed that souls who are too evil are annihilated after this twelve month period. Obviously Hitler, if he had been Jewish, would have been in this category.

Traditional Judaism ascribes to the resurrection of the dead but this was not always the case. At the time of Jesus, the Pharisees believed in resurrection, which the Sadducees did not. The resurrection of the dead is expected to take place in a messianic age.

Greece:

The ancient Greeks did not think of the afterlife as a pleasant place. It was the realm of the dead, the kingdom of the god Hades. In Homer's great work The Odyssey, Odysseus descends to Hades and meets the dead Achilles there. Here is their exchange:

Odysseus: "Achilles, no one has ever been luckier than you have been, nor ever will be, for you were adored by all us Argives as long as you were alive, and now that you are here you are a great prince among the dead. Do not, therefore, take it so much to heart even if you are dead."

Achilles: "Say not a word in death's favor; I would rather be a housekeeper in a poor man's house and be above ground than king of kings among the dead."

Clearly, Achilles did not like to be in Hades at all!. There was nothing joyful there, even for the greatest of Greek heroes.

The realm of Hades was the misty and gloomy abode of the dead where all mortals go. Later Greek philosophy introduced the idea that all mortals are judged after death and are either rewarded or cursed. There were several sections of the realm of Hades, including Elysium, the Asphodel Meadows, and Tartarus. Tartarus was considered to be the lowest abyss of Hades. Hades was reached by crossing the river Archeron, on the ferry boat of Charon. There were five rivers in Hades: Acheron (the river of sorrow), Cocytus (river of lamentation), Phlegethon (river of fire), Lethe (river of oblivion), and Styx (river of hate).

Perhaps the most famous death of the ancient Greeks was that of Socrates. Socrates views on death were described by Plato in his famous work Phaedo. Socrates believed in the soul and life after death. In Phaedo, he is quoted as saying: "I have a firm hope that there is something in store for those who have died, and, as we have been told for many years, something much better for the good than for the wicked." Socrates believed that the human soul was immortal, invisible, and that it directed the body. He was sentenced to death for "corrupting the minds of the youth of Athens". When the cup of hemlock was given to Socrates, he drank it without hesitation, walked around until there was heaviness in his legs, then lay down and died peacefully. Socrates had no fear of death, even though Hades appeared so unpleasant to most other Greeks.

The ancient Greeks honored their dead, and death and burial rituals were important to them. Relatives of the deceased conducted elaborate burial rituals that were customarily of three parts: the prothesis (laying out of the body), the ekphora (funeral procession), and the interment of the body or cremated remains of the deceased.

In the epics of Homer, the soul was depicted as something that was risked in battle and lost in death. It was what became a shade of the deceased person in the underworld. The early Greek philosopher Thales (636-546 BCE) is said to have attributed the soul to magnets, on the rather dubious grounds that magnets were capable of moving iron. Pythagoras (580-520 BCE) taught that plants and animals have souls, and that human souls could inhabit these lower forms of life. However, it was Socrates (469-399 BCE) and his student Plato (427-347 BCE) who most extensively developed the Greek concept of the soul. Their views are put forth in Plato's great writing Phaedo, which describes Socrates' views of the soul just before his death by drinking hemlock, and are amplified in Plato's other great work, the Republic.

In Phaedo, Socrates taught not only that the soul is immortal, but also that it contemplates truths after its separation from the body at the time of death. However, some of the Greeks found this teaching difficult to accept. In Phaedo, the interlocutor Ceres says to Socrates: "Men find it very hard to believe what you said about the soul. They think that after it has left the body it no longer exists anywhere, but that it is destroyed and dissolved on the day the man dies." Here is the exchange that Socrates has with Glaucon in Plato's Republic. Socrates poses the question to Glaucon: "Haven't you realized that our soul is immortal and never destroyed?" Whereupon Glaucon replies to Socrates: "No, by god, I haven't. Are you really in a position to assert that?" Indeed Socrates asserted that he was, according to Plato's account. Socrates also argued that it was the presence of the soul in the body of every living thing that caused them to be alive.

Later Greek philosophers had somewhat different views of the soul. Aristotle (384-322 BCE) believed that it was the soul that animated the body, but he did not believe that the soul was immortal. According to him, the soul died when the body died. Epicurus (341-271 BCE) taught that the soul was composed of atoms and that, at death, the atoms of the soul were dispersed.

Buddhism:

Siddhartha Gautama, the Buddha, lived from 566-486 BCE. He was an Indian prince in the area of northern India and, as such, began his life as a Hindu. At the age of 29, he left his princely home (and his wife and young son) and became an extreme ascetic for about six years. After nearly dying of his extreme asceticism, he adopted the Middle Way to spiritual development, neither extreme asceticism nor extreme materialism. He became an expert in meditation and, it is said, one day during a very deep meditative state underneath a Bodhi tree, he achieved the state of "Enlightenment". Thus enlightened, he became aware of the Four Noble Truths: 1. Suffering exists; 2. The source of suffering is Cravings; 3. Suffering is ended by the cessation of Cravings; 4. Cravings are ended by following the Eight-Fold Path. The Eight-Fold Path is: 1) Right view; 2) Right intention; 3) Right speech; 4) Right action; 5) Right livelihood; 6) Right effort; 7) Right mindfulness; 8) Right meditation.

When all Cravings are ended, then one achieves the state of Nirvana. What is Nirvana? Unfortunately, the Buddha was unclear on this aspect. Buddhists tend to speak of it as a state of complete non-material bliss. The Buddha taught that once Nirvana was reached, there was no rebirth. Until then, one is born again and again, not only as a human being, but also as animals, insects, and even plants, depending upon a person's karma. Thus, death is merely a transition to another rebirth.

The Buddha taught that there was no Self, no "I", no Soul if you will. "You" were essentially only the sum of the karma, the actions and experiences, that "you" had accumulated in various lifetimes. Rather than "you" being a leaf floating down a stream of lifetime experiences, "you" were really only the stream itself.

How did the Buddha die? The Buddha died at the age of 80. It is said that he accepted a meal from a blacksmith and, upon eating it, became severely ill. He lay down on his right side between two trees, which immediately blossomed even though they were out of season. At the time, he was being attended by his principal attendant, Ananda, who was fanning him, as well as 500 monks who were also present. The Buddha instructed Ananda to step out of the way, because Ananda was blocking the view of the various invisible deities who had come to witness the passing of a Buddha.

The Buddha provided instructions for his funeral to Ananda, and told him that the Buddhist community should make periodic pilgrimages to the place where he was born, the place where he achieved enlightenment, the place where he first began teaching, and the place of his death. He asked the monks present if they had any last questions for him. Hearing none, in his last words he told them that all things were transient. Then he passed into a meditative state and died. The Buddha's body was cremated per his instructions, and some relics of his body were preserved for the veneration of the Buddhist community.

Buddhist beliefs of death and the afterlife are described in the famous Tibetan Book of the Dead (5). The Tibetan Book of the Dead (also called the Book of Natural Liberation Through Understanding in the Between, or the Bardo Thodol) is said to have been composed by the Tibetan adept Padma Sambhava in the late eighth century CE. Sambhava is described as an Emanation Body Buddha, who was able teach about the "in between" that exists after death and before the next reincarnation because he could travel through the "in between" at will. Sambhava supposedly lived for centuries in India before going to Tibet at the invitation of the emperor Trisong Detsen to assist in the building of the first Buddhist monastery there. Because he anticipated the ninth century demise of this early Tibetan Buddhism, Sambhava is said to have hidden copies of the Book of the Dead in various locations throughout Tibet. One of these copies was discovered by a Tibetan by the name of Karma Lingpa in the fourteenth century, in a cave on the Gampo Dar mountain in central Tibet.

The Book became known the western civilization when it was translated into English by Kazi Dawa Samdup and W.H.Y. Evans-Wentz in 1927. It was Evans-Wentz who gave it the title of The Tibetan Book of the Dead.

Buddhism considers there to be six realms of existence where a consciousness may reside for a given lifetime. They form a ladder from lowest to highest. The lowest realm is basically a hellish-type existence. There are many types of hells - hot hells, cold hells, crushing hells, cutting hells, and on and on. A person is forced into an existence in these hells if he or she is dominated by hate. Fortunately, existence in hell is only for a finite time in Buddhism. The second lowest realm is that of the pretans, or the realm of the "hungry ghosts". The pretan realm is dominated by greed, or the "hunger" for things. Unfortunately, in this realm one's hunger can never be satisfied. The next realm is that of animal forms, which includes low animal forms such as insects. This region is dominated by ignorance and stupidity, and beings who live there are driven primarily by instinct, rather than intelligence. Human beings constitute the next realm. Humans have some of the negative attributes of the lower realms, but they also have positive attributes such as love, generosity, and greater intelligence. Above the human realm is the realm of the titans. Although the titans are above humans, they are very competitive and driven by jealousy. They want to overcome others and fight with others, both within their realm and above it. Finally, the highest realm of existence is that of the gods. They have developed high intelligence, generosity, sensitivity, and tolerance. Unfortunately, even they are susceptible to pride. In Buddhism, a being does not climb monotonously up these realms. It depends on the being's evolutionary karma. Gods and titans can regress all the way back to the hell realm if their actions in their realm are bad.

Buddhism does not have the concept of the soul or the "I". But it does have the concept of the "extremely subtle consciousness". This is conceived as a tiny energy awareness pattern that is indestructible and continuous from lifetime to lifetime. It is the "extremely subtle consciousness", also called the "clear light of consciousness", that is what reincarnates in the Buddhist philosophy.

The goal of Buddhism is not to reincarnate again at all, but to attain the final state reality of "nirvana", which means "extinguished". Nirvana is the final realm of a beautiful and blissful voidness, where everything is present but nothing is independently established.

The various stages of death indicated in Buddhism are the following. The senses of touch, sight, hearing, and smell all fade, and breathing and blood circulation fail. However, the gross brain consciousness does not go until the brain begins to dissolve. At this point, the white "awareness drop" descends from the brain and the red "awareness drop" ascends from the genitals. The two meet at the heart and, at this point, the "extremely subtle consciousness" exits the body, and passes into the "in between".

According to the Tibetan Book of the Dead, the "extremely subtle consciousness" (ESC for short) encounters a myriad of first "mild" and then "fierce" deities in the "in between" realm. On the "first day" in the "in between", the ESC meets Lord Vairochana. If the ESC is deemed worthy based on the state of his karma, the ESC can achieve buddhahood and enter the state of nirvana at this point. If the ESC is not deemed worthy, then it must continue to interact with the "mild" and "fierce" deities over a series of "days" until it finds the proper realm for its next reincarnation. At some point in this process, the ESC encounters Lord Yama, the Judge of the Dead. Lord Yama counts out a white stone for every virtue that the ESC has accumulated, and a black stone for every sin. Thus, the sum of the white and black stones decides the realm of the next reincarnation. If this next realm should be the human or the animal one, then the Book of the Dead provides instructions to the ESC on how to choose the best possible womb in which to be reborn. For the human realm, this involves the observation of couples making physical love. Once this choice is made, the process of rebirth begins to take place. Such is the Buddhist philosophy about death as described in the Tibetan Book of the Dead.

Christianity:

Death in Christianity revolves around the death, burial, and resurrection of Jesus the Christ. Jesus of Nazareth definitely existed on Earth. There is absolutely no historical question about this. His existence is verified by two sources independent of any Christian writings. The first source is Josephus, the Jewish historian. The second source is Tacitus, the Roman historian. Both state that Jesus was crucified under Pontius Pilate. Here is the account of Josephus written in the years 93-94 CE:

Now, there was about this time Jesus, a wise man, if it be lawful to call him a man, for he was a doer of wonderful works – a teacher of such men as receive the truth with pleasure. He drew over to him both many of the Jews, and many of the Gentiles. He was [the] Christ; and when Pilate, at the suggestion of the principal men amongst us, had condemned him to the cross, those that loved him at the first did not forsake him, for he appeared to them alive again the third day, as the divine prophets had foretold these and ten thousand other wonderful things concerning him; and the tribe of Christians, so named from him, are not extinct at this day.

Since Josephus was definitely not a member of the tribe of Christians, historians suspect that his rather affirmative account of Jesus as the Christ was a result of embellishment by early scribes who were Christians.

The Roman historian Tacitus gave this description related to a rumor that Nero was responsible for the fire in Rome in 64 CE:

Therefore to quell the rumor, Nero substituted as culprits, and punished with the utmost refinements of cruelty, a class of men, loathed for their vices, whom the crowd styled Christians. Christus, the founder of the name, had undergone the death penalty in the reign of Tiberius, by sentence of the procurator Pontius Pilatus, and the pernicious superstition was checked for the moment, only to break out once more, not merely in Judaea, the home of the disease, but in the capital itself, where all things horrible or shameful in the world collect and find a vogue.

It's interesting that Tacitus refers to Christianity as a "disease". Clearly, there are no early Christian distortions in Tacitus' account of Jesus!

We can find descriptions of Jesus' death and resurrection in the four synoptic gospels of the New Testament of the Bible. The earliest written gospel is the Gospel of Mark, thought to have been composed in the early 70's CE. The Gospel of Mark was written by Mark, whose name was actually John Mark. John Mark had direct physical contact with Jesus, since he was the son of a woman disciple. It is likely that the Last Supper took place in her home, and that John Mark was the person who "ran away naked" from the Garden of Gethsemane when Jesus was arrested. John Mark was the Apostle Peter's scribe, and related in his gospel what Peter told him about Jesus. The Gospel of Mark is considered to be the most historically accurate gospel since it was the first gospel written, and is often referred to as the "photograph of Jesus".

Christian historians also believe that there was a "Q" gospel in existence at the time of the Gospel of Mark that later became embedded, along with Mark, in the Gospels of Matthew and Luke. However, no copy of this postulated Q Gospel has ever been found, and the author is unknown.

The Gospels of Matthew and Luke were both written around the late 80's CE. Matthew is said to have been written by the Apostle Matthew, and is considered to be the "Jewish gospel" since it was written for the Jewish community. The Gospel of Luke was written by Luke, who was a follower of Paul. Luke was a physician and a Greek, and Luke's gospel is regarded as the "Greek gospel" because it was targeted at the Greek community. The Gospels of Matthew and Luke drew their materials from the Gospel of Mark and from the Q Gospel. Luke also wrote the Acts of the Apostles as a second volume of his gospel.

The Gospel of John was written about 100 CE, and is thought to have been written by two Johns. The first was John the Apostle, and the second was John the Evangelist. Obviously, John the Apostle was a very old man at the time the Gospel of John was composed, so it is likely that most of the actual writing was done by John the Evangelist, using material that he obtained from John the Apostle. It should be noted that the earliest fragment of any of the gospels is a fragment of the Gospel of John, which is firmly dated to the year 125 CE. The Book of Revelations is also attributed to a John, but it is not clear whether this was John the Apostle, John the Evangelist, or another John entirely.

Here is what the four Gospels have to report about the actual death of Jesus.

Gospel of Mark (6):

When it was twelve o'clock midday, there came a darkness over the whole earth, and it lasted until three o'clock in the afternoon. And at three o'clock Jesus cried with a great voice, "Eloi, Eloi lama sabachthani?" which means, "My God! My God! Why have you abandoned me?" When certain of the bystanders heard it, they said, "See! He is calling for Elijah!" Someone ran and soaked a sponge in vinegar and gave him a drink. "Let be!" he said, "till we see if Elijah is going to come and take him down." Jesus uttered a great shout – and died.

Gospel of Luke (7):

By this time it was about midday, and there was darkness over the whole land until three o'clock in the afternoon, and the light of the sun failed. And the veil of the Temple was rent in the midst. When Jesus had cried with a great voice, he said: "Father, into your hands I commend my spirit." When he had said this he breathed his last.

Gospel of Matthew (8):

From twelve o'clock midday darkness came over the earth until three o'clock in the afternoon. About three o'clock in the afternoon Jesus cried with a loud voice, "Eli, Eli, lama sabachthani?" (that is, "My God, my God, why have you forsaken me?") Some of those who were standing there heard this, and said, "This man is calling for Elias." And immediately one of them ran and took a sponge and filled it with vinegar and put it on a reed, and gave him to drink. The rest said, "Let be! Let us see of Elias will come to save him." When Jesus had again shouted with a great voice, he gave up his spirit.

Gospel of John (9):

After that, when Jesus knew that everything was completed, he said, in order that the scripture might be fulfilled: "I thirst." There was a vessel standing there full of vinegar. So they put a sponge soaked in vinegar on a hyssop reed, and put it to this mouth. When he had received the vinegar, Jesus said "It is finished." And he leaned his head back, and gave up his spirit.

It is evident from the above that the details about the final moments of Jesus are not exactly the same in the four Gospels. There is no consensus about what Jesus' last words were. The most common element (appearing in three out of the four Gospels) concerning the last moments of Jesus' life is that he was given vinegar to drink just before he died.

With regard to the burial of Jesus, the Gospels say the following.

Gospel of Mark:

When it was now evening, since it was the day of Preparation, that is, the day before the Sabbath, Joseph of Arimathaea, a respected member of the council, and a man who was himself waiting for the Kingdom of God, ventured to go to Pilate and asked for the body of Jesus. Pilate was amazed that he was already dead. He summoned the centurion, and asked if he had been long dead. And when he had learned the facts from the centurion, he granted the body to Joseph. And Joseph bought fine linen, and he took him down from the Cross and wrapped him in the linen, and put him in a tomb which had been hewn out of rock, and he rolled a stone against the door of the tomb. And Mary of Magdala and Mary the mother of Joses saw where he had been laid.

Gospel of Luke:

Look you – there was a man named Joseph, a member of the Sanhedrin, a good and a just man. He had not consented to their counsel and their action. He came from Arimathaea, a town of the Jews, and he lived in expectation of the kingdom of God. He went to Pilate and asked for the body of Jesus. He took it down, and wrapped it in linen, and laid it in a rock hewn tomb where no one had ever yet been laid. It was the day of preparation, and the Sabbath was beginning. The women, who had accompanied Jesus from Galilee, followed and saw the tomb and how his body was laid in it.

Gospel of Matthew:

Late in the day there came a rich man from Arimathaea, Joseph by name, who was himself a disciple of Jesus. He went to Pilate and requested the body of Jesus. Then Pilate ordered it to be given to him. So Joseph took the body and wrapped it in clean linen, and laid it in a new tomb, which he had hewn out in the rock. And he rolled a great stone across the door of the tomb and went away. And Mary from Magdala was there, and the other Mary, sitting opposite the tomb.

Gospel of John:

After that, Joseph from Arimathaea, who because of fear of the Jews was a secret disciple of Jesus, asked Pilate to be allowed to take away Jesus' body, and Pilate gave him permission to do so. So he came and took his body away. Nicodemus, who first came to Jesus by night, came too, bringing a mixture of myrrh and aloes, about a hundred pounds in weight. So they took Jesus' body and they wrapped it in linen clothes with spices, as it is the Jewish custom to lay a body in the tomb. There was a garden in the place where he was crucified; and in the garden there was a new tomb in which no one had ever been laid. So they laid Jesus there, because it was the day of preparation for the Sabbath, because the tomb was near at hand.

The four Gospels are all in agreement that Joseph of Arimathaea took the body of Jesus, wrapped it in a linen cloth, and placed it in a tomb. Three of the Gospels indicate that this tomb was hewn out of rock, and that a stone was rolled over the tomb entrance after Jesus' body had been laid out there. Three of the four Gospels also state that women from Galilee were present when Jesus' body was placed in the tomb.

Finally, the four Gospels have the following accounts of the resurrection of Jesus.

Gospel of Mark:

When the Sabbath had passed, Mary of Magdala and Mary the mother of James and Salome bought spices to go and anoint his body. Very early in the morning on the first day of the week, when the sun was rising, they went to the tomb. They kept saying to each other, "Who will roll away the stone from the door of the tomb for us?" They looked up and they saw that the stone had been rolled away, for it was very large. And they went into the tomb, and they saw a young man sitting on the right side, clothed in a long, white robe. They were utterly amazed. He said to them, "Do not be amazed. You are looking for Jesus of Nazareth who was crucified. He is risen. He is not here. See! There is the place where they laid him. But go! Tell his disciples and Peter, 'He goes before you into Galilee. There you will see him as he told you'." And they went out and fled from the tomb, for fear and astonishment gripped them. And they told no one anything for they were afraid.

Gospel of Luke:

On the first day of the week, at the first streaks of dawn, the women came to the tomb, bearing the spices which they had prepared. They found the stone rolled away from the tomb. They entered in, but they did not find the body of the Lord Jesus. While they were at a loss to make of this – look you – two men stood by them in flashing raiment. They were afraid, and they bowed their faces to the ground. But they said to them, "Why are you looking for him who is alive among the dead? He is not here; he is risen. Remember how he said to you, while he was still in Galilee, that the Son of Man must be betrayed into the hands of sinful men and that he must be crucified, and that on the third day he would rise again." Then they remembered his words; and they returned from the tomb and brought the news of all these things to the eleven and to the others. Mary Magdalene was there, and Joanna, and Mary, the mother of James. They, and the other women with them, kept telling these things to the apostles. But their words seemed to them an idle tale, and they refused to believe them. But Peter rose up and ran to the tomb; and he stooped down and saw the linen clothes lying all by themselves; and he went away wondering in himself at what had happened.

Gospel of Matthew:

Late on the Sabbath, when the first day of the week was beginning to dawn, Mary from Magdala and the other Mary came to see the tomb. And, look you, there was a great earthquake; for the angel of the Lord descended from heaven and came and rolled away the stone, and sat upon it. His appearance was like lightning, and his garment was as white as snow. Those who were watching were shaken with fear, and became as dead men. The angel said to the women, "Do not be afraid; for I know that you are looking for Jesus who was crucified. He is not here; for he is risen, as he said he would. Come, see the place where the Lord lay. Go quickly and tell his disciples: 'He is risen from among the dead. And, look you, he goes before you into Galilee; there you will see him.' Look you, I have told you." So they quickly went away from the tomb with fear and with great joy, and they ran to tell the news to his disciples.

Gospel of John:

On the first day of the week, very early in the morning, while it was still dark, Mary from Magdala came to the tomb; and she saw the stone taken away from the tomb. So she ran and came to Simon Peter, and to the other disciple whom Jesus loved, and she said to them: "they have taken the Lord away from the tomb, and we do not know where they have laid him." So Peter went out with the other disciple, and they set out for the tomb. The two were running together. The other disciple ran on ahead faster than Peter, and he was the first to come to the tomb. He saw the linen clothes lying there and he saw the napkin, which had been upon Jesus' head, not lying with the rest of the linen clothes, but lying apart from them, still in its folds, by itself. So then, the other disciple, who had arrived first at the tomb, went in too, and he saw, and believed. For as yet they did not realize the meaning of scripture, that Jesus should rise from the dead. So the disciples went back to their lodgings.

There you have a summary of the key writings in the four Gospels of the Bible concerning the death, burial, and resurrection of Jesus. Obviously, there are discrepancies between the four Gospel accounts. What are the most common elements of this testimony? They are the following:
Jesus died at approximately three o'clock in the afternoon of the day before the Sabbath.
Jesus expired shortly after having been given a drink of vinegar.
Joseph of Arimathaea took the body of Jesus, wrapped it in a linen cloth, and placed it in a tomb hewn out of rock, then sealed the tomb with a large stone.
Some women were present when Jesus was placed in the tomb.
On the day after the Sabbath, Mary of Magdala and perhaps other women went to the tomb early in the morning to anoint the body of Jesus.
They saw that the stone blocking the entrance to the tomb had been rolled away.
They interacted with a spiritual being or beings who told them that Jesus had risen, and that they should inform the other disciples of this, and that Jesus would meet them in Galilee.
After being informed by the women, Peter and possibly another apostle went to the tomb, observing that Jesus' body was not there, but that the burial linens were still in the tomb.
The burial linens mentioned in the Bible accounts are a very interesting aspect. Why? Because the most important relic in all of Christianity is unquestionably the Shroud of Turin. A great many people believe that the Shroud of Turin is the actual burial linen of Jesus, because it contains an image of a face and body that appears to correspond with the biblical accounts of the passion and death of Jesus. The Shroud is presently located in the Cathedral of Saint John the Baptist in Turin, Italy and is the property of the Pope.

The Shroud of Turin is a simple linen sheet about 4.4 meters long and 1.1 meters wide, on which the complete front and back body images of a man are indelibly impressed. The cloth is hand-made and each thread (diameter about one-quarter of a millimeter) is composed of 70-120 linen fibers. Scientific studies have shown that the linen sheet wrapped the corpse of a man who had scourge marks, head wounds, deep puncture wounds in both his wrists and feet, and a major wound in his side. Also impressed are many other marks due to blood, fire, water and folding, which have significantly damaged portions of the double body image. According to a number of forensic pathologists, the wounds depicted on the Shroud appear to be of a genuine nature.

To the naked eye, the image on the Shroud appears as a rather indistinct, tannish outline of the figure of a person. In fact, if one views the Shroud from up close, it is very difficult to perceive any image at all. A breakthrough event occurred in 1898 when an amateur photographer, Secondo Pia, took the very first photograph of the Shroud. To Pia's absolute astonishment, his developed photographic negative showed a positive image of the Shroud, with a great many details evident. So the actual image on the Shroud itself may be considered a negative image of the dead person that it had covered. To say the least, this is a highly unusual fact.

What details does the negative image of the Shroud reveal? It shows the face of a man with a mustache and beard, and long hair. There are small puncture wounds evident on the forehead and scalp, suggesting that multiple sharp objects had made contact with the head. The face shows some swollen features indicative of a beating. The torso and legs exhibit multiple linear features that seem consistent with a Roman scourging. There is a large gouge in the person's side which penetrates into the thoracic cavity. The hands are folded over the groin area, and there is a large wound in the wrist of one of the hands (the other wrist is not visible since it is underneath). There are streams of blood that run down both arms, as might occur if one was in a crucified position. There are large puncture wounds in the feet, as if penetrated by a single spike.

Does this image sound familiar? It should to anyone who has read the passion and death of Jesus as described in the Bible. Could the Shroud of Turin actually be the burial shroud of Jesus mentioned in the Gospels? If so, how did it find its way to Turin, Italy?

A possible continuous trail from 30 CE Jerusalem to present day Turin has been put forward by Ian Wilson (10). It begins with the story of King Abgar of Edessa. The first Christian historian Eusebius (Bishop of Caesarea and key participant in the First Christian Council of Niceae), tells the following account about King Abgar in "The Church History" which he wrote in the year 325 CE (11). Here is what Eusebius recounted:

Because of his miraculous powers the divinity of Christ was noised abroad everywhere, and myriads even in foreign lands remote from Judea came to him in the hope of healing from diseases of every kind. Thus, when King Abgar, the celebrated ruler of peoples beyond the Euphrates was suffering terribly from an incurable illness and often heard the name of Jesus and his miracles, he sent him a request, via letter carrier, pleading for relief from his disease. Jesus did not consent to his request at the time but favored him with a personal letter, promising to send one of his disciples to cure the disease and bring salvation to him and his relatives.

The promise was soon fulfilled. After his (Jesus') resurrection and ascension, Thomas, one of the Twelve, was divinely inspired to send Thaddeus, one of the Seventy, to Edessa as preacher and evangelist, who fulfilled all the terms of our Savior's promise. There is written evidence of this taken from the archives at Edessa, the then royal capital, which include ancient history as well as the events at Abgar's time. Here are the letters themselves, which I (Eusebius) have extracted from the archives and translated word for word from the Syriac:

Copy of a Letter Written by Abgar the Toparch to Jesus, Sent to Him at Jerusalem by the Courier Ananias:

"Abgar Uchama, the Toparch, to Jesus the excellent Savior who has appeared in the region of Jerusalem, greeting.

I have heard about you and the cures you accomplish without drugs or herbs. Word has it that you make the blind to see and the lame walk, that you heal lepers and cast out unclean spirits and demons, and that you cure those tortured by chronic disease and raise the dead. When I heard all these things about you, I decided that one of two things is true: either you are God and came down from heaven to do these things or you are God's Son for doing them. For this reason I am writing to beg you to take the trouble to come to me and heal my suffering. I have also heard that the Jews are murmuring against you and plot to harm you. Now, my city-state is very small but highly regarded and adequate for both of us."

The Reply of Jesus to the Toparch Abgar by the Courier Ananias:

"Blessed are you who believed in me without seeing me! For it is written that those who have seen me will not believe in me and that those who have not seen me will believe and live. Now regarding your request that I come to you, I must first complete all that I was sent to do here, and, once that is completed, must be taken up to the One who sent me. When I have been taken up, I will send one of my disciples to heal your suffering and bring life to you and yours."

The following is appended to these letters in Syriac:

"After the ascension of Jesus, Judas, who is also called Thomas, sent Thaddeus, one of the Seventy to Abgar, and he stayed with Tobias, son of Tobias."

Eusebius states in his Church History that he personally went to Edessa and discovered the letters between King Abgar and Jesus, and the verification that Thaddeus was sent to Edessa to cure King Abgar.

So with that background, here is Ian Wilson's construction of a potential continuous path for the Shroud from Jerusalem to Turin (10):
33 CE: The Shroud is taken to Edessa (today called Urfa in eastern Turkey) by Thaddeus (also referred to as Addai) and given to King Abgar, who converts his city-state to Christianity.
57 CE: The successor to the son of King Abgar reverts back to paganism and persecutes the early Christians there, perhaps to extinction. The Christians in Edessa hide the Shroud in a niche in the wall above the city gates, in the desperate hope of saving and preserving it. These Christians may have all been killed, and the Shroud and its location forgotten.
525 CE: A major flood occurred in Edessa. The flood damaged the Edessa cathedral and city walls, and they were rebuilt. In the rebuilding process, it is possible that the Shroud was rediscovered by 6th century Christians. Thus, the Shroud may have reposed within the Edessa city walls for nearly 500 years.
544 CE: Evagrius in his Ecclesiastical History reports that a siege of Edessa by the Persians was repulsed by "the divinely wrought likeness which human hands have not made".
569 CE: A Syriac hymn praising the beauty of Edessa's cathedral likens its marble to "the image not the work of human hands".
943 CE: Edessa is now under Muslim control. The Byzantine Emperor Romanus sent an army to Edessa to obtain the "cloth imprinted with Jesus' likeness". The Byzantine general tells the rulers of Edessa that if they are given the Edessa cloth, the Byzantines will never again attack Edessa. Furthermore, they will pay the Edessans for the cloth, and also release 200 Muslim prisoners. Quite a deal for just a piece of cloth!
944 CE: The Cloth of Edessa arrives in Constantinople.
990 CE: The first literary reference of the Cloth of Edessa as the "Mandylion" appears.
1204 CE: The Fourth Crusade attacks and captures Constantinople. Crusaders are reported to loot Christian relics during the sack of the city. The Shroud may have been taken from Constantinople to Athens by a Knights Templar crusader.
1225 CE: Otho de la Roche, who was the crusader responsible for Athens at the time the Shroud may have been transferred there, becomes the Preceptor of the Knights Templar.
1314 CE: Head of the Knights Templar Jacques de Molay and Templar Master of Normandy Geoffrey de Charny are burnt at the stake on charges trumped up by the King of France to obtain the wealth of the Knights Templar.
1337 CE: The first historically-documented owner of the Shroud, Geoffrey I de Charny, participates in the start of the Hundred Years War. It is likely that Geoffrey I de Charny was directly related to Geoffrey de Charny.
1353 CE: Geoffrey I de Charny founds a church in Lirey, France.
1355 CE: According to the "d'Arcis Memorandum" written in 1389, the first public expositions of the Shroud are held in Lirey, France.
1453 CE: The Shroud becomes the property of the Dukes of Savoy, but remains in the Lirey church, at least for awhile.
1502 CE: After moving to various locations with the Savoy's, the Shroud is moved to a more permanent location at the Sainte Chapelle in Chambery.
1532 CE: A major fire occurs in the Sainte Chapelle and the Shroud is damaged by the fire.
1578 CE: The Shroud is permanently moved to the Cathedral in Turin, Italy. It has been located there up to the present day.
This is the potential route of the Shroud from 33 CE Jerusalem to present day Turin, as outlined by Wilson. It is interesting that this scenario involves the Knights Templar at the key point when the Shroud is indicated to have been transferred from the Middle East to Europe. Shades of "The Da Vinci Code". It is a fact that the Knights Templar were accused of worshiping images by the King of France.

In October 1978, a group of scientists spent 120 continuous hours examining the Shroud of Turin in detail with the best scientific equipment available at that time. This activity was known as the Shroud of Turin Research Project (STURP). Here is a list of the STURP scientists and technical people who physically conducted the examination of the Shroud in Turin, Italy in 1978:

Joseph S. Accetta, Lockheed Corporation
Steven Baumgart, U.S. Air Force Weapons Laboratory
John D. German, U.S. Air Force Weapons Laboratory
Ernest H. Brooks II, Brooks Institute of Photography
Mark Evans, Brooks Institute of Photography
Vernon D. Miller, Brooks Institute of Photography
Donald Devan, Oceanographic Services Inc.
Rudolph J. Dichtl, University of Colorado
Robert Dinegar, Los Alamos Scientific Laboratory
Donald & Joan Janney, Los Alamos Scientific Laboratory
J. Ronald London, Los Alamos Scientific Laboratory
Roger A. Morris, Los Alamos Scientific Laboratory
Ray Rogers, Los Alamos Scientific Laboratory
Kenneth E. Stevenson, IBM
Thomas F. D'Muhala, Nuclear Technology Corporation
Roger & Marty Gilbert, Oriel Corporation
Thomas Haverty, Rocky Mountain Thermograph
John P. Jackson, U.S. Air Force Academy
Eric J. Jumper, U.S. Air Force Academy
Jean Lorre, Jet Propulsion Laboratory
Donald J. Lynn, Jet Propulsion Laboratory
Robert W. Mottern, Sandia Laboratories
Samuel Pellicori, Santa Barbara Research Center
Barrie M. Schwortz, Barrie Schwortz Studios

The summary of the STURP Final Report in 1981 on the results of the 1978 Shroud analysis is given below:

No pigments, paints, dyes or stains have been found on the fibrils. X-ray, fluorescence and microchemistry on the fibrils preclude the possibility of paint being used as a method for creating the image. Ultraviolet and infrared evaluation confirm these studies. Computer image enhancement and analysis by a device known as a VP-8 image analyzer show that the image has unique, three-dimensional information encoded in it. Microchemical evaluation has indicated no evidence of any spices, oils, or any biochemicals known to be produced by the body in life or in death.

It is clear that there has been a direct contact of the Shroud with a body, which explains certain features such as scourge marks, as well as the blood. However, while this type of contact might explain some of the features of the torso, it is totally incapable of explaining the image of the face with the high resolution that has been amply demonstrated by photography.

The basic problem from a scientific point of view is that some explanations which might be tenable from a chemical point of view, are precluded by physics. Contrariwise, certain physical explanations which may be attractive are completely precluded by the chemistry. For an adequate explanation for the image of the Shroud, one must have an explanation which is scientifically sound, from a physical, chemical, biological and medical viewpoint. At the present, this type of solution does not appear to be obtainable by the best efforts of the members of the Shroud Team. Furthermore, experiments in physics and chemistry with old linen have failed to reproduce adequately the phenomenon presented by the Shroud of Turin.

The scientific consensus is that the image was produced by something which resulted in oxidation, dehydration and conjugation of the polysaccharide structure of the microfibrils of the linen itself. Such changes can be duplicated in the laboratory by certain chemical and physical processes. A similar type of change in linen can be obtained by sulfuric acid or heat. However, there are no chemical or physical methods known which can account for the totality of the image, nor can any combination of physical, chemical, biological or medical circumstances explain the image adequately. Thus, the answer to the question of how the image was produced or what produced the image remains, now, as it has in the past, a mystery.

We can conclude for now that the Shroud image is that of a real human form of a scourged, crucified man. It is not the product of an artist. The blood stains are composed of hemoglobin and also give a positive test for serum albumin. The image is an ongoing mystery and until further chemical studies are made, perhaps by this group of scientists, or perhaps by some scientists in the future, the problem remains unsolved.

So after extensive scientific analyses by the STURP team of scientific experts, they were unable to explain how the image on the Shroud of Turin was produced!

In 1988, a small sample was cut from the very end of the 14 foot Shroud and subjected to radiocarbon dating at three distinguished scientific laboratories. Their radiocarbon dates fell in the range of 1260 to 1390 CE. So that should prove that the Shroud is a medieval forgery, albeit a very puzzling and extremely sophisticated one. Right?

Wrong. In 2005, Dr. Ray Rogers, one of the leaders of the original STURP team, published a refereed scientific article in the respected scientific journal Thermochimica Acta. In this article, Rogers stated that the 1988 radiocarbon dating of the Shroud was incorrect, because they had used a piece of the cloth that had been woven into the end of the Shroud in the Middle Ages (12). At the end of this article, he strongly suggested that the Shroud needed another radiocarbon dating, this time using a portion of the cloth that was unquestionably part of the original.

I have seen image fibers from the Shroud of Turin up close and personal. This is because Ray Rogers and I both worked at the Los Alamos National Laboratory. I was interested in the Shroud and the 1978 STURP analysis, so I contacted Ray. Ray was older than me at the time, and retired from the Lab. He invited me over to his home in Los Alamos, took me to his little home laboratory, and showed me image fibers that he had lifted off the Shroud in 1978 with sticky tape. Under his microscope, these fibers did not appear dramatic, basically just showing an orangish tinge. Ray Rogers died in 2005 soon after his Thermochimica Acta was published by the journal. However, shortly before his death in an interview Ray stated that, based on what he knew as a scientist, he believed that the Shroud was the actual burial cloth of Jesus. This was an interesting conclusion, coming as it did from the logical, pragmatic chemist that was Ray Rogers. Ray certainly knows now whether he was right or wrong.




Unusual Deaths

There have been many quite unusual and bizarre deaths throughout history. Here is just a sampling of some of them (13).
430 BCE: Empedocles, a Greek philosopher, jumped into the active volcano Mt. Etna.
210 BCE: Emperor Chin, first emperor of China, died from ingestion of mercury that he thought would extend his life.
98 CE: Saint Antipas, Bishop of Pergamum, was roasted to death in a brazen bull during the persecutions of Emperor Domitian.
415 CE: Hypatia of Alexandria, Greek mathematician and philosopher, was murdered by a mob by having her skin ripped off with sharp sea-shells.
892 CE: Sigurd the Mighty of Orkney strapped the head of a defeated foe to his leg, the tooth of which grazed against him as he rode his horse, causing an infection that killed him.
1135 CE: Henry I of England is said to have died after gorging on lampreys, his favorite food.
1478 CE: George Plantagenet, Duke of Clarence, was executed by drowning in a barrel of Malmsey wine - at his own request.
1559 CE: King Henry II of France was killed during a jousting match, when his helmet's soft golden grille gave way to a broken lancetip which pierced his eye and entered his brain. This event was predicted by Nostradamus.
1601 CE: The astronomer Tycho Brahe, died of complications resulting from a strained bladder at a banquet. It would have been extremely bad etiquette to leave the table before the meal was finished, so he stayed until he became fatally ill.
1660 CE: Thomas Urquhart, Scottish aristocrat, polymath and first translator of Rabelais into English, is said to have died laughing upon hearing that Charles II had taken the throne.
1753 CE: Professor Georg Wilhelm Richmann, of Saint Petersburg, Russia, became the first recorded person to be killed while performing electrical experiments when he was struck and killed by a globe of ball lightning.
1794 CE: John Kendrick, an American sea captain and explorer, was killed in the Hawaiian Islands when a British ship mistakenly used a loaded cannon to fire a salute to Kendrick's vessel
1814 CE: Nine people were killed in the London Beer Flood, when 323,000 imperial gallons (1,468,000 liters) of beer in the Meux and Company Brewery burst out of their vats and gushed into the streets.
1868 CE: Matthew Vassar, brewer and founder of Vassar College, died in mid-speech while delivering his farewell address to the College Board of Trustees.
1899 CE: Félix Faure, President of France, died while engaged in sexual activities with his secretary.
1916 CE: Grigori Rasputin, Russian mystic, was reportedly poisoned while dining with a political enemy, shot in the head, shot three more times, bludgeoned, and then thrown into a frozen river. When his body washed ashore, an autopsy showed the cause of death to be hypothermia.
1923 CE: George Herbert, 5th Earl of Carnarvon, became the first to die from the alleged King Tut's Curse after a mosquito bite on his face became seriously infected with erysipelas, which he cut while shaving, leading to blood poisoning and eventually pneumonia.
1927 CE: Isadora Duncan, a famous dancer of the time, died of a broken neck when one of the long scarves she was known for caught on the wheel of a car in which she was a passenger.
1945 CE: Scientist Harry K. Daghlian, Jr. accidentally dropped a brick of tungsten carbide onto a sphere of plutonium while working on the Manhattan Project and died 25 days later of radiation sickness.
1971 CE: Jerome Irving Rodale, an American pioneer of organic farming, died of a heart attack on television while being interviewed on The Dick Cavett Show.
1973 CE: Bruce Lee, a Chinese-American martial artist and actor, is thought to have died of a severe allergic reaction to a pain killer. His brain had swollen about 13%. However his autopsy was written as "death by misadventure."
1974 CE: Christine Chubbuck, an American television news reporter, committed suicide during a live broadcast on 15 July. At 9:38 AM, 8 minutes into her talk show, on WXLT-TV in Sarasota, Florida, she drew out a revolver and shot herself in the head.
1978 CE: Georgi Markov, a Bulgarian dissident, was assassinated in London with a specially modified umbrella that fired a metal pellet with a small cavity full of toxic ricin into his calf.
1979 CE: Robert Williams, a worker at a Ford Motor Co. plant, was the first human to be killed by a robot, after the arm of a one-ton factory robot hit him in the head.
1981 CE: Jeff Dailey, a 19-year-old gamer, became the first person to die while playing video games. After achieving a score of 16,660 in the arcade game Berzerk, he succumbed to a massive heart attack.
1986 CE: Over 1,700 people were killed almost instantly near Lake Nyos in Cameroon when a mass of approximately 100 million cubic metres of carbon dioxide that had collected at the bottom of the lake due to seepage from geothermal sources was suddenly released on August 21, 1986. The gas cloud immediately settled (carbon dioxide is heavier than air) and covered an area of up to 12 miles (20 km) from the lake, killing all oxygen-breathing life almost instantly.
1988 CE: C.B. Lansing, a flight attendant on Aloha Airlines Flight 243, was sucked out of an airliner when the bulkhead tore off in mid-flight.
1993 CE: Actor Brandon Lee, son of Bruce Lee, was shot and killed using a prop .44 Magnum gun while filming the movie The Crow. A cartridge with only a primer and a bullet was fired in the pistol before the fatal scene; this caused a squib load, in which the primer provided enough force to push the bullet out of the cartridge and into the barrel of the revolver, where it became stuck. The malfunction went unnoticed by the crew, and the same gun was used again later to shoot the death scene. His death was not instantly recognized by the crew or other actors; they believed he was still acting.
1994 CE: Gloria Ramirez was admitted to Riverside General Hospital for complications of advanced cervical cancer. Before she died, her body mysteriously emitted toxic fumes that made several emergency room workers very ill. She was dubbed as the "toxic lady" by the media.
1998 CE: Every player on the Basanga soccer team at a game in the Democratic Republic of the Congo between Bena Tshadi and visitors Basanga was struck by a fork bolt of lightning, killing them all instantly.
2003 CE: Dr. Hitoshi Nikaidoh, a surgical doctor, was decapitated as he stepped onto an elevator at Christus St. Joseph Hospital in Houston, Texas. According to a witness inside the elevator, the elevator doors closed as Nikaidoh entered, trapping his head inside the elevator with the remainder of his body still outside.
2006 CE: Steve Irwin, an Australian television personality and naturalist known as The Crocodile Hunter, died when his heart was impaled by a short-tail stingray barb.
2006 CE: Alexander Litvinenko, a former officer of the Russian State security service, and later a Russian dissident and writer, died after being poisoned with polonium-210 causing acute radiation syndrome. His is the first case of deliberate poisoning in this manner.
2009 CE: Vincent Smith II, an employee at the Cocoa Services Inc. chocolate factory in Camden, New Jersey, was loading chunks of raw chocolate when he slipped and fell into a large melting tank filled with 120oF (50oC) chocolate, and was knocked out by one of the mixing paddles.
2010 CE: Phil Pagano, chief executive of Chicago's commuter rail system under scrutiny for illegal payments, committed suicide by deliberately stepping in front of a commuter train that he himself had personally ridden every day for years.
So it would seem that even tales of death can be quite ironic and even amusing in certain cases (I'll bet that there were some chuckles produced by the above list). At present, there is a show on TV called "1000 Ways To Die" in which recent unusual deaths are dramatically portrayed. One has to wonder what goes through the minds of those who watch it. Clearly, there is an audience for the subject matter.




The Definition of Death

Improvements in the medical definition of death have been clearly driven by the increasing demands of organ transplantation. For example, a young person who dies of head injuries in a car accident may have many vital organs that can be transplanted to other people in need of them. However, the key to this is that a person be declared dead, so that his or her donating organs can be transferred to recipients as soon as possible after the death of the donor.

In the past, death was defined as the condition where a person had no breathing and no pulse - in other words, no respiration and no heart beat. But then medical technology evolved to the point that a person's brain could be kept alive under these conditions. Also, states such as extreme hypothermia can produce these effects, but the person can be revived, even as much as a few hours after the cessation of breathing and heart beat.

One of the most interesting and publicized cases about death is the Terri Schiavo case. In 1990, Terri Schiavo was found by her husband face down and unconscious in their apartment. When the paramedics arrived, she was not breathing and had no pulse. These were restored by emergency procedures, but by that time she had already suffered severe brain damage due to lack of oxygen. Her brain had enough function left to keep her body alive, but there was no cognitive function left at all. She had to be fed with a feeding tube or she would literally starve to death. After many years of legal wrangling, Terri was removed from her feeding tube and did indeed die of starvation. At the autopsy, her brain was found to be only half the size of what it should have been for a healthy person. So when did Terri Schiavo really die? Was it in 1990 when her cognitive function was destroyed, or was it in 2005 when she was taken off all life support?

Sometimes people who are thought to be dead can come back to life. Take this case of severe hypothermia which was reported in a medical journal. A 54-year-old woman was accidentally locked in a large food freezer, where she had been cleaning off frost. The temperature of the freezer was -22 oF and she was in there for at least 3 hours before she was discovered. Upon her rescue, she was not breathing and had been in a state of cardiac arrest for some time. After transport to the hospital, they measured her body temperature at an extremely low 76 oF. The hospital personnel instituted slow warming procedures, and after 4 hours of cardiac arrest, the woman's heart again began pumping. One week after this trauma the woman was completely recovered. So the severe hypothermic state had preserved her brain condition enough for her revival, even after four hours of cardiac arrest!

It is now generally accepted by the medical community that the best definition of death is death of the brain. If a person's brain stops operating in an irreversible way, then that person is clinically dead. According to a 1981 U.S. Presidential Commission on the subject, the diagnosis of brain death describes a condition in which "irreversible structural or specifically known damage has permanently destroyed all functional brain activity, including that of the brain stem" (14). Brain stem function is the key issue here. The brain stem contains all the critical nerve centers associated with the brain's interface with the body. If the brain stem is not functioning, the body can only continue to function with the aid of heroic medical full-life support systems.

Electroencephalography (EEG) is the most widely used test for brain death. If the EEG shows no brain wave activity at all for an extended period of time, then the brain is considered dead. There is also the evaluation of brainstem auditory evoked potentials (BAEP). In this test, loud sounds are projected into the ears. If the brainstem is functional, auditory nerve stimuli can be recorded from the scalp in the occipital area of the brain. If nothing is detected, then the brainstem is dead. Somatic evoked potentials (SEPs) can also be employed. Here, a median nerve in the wrist is stimulated, and electrical potentials are measured at key receiving points. If no potentials are detected, then the brain is considered dead. At the point of brain death by these procedures, the possibility of the brain and cognition becoming active again is considered to be essentially zero.




Survival of Consciousness

Does anything associated with a person survive after that person's death? Plato said yes, the soul survives death of the body, because the soul and the body are made of different "stuff". Aristotle on the other hand said that the soul dies along with the body, because they were essentially the same "stuff". Contemporary views associate the soul with consciousness, so the question then becomes: Does a person's consciousness survive after death?

A medical doctor who tried to address this question scientifically was Dr. Duncan Macdougall. In 1907, Macdougall actually made measurements of the weight of a person's body as that person went through the dying process. Here are excerpts from his published account of his experiments in the Journal of American Medicine (15).

My first subject was a man dying of tuberculosis. It seemed to me best to select a patient dying with a disease that produces great exhaustion, the death occurring with little or no muscular movement, because in such a case the beam could be kept more perfectly at balance and any loss occurring readily noted.

The patient was under observation for three hours and forty minutes before death, lying on a bed arranged on a light framework built upon very delicately balanced platform beam scales. The patient's comfort was looked after in every way, although he was practically moribund when placed upon the bed. He lost weight slowly at the rate of one ounce per hour due to evaporation of moisture in respiration and evaporation of sweat.

During all three hours and forty minutes I kept the beam end slightly above balance near the upper limiting bar in order to make the test more decisive if it should come.

At the end of three hours and forty minutes he expired and suddenly coincident with death the beam end dropped with an audible stroke hitting against the lower limiting bar and remaining there with no rebound. The loss was ascertained to be three-fourths of an ounce.

This loss of weight could not be due to evaporation of respiratory moisture and sweat, because that had already been determined to go on, in his case, at the rate of one sixtieth of an ounce per minute, whereas this loss was sudden and large, three-fourths of an ounce in a few seconds.

The bowels did not move; if they had moved the weight would still have remained upon the bed except for a slow loss by the evaporation of moisture depending, of course, upon the fluidity of the feces. The bladder evacuated one or two drams of urine. This remained upon the bed and could only have influenced the weight by slow gradual evaporation and therefore in no way could account for the sudden loss.

There remained but one more channel of loss to explore, the expiration of all but the residual air in the lungs. Getting upon the bed myself, my colleague put the beam at actual balance. Inspiration and expiration of air as forcibly as possible by me had no effect upon the beam. My colleague got upon the bed and I placed the beam at balance. Forcible inspiration and expiration of air on his part had no effect. In this case we certainly have an inexplicable loss of weight of three-fourths of an ounce. Is it the soul substance? How other shall we explain it?

My second patient was a man moribund from tuberculosis. He was on the bed about four hours and fifteen minutes under observation before death. The first four hours he lost weight at the rate of three-fourths of an ounce per hour. He had much slower respiration than the first case, which accounted for the difference in loss of weight from evaporation of perspiration and respiratory moisture.

The last fifteen minutes he had ceased to breathe but his facial muscles still moved convulsively, and then, coinciding with the last movement of the facial muscles, the beam dropped. The weight lost was found to be half an ounce. Then my colleague auscultated the heart and and found it stopped. I tried again and the loss was one ounce and a half and fifty grains. In the eighteen minutes that lapsed between the time he ceased breathing until we were certain of death, there was a weight loss of one and a half ounces and fifty grains compared with a loss of three ounces during a period of four hours, during which time the ordinary channels of loss were at work. No bowel movement took place. The bladder moved but the urine remained upon the bed and could not have evaporated enough through the thick bed clothing to have influenced the result.

The beam at the end of eighteen minutes of doubt was placed again with the end in slight contact with the upper bar and watched for forty minutes but no further loss took place.

My scales were sensitive to two-tenths of an ounce. If placed at balance one-tenth of an ounce would lift the beam up close to the upper limiting bar, another one-tenth ounce would bring it up and keep it in direct contact, then if the two-tenths were removed the beam would drop to the lower bar and then slowly oscillate till balance was reached again.

This patient was of a totally different temperament from the first, his death was very gradual, so that we had great doubts from the ordinary evidence to say just what moment he died.

My third case, a man dying of tuberculosis, showed a weight of half an ounce lost, coincident with death, and an additional loss of one ounce a few minutes later.

In the fourth case, a woman dying of diabetic coma, unfortunately our scales were not finely adjusted and there was a good deal of interference by people opposed to our work, and although at death the beam sunk so that it required from three-eighths to one-half ounce to bring it back to the point preceding death, yet I regard this test as of no value.

My fifth case, a man dying of tuberculosis, showed a distinct drop in the beam requiring about three-eighths of an ounce which could not be accounted for. This occurred exactly simultaneously with death but peculiarly on bringing the beam up again with weights and later removing them, the beam did not sink back to stay for fully fifteen minutes. It was impossible to account for the three-eighths of an ounce drop, it was so sudden and distinct, the beam hitting the lower bar with as great a noise as in the first case. Our scales in the case were very sensitively balanced.

The net result of the experiments conducted on human beings, is that a loss of substance occurs at death not accounted for by known channels of loss. Is it the soul substance? It would seem to me to be so.

It should be mentioned that MacDougall also performed his experiments on fifteen dogs. He did not detect weight losses in any of these dogs at the moment of death, as he had with the human beings.

Dr. MacDougall's measurements have never repeated due to medical ethical considerations which apply up to the present day with regard to experiments on the dying. In a way this is unfortunate since they are rather intriguing. However, most people would say that MacDougall made errors in his measurements, that he forgot to take something into account in his weight observations. They say, as Plato did, that if the soul exists, it is made of different stuff, spiritual stuff that has no weight. You cannot weigh the soul, the consciousness.

What is consciousness? What am "I"? Do "I" survive after death? These are fundamental questions indeed. Let us delve more deeply into the views about consciousness.

Consciousness is associated with the mind, with the mind's thoughts and the mind's feelings. I, my consciousness, can think abstract thoughts. I can think about things that I can't sense with my senses, for example non-light electromagnetic radiation. I can think about abstract concepts such as quantum mechanics. I can ask questions such as: What does it feel like? To be alive, to be free, to breath in the fresh air, to see a beautiful sunrise or sunset, to appreciate a great work of art. These "what is it like" aspects of consciousness are termed "qualia" in the consciousness literature. Qualia are subjective assessments of what things are like. What is it like to be a dog? Or, what is the redness of that red scarf? Or, that sunset is beautiful! Abstract thoughts and qualia are the essence of what consciousness is perceived to be by the individual conscious entity.

But am "I" just the sum of my thoughts and subjective qualia? There is an interesting article by Deikman that explores the nature of "I" (16). Deikman begins by asking you to consider two experiments.

In the first experiment, close your eyes, look inside yourself and try to sense the origin of your most basic, most personal "I". Try to find the root of your "I" feeling. If you do this, you will see that you cannot locate your "I". It eludes you when you try to define it with any action, desire, memory, or thought. What this tells you is that the "I" can be experienced, but it cannot be "seen". Fundamentally, the "I" is the observer, the experiencer that is there prior to any conscious content. Another way to express this is that the "I" is identically equal to Awareness.

In the next experiment, consider that you are in a sensory deprivation chamber. It is completely dark and completely silent. Your body is floating in a warm liquid, so you have no sensory touch inputs. There are no smells and no tastes. Your five senses are completely shut down. In this state, you are totally isolated from the outside world. The only thing that you have are your thoughts and feelings. However, even these mental states can come and go. The one thing that remains is your awareness - your awareness is your "I".

But is your "I", your awareness, produced simply by material brain function, or is it something else altogether? If someone knocks you unconscious, your conscious "I" disappears temporarily until you regain consciousness. So clearly brain function is a necessary condition for a conscious "I". However the central question is whether the "I" also exists when your brain is unconscious. And the ultimate question is: Does the "I" continue to exist after the brain is dead?

This relates to the "hard problem" of consciousness. The "hard problem" of consciousness, as coined by David Chalmers (17), is this: How do physical processes in the brain produce subjective experiences? In other words, how are the first-person "I" experiences produced by third-person brain events. I very much enjoy visiting art museums. The paintings that I especially like are those that "please my eye". This is a personal qualium of mine, of my consciousness. How does my feeling of appreciation for the paintings that I most enjoy gazing upon come about? What transforms the visual image taken in by my eyes into the subjective experience of personal art enjoyment? That indeed is a very "hard problem". It is quite true that consciousness is the number one mystery of the mind.

There are two generic intellectual groups associated with consciousness. Individuals in the first group are called dualists. Dualists say that a person is composed of two distinctly different entities, body (the physical), and mind (the spiritual). Our consciousness, our "I-ness" is then associated with the mind, our spiritual part - in other words our soul. For dualists, the explanation of subjective qualia experiences is straightforward. They are associated with the spiritual aspects of the mind.

Perhaps the most famous dualist was Rene Descartes, the discoverer of the Cartesian coordinate system. Descartes said the body and the spirit (soul) coexist together in the living person. It is the spirit that is the conscious entity and that embodies the mind. Descartes concept has been termed "the ghost in the machine". The body and the brain are physical entities, while the spirit and mind are spiritual entities. Thus, they are fundamentally different from each other and this raises the key scientific problem with the "ghost in the machine", which is: How does the "ghost" interface with the "machine"?

There is no doubt that this is a very valid scientific question. How are our sensory inputs from the physical world transmitted to the spirit, the mind, so that the mind can think about them and feel them? Similarly, how do the thought actions and decisions generated by the mind translate into actual physical actions? Descartes postulated that this interfacing took place in the pineal gland at the center of the brain. But to the present day there is no scientific evidence for this pineal gland interface, nor any other satisfactory explanation as to how "brain stuff" can interact with "spirit (mind) stuff".

The second consciousness group, the monists, say that we are nothing more than body and brain. Our consciousness is essentially an aspect of our brain function. They argue that there is no such thing as spirit or soul.

The most famous monist in recent times has been Francis Crick, the Nobel Prize winner for the discovery of the structure of DNA. Crick put forward the "astonishing hypothesis". Basically, the "astonishing hypothesis" states (in Crick's words) "that 'you', your joys and your sorrows, your memories and your ambitions, your sense of personal identity and free will, are in fact no more than the behavior of a vast assembly of nerve cells and their associated molecules". In this view, your consciousness is essentially the integrated activities of your nerve and brain cells.

The central problem with the monist approach is that no one has yet been able to scientifically determine where or how the brain cells and their associated brain centers integrate the consciousness. One cannot identify where in the brain the consciousness is located or how consciousness is assembled in the brain. Nor can monists effectively explain the subjective "I" qualia. Crick died without finding the solution of the "hard problem" in his brain consciousness investigations. Perhaps he now knows the answer.

There is a very interesting book about consciousness and dying entitled "Sleeping, Dreaming, and Dying: An Exploration of Consciousness with the Dalai Lama" that explores dualist and monist views of consciousness from the Buddhist viewpoint of anatta, or no-self (18). This book is a summary of the discussions between neuroscientists and the Dalai Lama that took place over five consecutive days in October 1992 at the Dalai Lama's residence in Dharamsala, India.

What is the Buddhist idea of anatta, or no-self? It is, for me, a difficult concept to grasp. According to Buddhism, consciousness is nothing more than a complex compound of fleeting mental states. Each unit of consciousness consists of three phases – arising (genesis), static (development), and cessation (dissolution). Immediately after the cessation stage of a thought moment, there occurs the genesis stage of the subsequent thought-moment. Each momentary consciousness of this ever-changing life-process, upon passing away, transmits its whole energy, all the indelibly recorded impressions to its successor. Every fresh consciousness consists of the potentialities of its predecessors, together with something more. There is therefore, a continuous flow of consciousness like a stream without any interruption. The subsequent thought moment is neither absolutely the same as its predecessor since that which goes to make it up is not identical, nor entirely another but rather the same continuity of karmic energy. Here there is no identical being but there is an identity in process. Consciousness is effectively the uninterrupted flow of quantum mental states. But there is no thinker entity or soul associated with this flow of consciousness. There is only the flow.

If there is no self, no soul, then what is it that is reborn after death in the Buddhist philosophy? Buddhists say that there is nothing that is reborn, there is only the re-materialization of karmic energy from the previous life in another form of life.

However, some Buddhists believe that there is an underlying foundational consciousness, an existential background from which all manifestations of the fleeting individual consciousness states arise, essentially a cosmic self. But the Dalai Lama indicated that the existence of foundational consciousness is refuted in the Prasangika system of Buddhism, which is generally considered by Tibetans to be the highest philosophical Buddhist system. He said that this concept arose from the Yogacara system, a school of Buddhism that flourished in India beginning in the fourth century CE. Also know as the mind-only doctrine, its proponents held the view that no reality exists outside of consciousness, and that a mental self would carry on after death.

The Dalai Lama stated that his form of Buddhism believes that in addition to the gross physical and mental attributes of the personality living a certain lifetime, at death there is a continuum of a "very subtle mind" that continues to exist after death of the physical body. But this "very subtle mind" should not be associated with a "self". Rather, the "very subtle mind" is termed a "primordial consciousness" or a "primordial clear light". At the moment of death, the gross mind - the brain - ceases functioning. What is left is the "very subtle mind" or the "clear light of death". According to the Dalai Lama, one might interpret the "clear light of death" as an "I", but it is really just a continuity of karmic influences.

What is the Buddhist definition of death? The Dalai Lama said that life is defined on the basis of consciousness. When the body is no longer able to sustain consciousness, then the body is dead. Here is how the Dalai Lama described the dying process (18):

Let me give a presentation of the dying process and death according to the Buddhist Vajrayana. This is well-established in these texts, but this account has yet to be investigated by scientific means. This discussion focuses on the energy center at the heart, in which there are said to be a very subtle white element and a red element. In the process of dying, the white element descends from the head, down through the central channel, and then stops at the heart center. From below the heart a very subtle red element, or drop, arises. As the very subtle white element descends to the heart, one has the experience of a pale light. Following this, the red element ascends to the heart, and while this is occurring, there is a subjective experience of a reddish sheen arising. When the two of these completely converge, like two bowls coming together, there is a period of blackout, as if you simply lose consciousness altogether. Following that blackout period is the period of the clear light of death. …. As long as the clear light of death experience is sustained, the connection between the very subtle energy-mind and the gross physical body has not yet been severed. It's in the process of being severed but it has not yet been completely severed. At the very moment that the severance takes place, the body begins to decay, and at that point we say death has occurred.

The Dalai Lama was asked by the neuroscientists what was it that provided the connection between the "very subtle mind" and the gross body and mind. His reply was that gross consciousness arises from the "very subtle mind". Gross consciousness and the "very subtle mind" are intimately connected.

Mays and Mays have put forward the concept of the "self-conscious mind" which seems somewhat similar to the Buddhist "very subtle mind" (19). Their ideas are based on thirty years of investigating near-death experiences, and particularly the out-of-body aspects of the near-death experiences. They present the view that "the same human being exists out of the body during the NDE, freed of the constraints and limitations of the body during this time, and exists within the body before and after the NDE". Mays and Mays termed this entity the "self-conscious mind".

They postulated that during an out-of-body experience, the self-conscious mind carries with it the faculties of awareness, perception, thought, volition, memory, and feelings. The self-conscious mind is an independent "field of consciousness" while it is out of the body, and is a non-material entity. It is invisible and can pass through physical objects.

When not in the out-of-body state, the self-conscious mind resides within the location of the physical body and interacts with the brain during the state of consciousness. Their concept is that the self-conscious mind is already fully developed at birth, and that the process of physical growth of the body and brain is essentially the developmental integration of the self-conscious mind with the physical body and brain. In effect, one might also term the self-conscious mind as the soul.

The key question is how the non-material self-conscious mind interacts with the physical brain in the in-body condition, since it does not interact with physical things in the out-of-body condition. To try and address this question, Mays and Mays drew upon a number of aspects reported by people who have had NDEs. Many NDErs report that while in the out-of-body state, they still seem to have a "body", but this "body" appears to have a luminosity associated with it, and the "body" is invisible to ordinary people (although it may possibly be sensed by animals). The NDEr "body" appears to interact with physical energies since the NDE experiencer can see light and the people and things illuminated by the light in the physical surroundings. However, although NDErs shout out with their "body" to try and attract attention, they cannot be heard by the people who are present in their vicinity. The NDEr body appears to have a subtle interaction with solid objects, because some NDErs report a slight resistance to passing through solid objects and also the ability to "bob" against the surface of a ceiling while in the out-of-body state. All of these observations suggest that the self-conscious mind produces a "body" state while out of the physical body, and that there are subtle interactions between this "body" and physical conditions.

These subtle interactions may suggest that the self-conscious mind can interact with and have influence over neural activity in the brain. But the question is still how? Mays and Mays do not put forward an answer to this key question, stating only that "specific mechanisms of mind-brain interaction are open for investigation" and postulating some sort of "mental force" that can interact with electrical brain processes.

Where do I stand on all this? Which camp do I belong to? I have to say that I am definitely a dualist. My intuition is that consciousness is associated with the soul, and that this consciousness/soul survives physical death of the body. The body dies, but "I" do not. The brain dies but the consciousness continues to exist. My opinion is probably close to the Yogakara Buddhists who believe in a continuity of a "mental self". Obviously, the Dalai Lama would disagree with me.

I think that the brain serves two essential functions. The first involves the operation of the body. The brain acts as the control point for the functions of the body. Our heart pumps, our lungs take in air because of brain function. The brain acquires and coordinates the inputs from our five senses. It tells me when I need to sleep and when I should wake up. It tells me that I have just stubbed my toe because of the pain signal that is registered in my brain. These body functions take place in the background. When I choose to wiggle my finger, it happens through a complex background process of nerve and muscle actions that I am completely unaware of in my consciousness.

The second function of the brain is to be the physical body location of my consciousness. When I sleep, I lose consciousness. When someone hits me on the head too hard, I lose consciousness. When I am given anesthetic drugs, I lose consciousness. Clearly, my consciousness is associated with brain function. If I have brain injuries, I may not be able to think clearly, or to remember, or to be able to wiggle my finger. If I am unlucky enough to acquire Alzheimer's disease of the brain, I may start to lose significant aspects of my personality.

However, I do not believe as the monists do that the brain is the source of my consciousness. Rather, with regard to consciousness, my view is that the brain acts something like a television set. A TV set produces sounds and images, but it is not the source of those sounds and images. You will never find the source by analyzing the innards of the TV set, because the source is not there. The source is the electromagnetic signals that are transmitted to the TV set, signals from somewhere else.

Similarly, the brain is not the source of consciousness. Consciousness comes from outside the brain, it is transmitted to the brain from somewhere else. Where and what is this somewhere else? My argument is that the somewhere else is our true spiritual reality. The brain filters our larger spiritual consciousness, our superconsciousness, our soul, if you will, and allows us the level of consciousness that we need in order to function in the physical world. It also provides us, unlike the animals who have only brain instinct, with the ability to think abstract thoughts and to have subjective feelings. It provides us with the sense of the "I".

When the body dies, the brain also dies and our physical consciousness is lost with it. However, what we retain is our spiritual consciousness, our "I", our soul. Our spiritual consciousness transcends physical death. This is what I personally believe, what my intuition tells me. My views on this are expressed in considerably more detail in my book "The First Principles: A Scientist's Guide to the Spiritual" (20) and I will not dwell more on them here. What I will do is put forward evidence for the survival of the soul, the consciousness, after death. Then, you can decide for yourself.




Pre-Death Experiences

More and more of the elderly are spending their last days on Earth in end-of-life hospice settings. At these hospices, they are kept as comfortable and pain-free as possible. They are cared for by empathetic staff who treat them with kindness and respect. They have many opportunities to be visited by family and friends as they enter their last days.

Many of the hospice caregivers report that as a person approaches the day and hour of their death, they have significant pre-death experiences.

What are these pre-death experiences? Dying people often report seeing and even conversing with deceased relatives and friends, as well as angelic beings. Since none of the hospice workers are able to see these entities and the events are often interpreted as dementia on the part of the dying person. However, those who work closely with the dying indicate that such reports come from people who show no symptoms of dementia. They are reported by people of many different faith traditions and cultures, as well as people who have considered themselves atheists and agnostics. As was previously mentioned, the Buddha reported a pre-death experience in which he saw invisible deities who had come to observe his moment of death.

Some of these pre-death experiences have been very well documented by Dr. John Lerma, who is a hospice doctor in Houston, Texas (21,22). Here is a sampling of the cases that Dr. Lerma has described.

Consider the case of the dying Dr. Johnson. Dr. Johnson was a respected medical professional who was also an atheist. He was admitted to Dr. Lerma's hospice because he was dying of lymphoma at age 68. Now Dr. Johnson's parents had both been killed by a drunk driver when he was still in his youth and it was this event that had made him a committed atheist.

At the hospice, Dr. Johnson began to experience things that were outside of his materialistic, atheistic framework. Specifically, he reported to Dr. Lerma that he had been seeing and communicating (telepathically) with angelic beings, who had come to comfort him in his final days. One evening close to his death, Dr. Johnson reported that his deceased parents entered his room, accompanied by a stranger. He parents told him that the stranger was the drunk driven who had been responsible for their deaths, and that their situation had all worked out as it was meant to be. Shortly after that evening, Dr. Johnson died peacefully.

Then there is the case of Dr. Jean Pierre, a 67 year old anthropological pathologist and agnostic who was admitted to the hospice in considerable pain and with only about two weeks to live. Dr. Pierre said that he was visited by a spiritual entity whom he called "Michael". Michael was helping Dr. Pierre to review the lessons of his life, and was also there to help him accept the existence of God and an afterlife. He said that he had left his body and Michael had shown him aspects of God's universe (even its start at the Big Bang), and the progression of life on the Earth through its billions of years of evolution. Dr. Pierre indicated that Michael revealed to him that science without God was limited, but that science with God was unlimited. At one point, Dr. Pierre asked Michael if mankind would eventually be able to travel throughout the universe and Michael told him yes, but only when mankind had turned from its destructive ways. In the end, Dr. Jean Pierre died with a smile on his face.

Dr. Lerma related the hospice story of Grace Livingston, who was a 102-year-old woman from the South, an old southern belle. Grace had been diagnosed with stage four pancreatic cancer and was given about six weeks to live. Grace told Dr. Lerma that angels came to visit her, and that they would take her spirit away from her body in the evenings so that she could visit different locations around the planet, such as the pyramids of Giza, Machu Picchu in Peru, and Antarctica. Grace said that she was also visited by Mary Magdalene, who she described as being a beautiful woman with long, flowing dark hair and dressed in a dark blue robe. Such a visit was particularly interesting, given the fact that Grace was Jewish. Mary Magdalene told Grace about the Gospel of Mary, which she said was written by her closest friends, but was not included in the Bible. In actual fact, fragments of the Gospel of Mary were found at Nag Hammadi in Egypt in 1945. However, Grace had no prior knowledge of this. Grace said Mary told her the hidden things that Jesus had told to her before his death. One of these was that the kingdom of God is within us, and that God uses our conscience to tell between right and wrong. If you have a "gut feeling" that something is wrong, then it is wrong. Mary Magdelene told Grace that when she communicated these hidden teachings of Jesus to the apostles, they had difficulty understanding them, and downplayed them because Mary was a woman. Dr. Lerma said that Grace ended up acquiring a significant amount of information about and from Mary Magdelene during her last days. She eventually went to sleep and died peacefully.

Then there is the hospice experience of Misty. Misty was a young woman who was dying of terminal bone cancer. She described seeing and interacting with her dead father and grandparents during out-of-body experiences. While her cancer was extremely painful, she said that in the out-of-body state there was no pain. At one point, Misty appeared to have died and was actually pronounced dead by Dr. Lerma. However, her mother shook her and pleaded with her to come back, and after 15 minutes of no heartbeat and no breathing, she actually did! Misty described her near-death experience to Dr. Lerma. She said that her soul left her body from her chest region. She indicated that the soul is made of pure light and that spirits appear to each other as transparent lighted figures. Interestingly, Misty said that there was life on other planets! In the out-of-body state, Misty stated that you move around by mere thought. She said that she saw the spirits of recently deceased individuals from the hospice. Dr. Lerma asked Misty why healthy people could not see angels and spirits as she could. Misty replied that if you were in a very relaxed state and had the right chemicals in your brain, then you could! Misty said that your intuition, your conscience, tells you what is right and wrong since it is a connection to God. One would have to say that Misty certainly did relate a lot of very interesting things to Dr. Lerma. Perhaps that was because she was a young adult woman at the time of her death. Her mother related that she died with a most beautiful smile on her face.

Finally, Dr. Lerma described the dying experiences of his own father. His father, aged 82, had a degenerative heart disease that could not be treated with surgery. He was placed in a hospice for his last days, and Dr. Lerma and his family were there to support him during his passing. Dr. Lerma's father told him that he had been fearful of death, afraid that death meant non-existence. But in the hospice, he said that he was visited by angels. He also said that he saw auras around both people and other living things. He stated that people have a circular shimmering light in the center of their chest, which he interpreted as the soul. He indicated that he had seen his deceased parents and his brother, and that they were happy and youthful-looking. In the end, Dr. Lerma's father died with a smile on his face.

The above cases are just a sampling of what is described in Dr. Lerma's books on pre-death experiences that have taken place at his end-of-life hospice (21,22). I highly recommend these books to the reader. The stories are moving and they give one a very illuminating and personal touch of what people experience at the end of their lives.

I was not with either my father or my mother when they died. They lived in a location that was far from mine. Fortunately my brother lived quite close to them. In the case of my father, I was apprised that he was very sick and was preparing to fly to see him when I got the news that he had expired. My mother told me that he also died with a smile on his face. I have always wondered what he was smiling at. In the case of my mother, although she was feeble and staying in a nursing home, she appeared to be in reasonably good health for her age of 86. However, one evening I got a call from my brother who told me that she had unexpectedly passed away. A nurse had seen her in her room that night and she seemed fine. But when she came back in about five minutes later, the nurse discovered that my mother had died suddenly from a blood clot that had traveled to her heart. No one was at her bedside when her time came. I guess my physical presence with my parents at the end was just not part of God's plan.




Near-Death Experiences

My first exposure to near-death experiences occurred when I was on a business trip in 1977 and bought the book "Life After Life" by Raymond Moody to read during my airport terminal wait (23). I have always been something of an anxious flyer. You seem so vulnerable when you are on a plane and flying above the earth at 30,000 feet and 500 miles per hour. It didn't help matters that I knew a significant amount about the materials that make up an aircraft engine. Would the next flight be my last? Was my luck about to run out since I had flown so many flights already that had made it okay. I must admit that after reading this book, I started to feel somewhat better about flying (but still not totally relaxed).

I found the "Life After Life" book to be totally fascinating. It presented very interesting and unusual information that I had never known before. A typical near-death experience was described as follows. A person felt as though "they", that is their consciousness, had left their body and that "they" were observing the scene below, typically a hospital room, from a vantage point above, usually near the ceiling. They could see their body and the medical personnel who were attending to it. After some time of this observation, they then found themselves moving through a dark tunnel, with the feeling that they were moving at great speed. There was a bright, white light at the end of the tunnel. When they reached the light, which was dazzlingly brilliant, they experienced feelings of great peace and unconditional love. Some people saw religious figures, some saw dead relatives, some saw people they did not know but who definitely seemed to know them. Some people had a rapid life review. After a while, they were informed that this was not their time and they had to go back. They didn't want to go back, but the process happened anyway and they found themselves again back in their body. Most of the people who underwent these near-death experiences had no subsequent fear of death, and had a greater appreciation of life. They tended to be more spiritual, but not necessarily more religious.

I personally have never had such a near-death or out-of-body experience. I often wish that I had (but minus the trauma part). However, I have a professional colleague who did, when he had a heart attack. Let's call him Bob (not his real name). Before this experience, I had thought that Bob was quite a worldly and down-to-earth type of person. At a technical meeting we were both attending we had lunch and during that lunch when I asked him about his heart attack, he spontaneously began to relate to me his near-death experience. I was somewhat taken aback, since this type of discussion was quite out of character for Bob as I had known him up to that point in time.

Bob said that his heart attack began and he was in great pain because to it and very fearful about the possibility of dying. He told me that when he was in the ambulance on the way to the hospital, it seemed like he was instantly transported to a peaceful ethereal place where he was given the choice to proceed further or to go back. Bob said that the choice to proceed further had great tranquility associated with it, while the choice to go back had much pain. But he chose to go back because he felt he couldn't yet leave his wife and family. So he was sent back.

I was very surprised. I had never expected to hear a near-death experience related by someone as worldly as Bob. Yet there it was. He was completely sincere and it was obvious that it had made a very great impression upon him. Shortly after having this lunch with Bob, he stopped attending technical meetings and dropped his consulting business. Perhaps he discovered what was truly important.

The earliest written account of an NDE comes from Plato, who relates the near-death experience of the warrior Er (24):

..the tale of a warrior bold, Er, the son of Armenious, by race a Pamphylian. He once upon a time was slain in battle, and when the corpses were taken up on the tenth day already decayed, he was found intact, and having been brought home, at the moment of his funeral, on the twelfth day as he lay upon the pyre, revived, and after coming to life related what, he said, he had seen in the world beyond. He said that when his soul went forth from his body he journeyed with a great company and that they came to a mysterious region where there were two openings side by side in the Earth, and above and over against them in the heaven two others, and that judges were sitting between these, and that after every judgment they bade the righteous journey to the right and upward through the heaven with tokens attached to them in front of the judgment passed upon them, and the unjust to take the road to the left and downward, they too wearing behind signs of all that had befallen them, and that when he himself drew near they told him that he must be the messenger to humanity to tell them of that other world, and they charged him to give ear and to observe everything in the place.

From out of the tunnels came souls who were returning for a reincarnation on Earth. Souls coming from above spoke of the happiness and beauty that they had experienced. But from below came souls who had endured much suffering for the suffering they had caused others in their last earthly life. Before returning to Earth as a shooting star, each reincarnating soul was required to drink from the River of Forgetfulness. Only Er was not allowed to drink and thus remember what he had seen.

The Greek philosopher Plutarch wrote about the NDE of a person by the name of Thespesius in his major work Moralia (25). Here, Plutarch describes the experience of Thespesius as he was withdrawn from his body:

He said that when his intelligence was driven from his body, the change made him feel as a pilot might at first on being flung into the depths of the sea; his next impression was that he had risen somewhat and was breathing with his whole being and seeing on all sides, his soul having opened wide as if it were a single eye.

… he was swiftly taken by the guide over what appeared an immense distance, traversing it easily and unerringly, buoyed up by the beams of the light as by wings, until he came to a great chasm.

Within, it had the appearance of a Bacchic grotto: It was gaily diversified with tender leafage and all the hues of flowers. From it was wafted a soft and gentle breeze that carried up fragrant scents arousing wondrous pleasures and such a mood as wine induces in those who are becoming tipsy; for as the souls regaled themselves on the sweet odors they grew expansive and friendly with one another; and the place all about was full of bacchic revelry and laughter and the various strains of festivity and merry-making.

However, Plutarch wrote that Thespesius also witnessed hell-like scenes of torment:

They now turned to view those who were suffering punishment. At first these presented only a disagreeable and piteous spectacle; but … Thespesius kept meeting friends, kinsmen, and comrades who were being punished, a thing he never would have looked for, and these lamented to him and raised a cry of wailing as they underwent fearful torments and ignominious and excruciating chastisements …

Plutarch indicated that Thespesius also encountered souls who were not suffering. One of them was a family member who told Thespesius that he was not yet destined to die:

Other souls, above, in a pure region of the ambient, were joyful in aspect and out of friendliness often approached one another, but shunned the other, tumultuous souls, indicating their distaste, he said, by contracting into themselves, but their delight and welcome by expansion and diffusion. Here, he said, he recognized one soul, that of a kinsman, though not distinctly, as he was but a child when the kinsman died; but it drew near and said: "Greetings, Thespesius." He was taken aback, and said he was not Thespesius but Aridaeus. "You were that before," was the reply, "but henceforth you are Thespesius. For you must further know you are not dead, but through a divine dispensation are present here in your intelligence, having left the rest of your soul, like an anchor, behind in your body. Now and hereafter know it by this token: The souls of the dead neither cast a shadow nor blink their eyes." At this Thespesius, by an effort of thought, became more collected, and looking steadily, saw a certain faint and shadowy line floating along with him, while the rest were enveloped all around with light and translucent within, although not all to the same degree.

Plutarch writes that Thespesius was provided information about a future eruption of Mt. Vesuvius and his own death:

But he did hear, as he passed by, a woman's high voice foretelling in verse among other things the time (it appears) of his own death. The voice was the Sibyl's, the daemon said, who sang of the future as she was carried about on the face of the moon. He accordingly desired to hear more, but was thrust back, as in an eddy, by the onrush of the moon, and caught but little. Among this was a prophecy about Mt. Vesuvius and the surge of flame that would pass over Dicaearcheia, and a fragment of verse about the emperor of those days … he will through sickness leave the throne.

Finally, Plutarch comments on the effect that the NDE had on Thespesius' life after the NDE:

This man of Soli … had spent his early life in great dissipation, and then, soon running through his estate, had for some time practiced a further villainy brought on by his straitened circumstances … Abstaining, then, from no shameful act conducive to gratification or gain, he accumulated no very considerable fortune, but in a brief space a prodigious reputation for knavery.

After his temporary death, recovering his strength and senses, he instituted a change in his way of life that could hardly be believed; for the Cilicians know of no one in those times more honest in his engagements, more pious toward heaven, or more grievious to his enemies and faithful to his friends; so that all who met him longed to hear the reason for the difference, supposing nothing ordinary could have caused so great a reformation in character.

Plutarch's description of the NDE of Thespesius appears to contain many of the elements of the NDE experience described by Moody in his book "Life After Life". One has to wonder if Thespesius actually died in the eruption of Mt. Vesuvius. Plutarch is, however, silent on this point.

One may note that the even the great psychiatrist and philosopher Carl Jung had a near-death experience when he had a heart attack in Switzerland in 1944. Here is a portion of it, as described by Jung in his autobiography (26):

It seemed to me that I was high up in space. Far below I saw the globe of the Earth, bathed in a gloriously blue light. I saw the deep blue sea and the continents. Far below my feet lay Ceylon, and in the distance ahead of me the subcontinent of India. My field of vision did not include the whole Earth, but its global shape was plainly distinguishable and its outlines shone with a silvery gleam through that wonderful blue light. In many places the globe seemed colored, or spotted dark green like oxidized silver. Far away to the left lay a broad expanse - the reddish-yellow desert of Arabia; it was as though the silver of the Earth had there assumed a reddish-gold hue. Then came the Red Sea, and far, far back - as if in the upper left of a map - I could just make out a bit of the Mediterranean. My gaze was directed chiefly toward that. Everything else appeared indistinct. I could also see the snow-covered Himalayas, but in that direction it was foggy or cloudy. I did not look to the right at all. I knew that I was on the point of departing from the Earth.

Later I discovered how high in space one would have to be to have so extensive a view - approximately a thousand miles! The sight of the Earth from this height was the most glorious thing I had ever seen. After contemplating it for a while, I turned around. I had been standing with my back to the Indian Ocean, as it were, and my face to the north. Then it seemed to me that I made a turn to the south. Something new entered my field of vision. A short distance away I saw in space a tremendous dark block of stone, like a meteorite. It was about the size of my house, or even bigger. It was floating in space, and I myself was floating in space.

Jung went on to describe how he observed that the floating block of stone was hollowed out and he saw a Hindu sitting in the lotus position at its entrance. The Hindu wore a white gown and Jung had the impression that this entity was expecting him. He observed that the interior of the stone block had an appearance similar to a Hindu temple that he had once visited.

As Jung approached the entrance in the stone block, he had the strange feeling that everything that he had or wanted or had strived for in his earthly existence was being stripped away from him. What remained was what he had experienced and done in life, and he felt that this was what he truly was, in his words "a bundle of what has been and what has been accomplished". This was his objective reality. Jung said that as he approached the stone entrance, he had the certainty of meeting those people or entities that he belonged to in reality. His impression was that these people would show him the true context of the life that he had been living and the purpose of it.

However, before Jung could make his entrance into the stone temple, he noticed the image of a man which floated up from the Earth from the vicinity of the continent of Europe. As the image got closer, he recognized it as the likeness of his medical doctor which he said was framed by a golden chain. Jung had the impression that this image was actually the doctor in his primal form. The doctor's image came close to him – Jung thought that he himself was also in primal form – and communicated that it was not his time to die and that he must return to the Earth. He could not enter the stone temple and interact with the people with whom he felt he belonged, which made him feel very sad.

With that, Jung was returned to his body. He was quite disappointed and dejected at having to return from the stone temple. Jung stated the following about his return:

Now I must return to the 'box system' again. For it seemed to me as if behind the horizon of the cosmos a three-dimensional world had been artificially built up, in which each person sat by himself in a little box. And now I should have to convince myself all over again that this was important!

As a final note, Jung had the feeling that because his doctor had appeared to him in primal form during his NDE experience, the doctor himself would soon die. In actual fact, he was the doctor's last patient, since the doctor unexpectedly fell ill from septicemia and died shortly thereafter during Jung's convalescence in 1944.

Jung's account of his NDE is certainly dramatic and compelling. His description of the Earth from a vantage point in space 1000 miles above it seems particularly realistic, given the fact that he had this NDE in 1944 before anyone had ever been in orbit around the Earth.

Here is the account of an NDE that happened to a man in New Zealand in 2007. Prior to his NDE, this fellow had no belief in existence after death. The man, Russ Woolcock, was a Christchurch businessman who did not believe in God or an afterlife. He viewed religion as a delusion. Because Woolcock had these beliefs, he expected to cease to exist when he died. However, everything changed for him when he had his near-death experience at the age of 50 as a result of a heart attack. This is his description (27):

I have been in several states of non-consciousness in the past. I have been concussed, fainted, anesthetized, hypnotized, I was a master of transcendental meditation, I once had an injection of morphine in hospital so I know what a drug rush is like. But this was different. I was dead. There is a finality about death. It announces itself. There is no mistaking it. All my concentration was becoming focused on my breaths and heart beat. They were becoming less and less frequent, and the last one was identifiable. ….

When the last heartbeat had gone, I was aware of a couple of things. First, I was aware that I was aware, which came as a shock. And that puzzled me, because I was expecting nothing. I wasn't expecting any kind of existence. The other thing was that I had no body. ….

I was aware of being moved, or the environment changed around me. There was no sense of motion. I was aware of incredibly intense light, but unlike the sun it was not unpleasant to experience because there was no sight involved. I became aware I was in a different environment, but it was oddly familiar in some way. Concepts like time and space were totally different. Past, present and future were identical. ….

But I wasn't too interested in the place; I was riveted by the people, because the people who met me were my family – my late parents and my late sister, and a host of other identities. All I knew about the latter was that they knew me intimately well, but who they were I don't know. There was a strong sense of love from them. There was no conversation as such. No words were used, but meaning and intention were crystal clear.

But then they became almost secondary because I became aware of this father heart. I was just riveted by this, the overwhelming sense of love. This vibrant love was unbelievable. Because of its creative nature, it was clearly my Maker, and it was clear that this is what we refer to as God. I had no conversation with God, and I am not making any claim of being in God's presence. What I can say is that I knew I was palpably in the presence of God, though not face to face.

The thing I was most aware of was that at the very centre of creation is this overwhelming, overpowering, colossal, extravagant, amazing, radiating love. This might not be a shock to people of faith, but to someone of no faith it was a stunning surprise. There's not nothing – there's love. Not just any old love, love of a magnitude and a type way beyond our comprehension, beyond our imagining, way beyond my ability to describe, and certainly way beyond whatever we could have made up.

In a stunning reversal of outlook, Woolcock was "born again" as a spiritually-oriented person as a result of what he encountered during his near-death experience. He became an intense believer in the existence of God and the love that God had for him.

Researchers are now starting to perform scientific studies on near-death experiences (28-31). These NDE studies show that about 18% of cardiac arrest patients report a near-death experience. Near-death patients had been clinically dead, as established by electrocardiogram records, until they are revived.

Several theories on the origin of NDEs have been proposed. Some think the experience is caused by physiological changes in the brain, such as brain cells dying as a result of cerebral anoxia (lack of oxygen). Other theories propose a psychological reaction to approaching death, or a combination of such a reaction and anoxia.

The mental state of cardiac arrest survivors is a close approximation to that of a dying brain. This is because cardiac arrest patients have two out of the three criteria that are medically required to pronounce a person dead. These three criteria are: 1) no cardiac output (in other words, no heartbeat); 2) no spontaneous respiratory effort (meaning no breathing); 3) fixed dilated pupils (a result of loss of brainstem activity).

NDE memories are not similar to hallucinations since they are highly structured, narrative, easily recalled, and clear (hallucinations typically don't have these characteristics). NDEs appear to occur during unconsciousness, which is surprising because, when the brain is so dysfunctional that a person is deeply comatose, the cerebral structures that produce subjective experience and memory have to be severely impaired. Even if the unconscious brain is flooded by neurotransmitters, this should not produce clear, lucid remembering experiences, since the parts of the brain that generate conscious experience and memory are impaired by the brain's loss of oxygen.

Immediately following a cardiac arrest, a person's blood pressure drops to very low levels. Doctors use the electroencephalogram (EEG) to measure brain activity during procedures such as heart and brain surgery, and it has also been used during cardiac arrest situations. The EEG shows that during a cardiac arrest there is an initial slowing of the EEG waves, which then proceed to flat-line in about 10-20 seconds and remain flat during the cardiac arrest until the start of resuscitation. During cardiac arrest, blood flow to the brain is disrupted, leading to an absence of brain wave activity. As a result of these processes during a cardiac arrest, brain function and hence consciousness is lost.

The occurrence of lucid, well-structured thought processes together with reasoning, attention and memory recall of specific events during a cardiac arrest NDE raises many interesting and difficult questions as to how such experiences are possible. These experiences seem to be happening at a time when the brain's functional state can be described as severely impaired at best, and at worst nonexistent.

Results of studies suggest that NDEs in cardiac arrest are not hallucinations, since they happen in a seemingly non-functioning brain, whereas hallucinations always occur in a functioning brain. In addition, cerebral localization studies have shown that thought processes are associated with a number of different cortical areas, rather than single areas of the brain. Because of this, a globally disordered brain would not be expected to produce lucid thoughts. NDEs in cardiac arrest are not jumbled thought processes and in fact suggest a heightened awareness, attention and consciousness at a time when consciousness and memory function would not be expected because of the lack of brain activity.

In the prestigious medical journal Lancet (28), the following account of a near-death, out-of-body experience is given. This account was reported by the coronary care unit nurse:

During a night shift an ambulance brings a 44 year old cyanotic, comatose man into the coronary care unit. He had been found about an hour before in a meadow by passers-by. After admission, he receives artificial respiration without intubation, while heart massage and defibrillation are also applied. When we want to intubate the patient, he turns out to have dentures in his mouth. I remove these upper dentures and put them onto the 'crash cart'. Meanwhile, we continue extensive CPR. After about an hour and a half the patient has sufficient heart rhythm and blood pressure, but he is still ventilated and intubated, and he is still comatose. He is transferred to the intensive care unit to continue the necessary artificial respiration.

Only after more than a week do I meet again with the patient, who is by now back on the cardiac ward. I distribute his medication. The moment he sees me he says: 'Oh, that nurse knows where my dentures are'. I am very surprised. Then he elucidates: 'Yes, you were there when I was brought into hospital and you took my dentures out of my mouth and put them onto that cart, it had all these bottles on it and there was this sliding drawer underneath and there you put my teeth.' I was especially amazed because I remembered this happening while the man was in deep coma and in the process of CPR. When I asked further, it appeared the man had seen himself lying in bed, that he had perceived from above how nurses and doctors had been busy with CPR. He was also able to describe correctly and in detail the small room in which he had been resuscitated as well as the appearance of those present like myself.

At the time that he observed the situation he had been very much afraid that we would stop CPR and that he would die. And it is true that we had been very negative about the patient's prognosis due to his very poor medical condition when admitted. The patient tells me that he desperately and unsuccessfully tried to make it clear to us that he was still alive and that we should continue CPR. He is deeply impressed by his experience and says he is no longer afraid of death. Four weeks later he left the hospital as a healthy man.

The nurse's account (he was a male nurse) has been verified via a first-hand interview during which the nurse, identified as T.G., provided the following additional information about the patient (32):

The patient, B., from Ooy near the city of Nijmegen, had indeed been brought in on a cold night, more dead than alive … He was clinically dead, period: no heartbeat, no breathing, no blood pressure, and "cold as ice". … immediately after B. entered the hospital, T.G. removed the dentures from B.'s mouth and intubated him before starting up the entire reanimation procedure. Therefore, as T.G. categorically stated, any "normal" observation by the patient of his dentures being removed from his mouth was simply unthinkable.

In addition, the normal observation process could not have been the basis of the patient's detailed description of the crash cart as well as of the entire resuscitation room. Once again, T.G. was adamant in that regard, noting that patient B. had never before been in that hospital, let alone in this resuscitation room, and that this particular crash cart was absolutely unique, being a hand-made product of ramshackle quality that had been stationed in that resuscitation room only and nowhere else. To guess the precise nature of that cart and its contents on the basis of auditory impressions, or through briefly opened eyes characterized by fixed, dilated, unresponsive pupils, was impossible by all accounts. T.G. asserted that certainly it would have been impossible for B. to know precisely where T.G. had placed the dentures.

The nurse T.G. said that the patient B. was a very down-to-earth person, a steel-bender by profession. After B. was discharged from the hospital, T.G. saw him only once again when he came into the hospital for a check-up. T.G. said that B. looked like a "cardiac cripple" after his massive heart attack that almost took his life and resulted in his NDE. The nurse reported that a few years later, he saw an obituary in the newspaper indicating that a B. from Ooy had died.

How can we explain this NDE account? How did the man come by the information that he related to the nurse? One must remember that this is a well-documented, factual case that has been reported in a respected medical journal.

Near-death experiences have been extensively documented by Dr. Michael Sabom (33,34), a cardiologist, who was inspired to do his studies as a result of reading Moody's "Life After Life" book in 1976. Sabom felt that Moody's book was not very scientific in its analysis of NDEs, and he wanted to perform better scientific medical evaluations, and was in a position to do so.

Sabom described approximately 200 cases of near-death experiences. The most extensively medically-documented one was that of Pam Reynolds Lowery. Pam had a giant basilar artery aneurysm, a ballooned section of a large artery at the base of her brain. If the aneurysm ruptured, the result would be immediate death. So she needed a major operation to fix the problem. And she needed to have it as quickly as possible.

The operation she had in 1991 during which her near-death experience occurred was a very radical one. The surgical team would lower her body temperature to 60 oF to induce cardiac arrest, and then drain the blood from her head so that the aneurysm could be safely removed. At the start of the aneurysm removal procedure, she would be quite clinically dead, with no heart beat and no brain waves or brainstem function.

Because this was such a major and radical type of procedure, Pam was extensively monitored during the surgery. Her eyes were taped shut. She had a catheter placed to measure pulmonary pressures and blood flow from the heart. Cardiac monitoring leads were attached to follow heart rate and rhythm, and an oximeter was taped to her index finger to measure oxygen levels in her blood. Urinary temperature was measured by a thermister placed in her bladder and the core body temperature of her inner body was measured with a thermister placed deeply into her esophagus. Her brain temperature was monitored through a thin wire embedded in its surface. She had EEG electrodes taped to her head to record cerebral cortical brain activity, and her auditory nerve center located in the brain stem was tested continuously using 100-decibel clicks at 22 clicks per second (a deep hum as loud as a jackhammer) emitted from small speakers inserted into her ears. In summary, she was fully loaded with instrumentation and diagnostics for the surgery.

Pam was placed under general anesthesia by the anesthesiologist. The surgery began ninety minutes after anesthesia was first administered with the surgeon, a Dr. Spetzler, cutting out a large section of Pam's skull with a Midas Rex 73,000 rpm bone saw, which made a loud buzzing noise.

Here is Pam's account of the start of her near-death experience (34):

The next thing I recall was the sound: It was a natural D. As I listened to the sound, I felt it was pulling me out of the top of my head. The further out of my body I got, the more clear the tone became. I had the impression it was like a road, a frequency that you go on …. I remember seeing several things in the operating room when I was looking down. It was the most aware that I think that I have ever been in my entire life…. I was metaphorically sitting on Dr. Spetzler's shoulder. It was not like normal vision. It was brighter and more focused and clearer than normal vision …. There was so much in the operating room that I didn't recognize, and so many people.

I thought the way they had my head shaved was very peculiar. I expected them to take all of the hair, but they did not ….

The saw thing that I hated the sound of looked like an electric toothbrush and it had a dent in it, a groove at the top where the saw appeared to go into the handle, but it didn't …. And the saw had interchangeable blades, too, but these blades were in what looked like a socket wrench case …. I heard the saw crank up. I didn't see them use it on my head, but I think I heard it being used on something. It was humming at a relatively high pitch and then all of a sudden it went Brrrrrrr! like that.

Someone said something about my veins and arteries being very small. I believe it was a female voice and that it was Dr. Murray, but I'm not sure. She was the cardiologist. I remember thinking that I should have told her about that….I remember the heart-lung machine. I didn't like the respirator….I remember a lot of tools and instruments that I did not readily recognize.

The neurosurgeon located the aneurysm in Pam's brain and found it to be extremely large and extended up into the brain. He decided that the radical hypothermic cardiac arrest approach would indeed be required.

Using a cardiopulmonary bypass machine, Pam's blood was pumped into a chilling reservoir and cooled, then returned to her body. Her core body temperature fell dramatically and, as a result of this, she went into cardiac arrest. Her brain waves flattened until there were none and her brain stem function declined. After 20 minutes of this blood cooling procedure, her core body temperature had fallen to 60 oF and she had achieved a total brain shutdown. Then the surgeons tilted Pam's operating table up, turned off the cardiopulmonary machine, and drained the blood from Pam's head "like oil from a car".

Pam reported a further NDE experience. However, the time period from Pam's initial out-of-body observation of the surgeon's bone saw device to the start of the hypothermic cardiac arrest procedure was about two hours. So it is not clear whether the remainder of Pam's reported NDE occurred during this two hour lag time or during the time of her hypothermic cardiac and brain arrest.

Pam said that she was taken up through a tunnel and had the feeling that she was moving very fast. At the end of the tunnel was a light that got bigger and bigger as she moved closer to it. Once Pam reached the light she said that it appeared "incredibly bright, like sitting in the middle of a lightbulb". She saw figures in this bright light and these figures seemed to be also made of light. One was her grandmother, another her Uncle Gene, another her great-great Aunt Maggie, and one was her grandfather.

The figures would not allow Pam to proceed deeper into the light. They communicated to her telepathically that if she went further they would not be able to return her to her body. Then her uncle took her back through the tunnel and when she got to the other end, she could see her body again. Pam was repulsed by the sight of it and said that it looked like what it was – dead. She did not want to enter back into her body but her uncle said it was easy, just like jumping into a swimming pool. Pam didn't want to make that jump, but said it seemed like her uncle was pushing her and her body was pulling her. She felt that she was diving into ice water when she returned to her body - it hurt.

With the blood drained out of her head, the aneurysm sac collapsed "like a deflated balloon", and Dr. Spetzler the surgeon removed it. The cardiopulmonary bypass machine was then turned back on, and warmed blood began to be flow into Pam's body. Her body started to warm up and the EEG showed evidence of electrical activity in her brain. With warming, her heart monitor began to register the disorganized electrical activity of ventricular fibrillation, which was brought into a normal heartbeat through defibrillation. After her body reached a temperature of 89.6 degrees, it was de-instrumented and her surgical wounds were closed.

The most compelling aspects of Pam's NDE are her out-of-body descriptions of the surgical procedures and equipment that were being employed at the time the surgeon was cutting into her skull to expose her brain. These descriptions are very difficult to explain from a scientific medical viewpoint, and are highly suggestive that her conscious awareness no longer resided in her body. It should be mentioned that Pam Reynolds Lowery died for real on May 22, 2010 – this time she went fully and irreversibly into the light.

Kenneth Ring and Sharon Cooper have conducted very interesting studies of the near-death experiences of blind people (35). A blind person cannot see anything while they are fully conscious, let alone while they are in an unconscious state produced by a traumatic event. I will now describe some of these cases.

Vicki Umipeg was a 43-year-old married woman who was seriously injured in an automobile accident. She had been born prematurely and, as a result of too much oxygen applied to her in her incubator, she suffered major optic nerve damage that left her blind from birth. Vicki indicated that she had never seen anything at all in her life, and that as a result she didn't even understand the concept of light.

Following her automobile accident, she was transported by emergency personnel to the hospital and, upon arrival in the emergency room, became aware that she was at a vantage point on the ceiling and looking down on a doctor and nurse who were working on her body. She said that she knew it was her body because of a distinctive wedding ring that was on the finger of the body. Although she had never seen her body in a mirror, she knew what the ring was like because of its tactile feel. So this person, who was totally blind from birth, apparently was able to see her body for the first time during her near-death experience.

Vicki then said that she found herself ascending up through the ceilings of the hospital until she finally reached the roof of the building. At that point, she experienced moving down a dark tubular enclosure toward a light. Upon reaching the light, she then found herself lying on grass, surrounded by trees and flowers, and a vast number of people. Vicki said that the light there was tremendous, and that everyone and everything in that location was made of light. She felt that the light was love.

In the light, Vicki became aware of five specific people who were there to welcome her. Two were deceased former blind schoolmates, two were deceased adult caregivers, and one was her grandmother, who had essentially raised her and who had died two years prior to Vicki's accident.

Vicki indicated that she was filled with a sense of total knowledge, that she knew everything and that everything made sense and fit together. She was flooded with information of a religious, as well as a scientific and mathematical nature. She could understand languages that she did not know.

Vicki also related that there was a figure there who was much more radiant than any of the others, and she interpreted this figure as Jesus. The figure treated her tenderly, but telepathically communicated to her that it was not her time and she had to go back. She did not want to go back, but was told that she needed to return to take care of her children. Before leaving, she was given a completely panoramic review of her life from her birth, with the radiant being commenting to help her to understand the significance of her actions and their effects on others. Once this was finished, she remembered hearing the words "you have to leave now", whereupon she experienced a thud like a roller-coaster going backwards, and then she found herself back in her body, full of heaviness and pain.

Brad Barrows, who was blind from birth, had a near-death experience when he was eight years old. He had contracted a severe case of pneumonia and severe breathing problems, which lead to a cardiac arrest. Brad said that his spirit lifted off the bed and floated up to the ceiling, from where he was able to see his lifeless body on the bed. He also saw his blind roommate get out of his bed and leave the room to summon help (his roommate later confirmed this fact). Then he ascended through the ceilings of the building and finally through the roof.

Once he was above the roof, he could see his surroundings. There had been a snowstorm, and Brad could see the snow covering the streets and surrounding buildings. He also said that he saw a street car go by. He stated that he could see all of these things quite clearly.

Then Brad found himself traveling through a tunnel, and coming out into a large field that was illuminated by an all-encompassing light. He said that he walked on a path and could see tall grass and trees. He heard music coming from a glittering stone structure and went inside. Upon entering, he encountered a man he did not recognize, but he felt an overwhelming love coming from the man. This man said nothing, but gently nudged Brad backward, and he then found himself back in his bed gasping for air. There were two nurses there who told him that his heart had stopped for about four minutes and that they had performed CPR on him to bring him back.

Ring and Cooper also described the near-death experience of a highly myopic woman who was having a major surgery. Her anesthesiologist during the surgery was a physician who often worked with children, so he had taken to wearing a yellow surgical hat with magenta butterflies on it, because this would have a calming effect on the children during their medical procedures. He was wearing this particular distinctive hat during the woman's surgery. Something went wrong and the surgeon shouted "This woman's dying!" At that point, the woman reported that she had the following near-death experience (35):

Bang, I left! The next thing I was aware of was floating on the ceiling. And seeing down there, with his hat on his head, I knew who he was because of the hat on his head (i.e. the anesthesiologist with the magenta butterfly cap). It was so vivid. I'm very near-sighted, too, by the way, which was another one of the startling things that happened to me when I left my body. I see at fifteen feet what most people see at four hundred . . . . They were hooking me up to a machine that was behind my head. And my very first thought was, "Jesus, I can see! I can't believe it, I can see!" I could read the numbers on the machine behind my head and I was just so thrilled.

The woman described additional details of her operation, such as how her body looked, various medical procedures, and the shaving of her belly. Her attention was then drawn to another feature:

From where I was looking (her floating position near the ceiling), I could look down on this enormous fluorescent light . . . . and it was so dirty on the top of the light. . . . And I remember thinking, "Got to tell the nurses about that".

The near-death experience cases of the blind reported by Ring and Cooper are interesting indeed. How was it possible for people who were blind from birth to actually see things that were going on around them? Not only were they unconscious, they were completely blind in the physical state. But apparently not in the out-of-body state. Such cases are quite difficult to explain on a strictly materialistic basis.

An important article on near-death experiences was published by Emily Cook, Bruce Greyson, and Ian Stevenson in 1998 (36). Their article puts forward a significant collection of NDE cases. The case of Al Sullivan is particularly interesting. Sullivan was 56 years old at the time of his NDE which occurred in 1988 during a coronary bypass operation. Here is his account (36):

I began my journey in an upward direction and found myself in a very thick, black, billowy smoke-like atmosphere. The smoke seemed to surround me no matter what way I turned, yet it was not going to deter me as far as I was concerned....As I continued on my journey, I rose to an amphitheater-like place. It had a wall directly in front of me to prevent me from going into it. Behind this wall, a very bright light shone. As I tried to get closer to this wall, I noticed three humanlike figures at my immediate left.... I was able to grasp the wall and look over it into the area the wall was blocking. To my amazement, at the lower left-hand side was, of all things, me.

I was laying [sic] on a table covered with light blue sheets and I was cut open so as to expose my chest cavity. It was in this cavity that I was able to see my heart on what appeared to be a small glass table. I was able to see my surgeon, who just moments ago had explained to me what he was going to do during my operation. He appeared to be somewhat perplexed. I thought he was flapping his arms as if trying to fly....

It was at this point I noticed one of the three figures I saw on my arrival to the wall was that of my brother-in-law who had died almost two years before.... It was then that I turned my attention to the lower right-hand side of the place I was at. I saw the most brilliant yellow light coming from, what appeared to be, a very well lit tunnel.... The light that came from the tunnel was of a golden yellow hue and although the brightest I had ever looked into, it was of no discomfort to the eyes at all. Then, preceded by warmth, joy and peace and a feeling of being loved, a brown cloaked figure drifted out of the light toward me. As my euphoria rose still more, I, much to my delight, recognized it to be that of my mother. My mother had died at age thirty-seven when I was seven years old. I am now in my fifties and the first thought that came to my mind was how young my mother appeared. She smiled at me and appeared to be shaping words with her mouth and these was [sic] not audible to me. Through thought transfer we were soon able to communicate.

Once Sullivan regained consciousness after the operation, he related his NDE experience to his cardiologist, a Dr. LaSala, who was present in the operating room along with the cardiac surgeon, a Dr. Takata, who had performed the actual bypass surgery. Dr. LaSala was very surprised when Sullivan described Dr. Takata as "flapping his arms as if trying to fly". LaSala explained to Sullivan that this was something Takata did in the operating room when he had not yet "scrubbed in" his hands, so to avoid touching the sterile operating area he would flatten his palms against his chest and use his elbows to point out instructions to assisting medical personnel. La Sala said that this did indeed look like a "flapping" motion, and that he did not know any other surgeons who employed this unusual technique. The Sullivan case was considered by Cook, Greyson and Stevenson to be a particularly strong NDE case because of the corroboration of Sullivan's observation about the "flapping" surgeon by the cardiologist.

Dr. Sam Parnia has written a thought-provoking book about death and near-death experiences (37). He first became interested in exploring existence after death when he had a patient whom he was quite fond of die unexpectedly. He was talking and joking with this fellow one day in his medical ward, then the patient had a sudden cardiac arrest and was dead one hour later. This had a major impact upon him. Where was the person who he had interacted with just an hour ago? Was this person gone forever, or did he continue to exist in some other realm? Dr. Parnia decided at that moment that he would make an effort to investigate cases of near-death experiences as best and as thoroughly as he could.

In his book, Dr. Parnia relates a conversation that he had with a colleague, an experienced cardiologist, who related to him the following experience (37):

One night when I was on call, there was a cardiac-arrest call and together with the rest of the team, I ran to the arrest. The patient was a 32-year-old man. On my arrival, he had no pulse, wasn't breathing, and was in asystole (a flatline EKG condition). We continued to resuscitate him, even though the outcome looked bleak. …. We carried on for over half an hour, but then started to lose all hope as he had remained pulseless and in asystole throughout this time. Because he was young we decided to carry on, but eventually it became obvious that we were not winning and so as team leader I made the decision to stop. I checked with everyone else on the team and we all decided that it was time. Before stopping, I once more checked that the monitor and the connections were working appropriately and that the patient had no pulse.

I left the patient in the room with the nurses who were preparing him for his family's arrival. I went outside and sat down by the nurses' station and started writing in the medical records. As I was writing, I realized I couldn't remember exactly how many vials of adrenaline we had given him, so about 15 minutes later I went back into the room to check. While I was there, I looked across at the patient and noticed that he wasn't quite so blue as when I had left him. He looked pinker, which was very strange. I looked at him again. He definitely looked pinker. Rather hesitantly I moved over and checked his groin for a pulse. I couldn't believe it! Now he had a pulse. So we had to restart resuscitation and call the rest of the cardiac-arrest team back. We eventually managed to stabilize him and then transferred him to the intensive care unit. ….

When I saw him later, he told me that he had watched everything from above and described all that had happened in detail. He told me everything that I had said and done, such as checking the pulse, deciding to stop resuscitation, going out of the room, coming back later, looking across at him, going over and rechecking his pulse, and then restarting the resuscitation. He got all the details right, which was impossible because not only had he been in asystole and had no pulse throughout the arrest, but he wasn't even being resuscitated for about 15 minutes afterward.

It is accounts such as the one just described that inspired Dr. Parnia to begin the AWARE study. AWARE stands for AWAreness during REsuscitation. The AWARE study involves 25 major medical centers in Europe, Canada, and the United States. During the AWARE project, physicians will use the latest technologies to study the brain and consciousness during cardiac arrest. At the same time, they will also be testing the validity of out-of-body experiences and claims of being able to see during cardiac arrest, through the use of randomly generated hidden images that are not visible unless viewed from ceiling vantage points above room level. The purpose of this investigation is to begin to provide scientific confirmation of the out-of-body conditions that many people have reported during near-death experiences.

In the operating rooms involved in the AWARE study, images will be placed at locations above the head level of the people in the operating room. These images will face up to the ceiling and thus will not be visible from room level. The hypothesis is that, if a near-death related out-of-body experience occurs for the person having the operation, the person's consciousness will float up to the ceiling and observe the scene from that vantage point. It is only from this vantage point that the target images can be seen. So if the patient is able to remember and identify the images after the operation is over, this should constitute definitive evidence of an actual out-of-body condition.

The subject of near-death experiences was discussed with the Dalai Lama in 1992 by a group of neuroscientists probing Buddhist views of dreams, consciousness, and dying (38). One question His Holiness had was whether or not many of the people reporting NDEs had read the Bardo Thodol, the Tibetan Book of the Dead, prior to their NDE, so that they may have been influenced by such a reading. The Dalai Lama seemed reluctant to accept the typical NDE experience. He said (38):

I am wondering whether these experiences are more of a dream type, because one constant theme that keeps coming up is this experience of joyfully reuniting with the relatives. It is very rare that relatives who have already passed away will still be in that type of existence. They would have already taken rebirth in another realm of existence.

When the Dalai Lama was asked what his opinion was of NDE veridical evidence (such as a person seeing what the doctors and nurses were doing during an operation as in the Pam Reynolds Lowery account) he stated (38):

Even in that case, one still has to determine whether that might be an out-of-body experience during the dream state, in which one takes on a dream body, or whether it is an actual out-of-body experience. In other words, is it a dreamlike experience while you're still living, due to the influence of an illness, or is it a genuine bardo experience? That's still to be determined. Maybe there's a third option in addition.

However, the Dalai Lama did not put forth a third possibility. The question was posed him as to whether or not the NDE experiences are similar to those of the bardo being in the Tibetan Book of the Dead. His response was (38):

It's very difficult to relate near-death experiences as you have presented them to the experiences of a bardo being. Not only that, but there is also the problem of the exact meaning given to the bardo state. For instance, in Tibetan society we often hear of stories about spirits of dead people, but it's difficult to say whether or not they are in the bardo state.

It is clear from his remarks that the Dalai Lama was having a rather difficult time reconciling near-death experiences with the bardo experiences outlined in the Tibetan Book of the Dead. Perhaps neuroscientists should interview ordinary Buddhist people who have been brought back from cardiac arrest about their individual experiences while in the cardiac arrest state.




Out-of-Body Experiences

It is not necessary to be near-death to have an experience of your consciousness being outside your body. In out-of-body (OBE) experiences, the brain is still fully functional, but the consciousness, the mind, the "I" is outside the body and exists in a realm other than the physical realm.

Consider the case of "Miss Z". In 1968, Charles Tart, then in the Psychology Department at the University of California-Davis, reported on her case (39). Miss Z was a single woman in her twenties with two years of college education. Tart indicated that she had a warm personality and was highly intelligent.

Miss Z had had OBE experiences since she was a child. In fact, as a child she thought that they were not unusual and that everyone had them. These OBEs were almost always the same for her. She would wake up during the night and find "herself" floating up at the ceiling, where she could look down and see her physical body asleep in bed. The OBE would last for less than a minute, and then she would fall back into a sleep state again.

Tart conducted sleep experiments to monitor her brain wave EEG output and other aspects such as rapid eye movements and skin resistance. He was attempting to correlate such measurements with the occurrence of OBEs. The sleep experiments took place in one room and the monitoring was done in a room immediately adjacent. Connecting the two rooms was an observation window so that the sleeping patient could be observed. Miss Z slept in a bed just below this observation window. The electrical leads from all of the various monitoring devices were bound into a common cable arrangement that went from her head to a cable connection box at the head of the bed. There was enough slack in this cable for her to turn in bed, but she could not sit up more than about two feet without breaking the cable connections. So her movements other than a few in the bed itself were severely restricted. She could not leave the bed nor could she stand up on the bed without these movements being detected immediately.

Above the observation window and about five and one-half feet above her head as she lay in bed was a small shelf, and above that a clock. It was on this shelf that Tart placed a five-digit random number unseen by Miss Z. The objective of the experiment was for Miss Z to leave her body, float up to the ceiling, and from this vantage point observe and then recall this random number when she awoke. Tart would change to a different random number on each of the nights of his sleep experiments. Experiments were conducted on Miss Z for four consecutive nights. Here is what happened on Night 4 (39):

Miss Z went quickly to sleep, entering Stages 3 and 4 less than fifteen minutes after going to bed. The night was uneventful for the most part - there were several Stage 1 dream periods in the first two-thirds of the night, as would be expected for any normal subject. After four and a half hours of sleep, she had a Stage 1 dream period with REMs which lasted for half an hour. The EEG was technically rather poor on this night, being obscured with a great deal of sixty cycle artifact and requiring rather heavy high frequency filtering to make it clear, so the EEG findings should be taken with the realization that they are subject to more error than usual. Miss Z's Stage 1 dream terminated with several minutes of intermittent body movements and EEG artifact.

Then (at 5:50 A.M.) the occipital channel showed an enlarged, slow wave artifact, the REM channel showed no REMs, and the record looked like a Stage I tracing; however, I could not be sure due to the considerations mentioned above. At 5:57 A.M. the slow wave artifact was lessened and the record looked somewhat like Stage 1 with REMs, but I could not be sure whether this was a waking or a Stage I record. This lasted until 6:04 A.M., at which time Miss Z awoke and called out that the target number was 25132. This was correct (with the digits in correct order), but I did not say anything to her at this point; I merely indicated that I had written the number down on the record. I then told her she could go back to sleep, but twenty minutes later I awakened her so that she could get ready to go to work.

Miss Z was an interesting subject for Charles Tart indeed! On her Night 4 session, she correctly identified the five-digit random number that Tart had set, against odds of 1 in 100,000. Given this result, it is unfortunate that Tart did not perform additional extensive experimentation with Miss Z, but he did not since she subsequently moved far away from where he was located.

The second case that I would like to discuss is that of Robert Monroe. A more extensive description of Monroe's OBEs is contained in his book "Journeys Out of the Body" (40). Monroe was 42 years old and president of a large company when his OBEs began spontaneously in 1958. Prior to that time, he had experienced no OBE phenomena at all. He had a business background and a scientific background as well. In other words, he was a no-nonsense guy, a solid citizen. Not the type that you would expect to be the first to document in logical, observational detail his experiences with OBEs.

Monroe was very curious and sought to explore in detail his OBEs, to understand them as best he could. He adopted a gradual, experimental approach, as a scientist might (Monroe had some level of scientific background in his education), building more understanding for himself with each additional OBE that he experienced. Monroe described experiencing three different "Locales" during his OBEs.

Locale I consisted of people and places that exist in our physical world. Monroe could travel out-of-body to different physical locations and observe the activities going on in these locations. For example, he said that one day he traveled in an out-of-body state to the home of some family friends. He observed their son on his way to school, who was tossing a ball up and down in the air as he walked along. He also saw his friend attempting to maneuver a large, bulky piece of equipment into the back seat of his car. He then observed the man and his wife distributing mail that had been delivered to each other at the kitchen table. When he subsequently visited and talked to his friends about what they had been doing on that particular day, they verified in detail what he had seen while he was out-of-body in Locale I.

Locale II, however, was completely different from Locale I and seemed to be a totally non-physical environment. Monroe described it this way (40):

The best introduction to Locale II is to suggest a room with a sign over the door saying, "Please Check All Physical Concepts Here".

….. Postulate: Locale II is a non-material environment with laws of motion and matter only remotely related to the physical world. It is an immensity whose bounds are unknown (to this experimenter), and has depth and dimension incomprehensible to the finite, conscious mind. In this vastness lie all of the aspects we attribute to heaven and hell, which are but a part of Locale II. It is inhabited, if that is the word, by entities with various degrees of intelligence with whom communication is possible.

…. Time, by the standards of the physical world, is non-existent. There is a sequence of events, a past and a future, but no cyclical separation. Both continue to exist coterminously with "now".

….. Laws of conservation of energy, force field theories, wave mechanics, gravity, matter structure – all remain to be proved by those more versed in such fields.

Superseding all appears to be one prime law. Locale II is a state of being where that which we label thought is the wellspring of existence. It is the vital creative force that produces energy, assembles "matter" into form, and provides channels of perception and communication. I suspect that the very self or soul in Locale II is no more than an organized vortex or warp in this fundamental. As you think, so you are.

The third locale that Monroe described was Locale III. Here's what he said about one of his "visits" to a location in Locale III (40).

Locale III, in summary, proved to be a physical-matter world almost identical to our own. The natural environment is the same. There are trees, houses, cities, people, artifacts, and all the appurtenances of a reasonably civilized society. There are homes, families, businesses, and people work for a living. There are roads on which vehicles travel. There are railroads and trains.

Now for the "almost". At first, the thought was that Locale III was no more than some part of our world unknown to me and those others concerned. It had all the appearances of being so. However, more careful study showed that it can be neither the present nor the past of our physical-matter world.

The scientific development is inconsistent. There are no electrical devices whatsoever. Electricity, electromagnetics, and anything so related are non-existent. No electric lights, telephones, radios, television, or electric power.

Habits and customs are not like ours. What little has been gleaned implies a historical background with different events, names, places, and dates. Yet, while the stage of man's evolution (the conscious mind translates the inhabitants as men) seems to be identical, technical and social evolution are not completely the same.

The suggestion here is that Locale III may be a physical place on a planet that is not the Earth, and that the inhabitants are not human beings but rather extraterrestrials going about their everyday business on their home planet orbiting a far-away star.

I have only very briefly indicated what Monroe had to say about Locales I, II, and III. If you are interested in the further extensive details of his descriptions, you will find them in his book. It is difficult for me to believe that Monroe's OBE accounts were pure fiction concocted for the purpose of writing and selling a book about them. This would be totally inconsistent with his background, social, and financial status. What could he possibly have to gain by the publication of his OBE experiences, other than the satisfaction of communicating to other people something that he sincerely believed and considered quite important.

It should be mentioned that Charles Tart also had Robert Monroe as an OBE subject (41). Tart conducted nine sleep sessions with Monroe using the same experimental monitoring techniques that he employed with Miss Z, and with the same ultimate objective of correctly identifying a five-digit random number seen during an OBE. Unfortunately, although Monroe said that he had two OBE experiences during Tart's monitoring, in neither of them was he able to see or report the random five-digit number. However, in one of his OBEs, Monroe reported the presence of Tart's technician who was with her husband in the adjacent experimental monitoring room during this sleep episode. Monroe correctly identified both she and her husband. The presence of her husband was surprising to Tart (who was not there himself at the time), since Tart had established a policy of not allowing outsiders to observe his sleeping subjects. The technician said that, against Tart's policy, her husband came to keep her company during the late night hours. Tart was not aware of this fact, but Monroe observed it during his OBE. With regard to Monroe's EEG patterns, Tart described them as "very atypical", with high intensity theta waves during periods of non-REM sleep. While it was not conclusively established, Tart believed that Monroe's stated OBEs were occurring during his non-REM sleep segments.

The next aspect of out-of-body experiences that I wish to discuss is the phenomenon referred to as remote viewing. Remote viewing is essentially the ability to acquire information about a remote target simply by using your mind; the mind is projected to the vicinity of the target and the target is observed mentally and then described. In essence, these are observations of the type described as having been made in Locale I of Robert Monroe's terminology.

Remote viewing was first developed in 1972 by the U.S. government in response to activities which had been discovered to be occurring in the former Soviet Union. In the fall of 1972, a remote viewing program was begun under the aegis of the CIA at Stanford Research Institute in California by two laser physicists, Dr. Russell Targ and Dr. Hal Puthoff. The first remote viewer in this program was a New York artist and psychic by the name of Ingo Swann. Ingo Swann displayed a very high level of remote viewing capabilities, and was a key member of the initial remote viewing team. The code name for these CIA remote viewing activities was Stargate.

In 1979, a person with exceptional remote viewing capabilities joined the Stargate project. This person's name was Joseph McMoneagle and he was a career warrant officer in the U.S. Army at the time. McMoneagle was a no-nonsense, tough military man.

Very interestingly, Joe McMoneagle's psychic abilities first emerged in 1970 when he had a near-death experience (42). McMoneagle was stationed in Germany with the U.S. Army, and he had gone with some friends to a restaurant in one of the German towns near the army base for an evening of dinner and drinks. After having a drink of some dark rum, he felt ill and got up from the table to go outside and get some fresh air, which he thought might help. When he walked through the restaurant door, he collapsed and his body fell down unconscious at the front entrance. But "he" found himself standing next to his collapsed body – he was essentially out-of-body. He said that he seemed to have an astral body that was just like his physical body; he could see and hear everything. He observed that it was raining, but that the raindrops did not hit his arm, but rather passed through it as though it were not there. He also noted that he appeared to move around by floating rather than walking. McMoneagle could see the activities of his friends from the restaurant trying to revive his unconscious body, but they were not successful.

Joe said that, from his out-of-body perspective, he went along with his friends who drove his body to the closest hospital. He watched from the ceiling as the emergency room doctor put a long needle into his chest. But then he began moving away from the emergency room and moving upward through a tunnel, where he eventually came to a Being of Light. This Being exuded a tremendous amount of power, goodness, strength, and beauty. And unconditional love. Joe felt exceedingly good in the Light. How good? Here is how McMoneagle described it (42):

The closest that I can come to giving an example that most people will understand is that it was like the peak of a sexual climax times twelve times ten to the thirty-third. That would be a twelve with thirty-three zeros after it. . . . . It was the most overwhelming feeling I have ever experienced in my life. . . . . So this is what God is like!

He was given a life review, but the Being of Light did not judge him, he judged himself. He found himself comparing his actions in life with the perfection that he saw in the Light, and coming up quite short. The Being of Light told him telepathically that he was not going to die and had to go back. Joe argued with the Being, but to no avail. The next thing he knew, he was lying in a hospital bed in the German hospital.

McMoneagle said that his NDE remains as clear in his mind now, even though it happened so many years ago. He was profoundly affected by the NDE, and seemed to have developed his psychic abilities as a result of it.

Joe McMoneagle was involved in the Stargate remote viewing project from 1979 to his retirement from the Army in 1984, and he continued as a private consultant to the project after that. During that time, he participated in a great many remote viewing activities, most of which were associated with national security issues and which he stated he was not able to disclose to the public because they were still classified.

He has written that many of his remote viewing sessions provided highly detailed information (42,43). Take the well-known kidnapping case of General Dozier. In 1981, General James Dozier was kidnapped from his apartment in Verona, Italy by members of the Red Brigade, a terrorist group. You may remember this incident, since it was prominently in the world news at that time. Dozier was the senior U.S. officer at the NATO facility in Verona. McMoneagle was tasked by the Stargate project to try and find out where Dozier was being held by the Red Brigade kidnappers (43). Using his remote viewing skills, McMoneagle determined that Dozier was being held in the city of Padua, Italy, on the second floor of an apartment house. This proved to be correct and General Dozier was freed unharmed by security personnel 42 days after he had been kidnapped.

In 1979, McMoneagle participated in an effort by the National Security Council to try and identify the purpose of a large building near a large body of water in Russia. The only information he was given was a photograph of the building and a set of geographic coordinates. This information was clearly obtained from spy satellites. Using only his mind, he mentally went to this location and "saw" that the building contained a new type of Soviet submarine. He described a number of details about the sub. A few months after his remote viewing information was obtained, satellite reconnaissance picked up the new Soviet Typhoon Class submarine that now stood exposed next to the building. It was ready for launching.

In 1995, the U.S. government made the decision to officially terminate the Stargate project, as stated in their report because "the information provided by remote viewing is vague and ambiguous, making it difficult, if not impossible, for the technique to yield information of sufficient quality and accuracy for actionable intelligence". However, McMoneagle said the decision really was made because of fear of the political and media ramifications once this previously secret project was revealed to the public by the government. Given what McMoneagle had to say about the type of information that he obtained, one has to wonder if such activities still continue, but now under black operation deep cover.

How does remote viewing work? Here is how McMoneagle described it. He said that the mind does not reside in the brain. Rather, the mind resides "somewhere else". What and where is the "somewhere else"? The surmise is that it is a higher, perhaps a spiritual, dimension. He indicated that the mind is a combination of the conscious mind and the subconscious mind. The conscious mind is the mind that we experience when we are awake. It is limited in scope. However, the subconscious mind is a much larger element of mind. It has access to the higher dimensional state. And the subconscious is the source of psychic powers and information. However, for remote viewing purposes this information must be transferred to the conscious mind, and that involves its transit through the conscious-subconscious interface, which is not an easy process.

The remote viewer puts himself (or herself) into a meditative state as free of thoughts as possible. Once this neutral state is achieved, the remote viewer asks the question about the viewing target that needs to be answered (e.g. what is it, where is it). Brief flickers of information pop into the brain, through the conscious-subconscious interface. The remote viewer stores this information in memory, without trying to analyze it in any way. Once enough flickers of information have arrived, the remote viewer then attempts to coordinate them into relatively coherent images.

It should be mentioned that Joseph McMoneagle and Robert Monroe had some interactions. In his book "Mind Trek", McMoneagle wrote that in 1979, the same year that he started with the Stargate remote viewing project, he happened to be in a bookstore in Washington DC and noticed a book lying on the floor in one of the aisles. He picked the book up and found that it was Robert Monroe's "Journeys Out of the Body" (40). Because of his previous NDE, he bought the book and read it avidly.

In 1980, he personally met with Monroe and became involved with the Monroe Institute in Virginia and its Gateway Program. The Gateway Program was developed by Monroe to instruct others based on his out-of-body experiences. It is designed to expand a person's consciousness, as indicated in the following Gateway Affirmation (44):

I am more than my physical body. Because I am more than physical matter, I can perceive that which is greater than the physical world. Therefore, I deeply desire to Expand, to Experience, to Know, to Understand, to Control, to Use such greater energies and energy systems as may be beneficial and constructive to me and to those who follow me. Also, I deeply desire the help and cooperation, the assistance, the understanding of those individuals whose wisdom, development and experience are equal or greater than my own. I ask their guidance and protection from any influence or any source that might provide me with less than my stated desires.

The Gateway Program is based upon the Hemi-Sync technology that Monroe developed. In 1958 when Monroe had his first OBE experience, he was experimenting on himself with the audio technology of sleep-learning (learning by listening to tape recordings while you are asleep). Hemi-Sync stands for Hemispherical Synchronization. In this technique, an audio signal of a given frequency is presented in one ear, while an audio signal of a slightly different frequency is presented in the other ear. The brain then subtracts the two frequencies, which results in a binaural beat frequency, which is much lower in frequency, and in the range of brain wave frequencies.

The Gateway Program has various focus levels, based on this Hemi-Sync technology. Focus 10 is a level where the physical body is asleep but the mind is awake and alert. Focus 12 induces an expanded awareness past the constraint of the physical body. Focus 15 is a so-called state of no-time. And Focus 21 is the level associated with the achievement of out-of-body experiences.

McMoneagle said that he was able to achieve out-of-body states after a lengthy thirteen-month training period with the Gateway Program (42). He indicated that it began with a tingling sensation throughout his body which increased in intensity and seemed like an electrical charge that was passing up and down his body. This produced what he said was the feeling of a swaying motion, followed by a separating sensation which he described as "peeling a label from a jar". This culminated in a distinct "pop" and McMoneagle said that he suddenly found himself floating in the air outside of his body.

I myself have never had an out-of-body experience. The closest I may have come to one is when I first started practicing transcendental meditation many years ago. On one occasion, I achieved a very deep meditative state where I felt strangely disconnected from my body. In fact, my impression during this meditative state was that I could not really feel my body at all. At this time, I suddenly had a distinct feeling that I was falling down a dark tunnel. It scared the heck out of me, and I immediately mentally struggled to fight against this falling sensation. My struggle succeeded and the falling sensation stopped. I've wondered ever since that time what would have happened if I had just let the falling sensation continue. Would I have left my body? If I had to repeat this incident again, I would definitely have let it happen. From my current vantage point, I wish that I had done so, because I have never had a repeat of the experience during my many meditative sessions since that one time. Perhaps my initial rejection of it created some sort of mental blockage of the phenomenon. If it ever manifests itself again, I will be ready.




Ghostly Phenomena

Some of you may recall the 1990 movie "Ghost" starring Patrick Swayze, Tony Goldwyn, Demi Moore, and Whoppi Goldberg. I remember this movie well, it made a distinct impression on me (I especially liked the pottery love scene accompanied by the music of "Unchained Melody").

In "Ghost", Sam Wheat (Patrick Swayze) is a banker who is in a loving relationship with his partner Molly Jensen (Demi Moore) in New York City. Sam discovers some account discrepancies at the bank, informs his colleague Carl Bruner (Tony Goldwyn) about them, and decides to look into them himself. But before he can do so, he is murdered in an apparently random street attack and becomes a ghost.

As a ghost, he roams the streets of New York City but no one can see or hear him. He can pass through solid objects with ease. He can go to whatever location he wants using the power of his mind. Another ghost (an apparent suicide) shows him how to manipulate physical objects with his mind, so he develops the ability to influence the physical world to a limited degree. Using these abilities, he discovers that his murder was not a random act, but was actually orchestrated by his colleague Carl to prevent him from discovering that Carl has been running a money laundering operation through the bank. Even more than that, Carl is attempting to seduce Molly in her vulnerable time after Sam's death.

Then Sam discovers someone that can actually hear him, Oda Mae Brown (Whoopi Goldberg). Oda Mae has been masquerading as a medium to make money, but she can truly communicate with Sam, although she cannot see him. Sam convinces Oda Mae to help him bring to justice the evil Carl, and to save Molly from him. Carl dies and is taken to hell by little, dark, scuttling devils. Sam possesses the body of Oda Mae to have one last embrace with Molly before he, having completed his ghostly mission on Earth, ascends into the Light to end the movie.

Patrick Swayze died of pancreatic cancer in 2009. One wonders whether he is now a ghost in reality or has instead moved on into the Light. Perhaps his participation in the movie helped him in the transition.

There are a great many people who say that they have seen and even interacted with ghosts. The fact that so many people have reported ghostly encounters makes these phenomena difficult to dismiss as potential evidence of existence after death. What is a ghost? Many people would say that a ghost is the spirit of a person who has died, but who, for some reason, is still bound to the physical plane, rather than passing into the spiritual realm. A ghost does not often appear to have a physically solid body, although there are cases where ghosts are described as being just like normal, living people. A ghost may manifest as a solid normal person, or the transparent image of a person, or a cloud of smoky-looking material, or as a shining orb in the air. Sometimes ghosts are reported to be able to move physical objects or to touch people physically. Some people have even reported having a conversation with a ghost.

One of the people who did just that was Elisabeth Kubler-Ross. She is now deceased herself, but is known worldwide for her books about death and dying. Kubler-Ross was a psychiatrist who did much work with dying patients. Her book "On Death and Dying" is considered to be a classic in the field (45). In her book "On Life after Death", she related the story of her encounter with the ghost of a Mrs. Schwarz, who was a previous patient of hers (46). Here is her account of this ghostly encounter, which happened in her office building.

Kubler-Ross was standing by the building elevator having a conversation with a colleague, when she noticed a woman who was also standing by the elevator. To her astonishment, this woman looked familiar to her; she looked like a Mrs. Schwarz, a patient of hers who had died ten months earlier. When her colleague left on the elevator, the woman walked over to her and said "Dr. Ross, I had to come back. Do you mind if I walk you to your office". Naturally, Kubler-Ross was wondering whether or not she was hallucinating! But she walked with the woman to her office and actually touched the woman's skin during the walk to try and determine if she was real or not.

When they got to her office, the woman, not Kubler-Ross, opened the office door. This person was obviously a very solid ghost! They sat down at her desk and the woman said "Dr. Ross, I had to come back for two reasons. One, to thank you and Reverend Gaines, to thank you and him for what you did for me. But the other reason I had to come back is that you cannot stop this work on death and dying, not yet". At the time of this ghostly visitation, Kubler-Ross had been seriously considering giving up her work in this area.

Wanting to get some tangible evidence of this ghostly encounter, Kubler-Ross asked the woman if she would write a note to the Reverend Gaines, and gave the ghostly woman a pencil and paper. The ghost did indeed write the note. Then she got up to leave, again requesting Kubler-Ross not to give up her endeavors. When Kubler-Ross promised to her that she would not, the woman disappeared!

This is a truly remarkable account of an interaction with a ghost. Not only was the ghost holding a conversation with Kubler-Ross, the ghost was also able to open a door and write a note. And this encounter comes from an international authority on death and dying. Kubler-Ross said that she still had the note that the ghostly Mrs. Schwarz had written, a solid piece of tangible evidence of her ghostly encounter.

There have been, and continue to be, many accounts of the appearance of ghosts reported by people. Perhaps the most thorough investigations of ghostly encounters were studied and reported by the Society for Psychical Research in the nineteenth century. Many members of this Society were highly educated and had reputable careers outside of this activity. For example, one of the presidents of the Society was none other than William James, Harvard professor and the person considered to be the father of modern psychology.

A significant and well-documented case of a ghostly encounter put forward by the Society for Psychical Research is the David McConnel apparition. In the terminology of ghostly encounters, this is called a crisis apparition.

Lt. David McConnel was a British pilot trainee. During an otherwise routine flight, he died in a plane crash on December 7, 1918. Importantly, the exact time of his death, 3:25 pm, was known because the watch he was wearing stopped when his plane crashed. At approximately the same time that McConnel crashed, his military training roommate, a Lt. J.J. Larkin, stated that he saw McConnel walk into the pilot lounge, and that he had a short conversation with him. Here is Larkin's account which he wrote on December 22, 1918 for transmission to McConnel's father and family (47):

David, in his flying clothes, about 11 am went to the hangers intending to take a machine to the "Aerial Range" for machine gun practice. He came into the room again at 11:30 and told me that he did not go to the range, but that he was taking a "camel" to Tadcaster drome. He said, "I expect to get back in time for tea. Cheero." He walked out and half a minute later, knocked at the window and asked me to hand him out his map, which he had forgotten. After I had lunch, I spent the afternoon writing letters and reading, sitting in front of the stove fire.

What I am about to say now is extraordinary to say the least, but it happened so naturally that at the time I did not give it a second thought. I have heard and read of similar happenings and I must say that I always disbelieved them absolutely. My opinion had always been that the persons to whom these appearances were given were people of a nervous, highly-strung, imaginative temperament, but I had always been among the incredulous ones and had been only too ready to pooh-pooh the idea.

I was certainly awake at the time, reading and smoking. I was sitting, as I have said, in front of the fire, the door of the room being about eight feet away at my back. I heard someone walking up the passage; the door opened with the usual noise and clatter which David always made; I heard his "Hello boy!" and I turned half round in my chair and saw him standing in the doorway, half in and half out of the room, holding the door knob in his hand. He was dressed in his full flying clothes but wearing his naval cap, there being nothing unusual in his appearance. His cap was pushed back on his head and he was smiling, as he always was when he came into the rooms and greeted us. In reply to his "Hello boy!" I remarked, "Hello! Back already?" He replied, "Yes. Got there all right, had a good trip." I am not positively sure of the exact words he used, but he said, "Had a good trip," or "Had a fine trip," or words to that effect. I was looking at him the whole time he was speaking. He said, "Well, cheero!" closed the door noisily and went out.

I went on with my reading and thought he had gone to visit some friends in one of the other rooms, or perhaps had gone back to the hangars for some of his flying gear, helmet, goggles, etc., which he may have forgotten. I did not have a watch, so could not be sure of the time, but was certain it was between a quarter and half-past three, because shortly afterwards Lt. Garner-Smith came into the room and it was a quarter to four. He said, "I hope Mac (David) gets back early, we are going to Lincoln this evening." I replied, "He is back, he was in the room a few minutes ago!" He said, "Is he having tea?" and I replied that I did not think so, as he (Mac) had not changed his clothes, but that he was probably in some other room. Garner-Smith said, "I'll try and find him!"

I then went into the mess, had tea, and afterwards dressed and went to Lincoln. In the smoking room of the Albion Hotel I heard a group of officers talking, and overheard their conversation and the words "crashed", "Tadcaster", and "McConnel". I joined them and they told me that just before they had left Scampton, word had come through that McConnel had "crashed" and had been killed taking the "camel" to Tadcaster. At that moment I did not believe it, that he had been killed on the Tadcaster journey. My impression was that he had gone up again after I had seen him, as I felt positive that I had at 3:30. Naturally I was eager to hear something more definite, and later in the evening I heard that he had been killed on the Tadcaster journey.

Next morning, Garner-Smith and I had a long discussion about my experience. He tried to persuade me that I must have been mistaken, that I had not actually seen Mac on the previous afternoon about 3:30, but I insisted that I had seen him. As you can understand, Mr. McConnel, I was at a loss to solve the problem. There was no disputing the fact that he had been killed whilst flying to Tadcaster, presumably at 3:25, as we ascertained afterwards that his watch had stopped at that time. I tried to persuade myself that I had not seen him or spoken to him in this room, but I could not make myself believe otherwise, as I was undeniably awake and his appearance, voice, manner had all been so natural. I am of such a skeptical nature regarding things of this kind that even now I wish to think otherwise, that I did not see him, but I am unable to do so.

The foregoing are just the plain facts of the case. Would you please give me your opinion? I have given you every detail and described easily and naturally just as it happened. I must thank you very much for David's photograph. I shall always treasure it. We had been very good friends though not intimate friends in the true sense of the word, as though I had known him for about four months, we had been roommates for about six weeks only. We had lots of discussions, political, social, and educational, but not once did we discuss anything bordering on the occult or spiritual. Had we done so, I would perhaps have been able to account, in a measure, for his appearance in this room at the time of his death. As it is, I have no explanation whatever to offer.

Jas. J. Larkin, 2nd Lt. R.A.F.

The Society for Psychical Research requested additional details from Larkin about the circumstances of the apparent apparition, and Larkin responded to them with the following on June 27, 1919:

The Society already has my detailed description of the occurrence – regarding the time, it was about 3:25, or rather between 3:20 and 3:30 pm. The room was quite small, about 12 feet square, and at the time the electric light was on and also a good fire burning in an open stove. I may mention that the light was particularly good and bright, and there were no shadows or half shadows in the room. Outside it was still quite light, but being a foggy, cold day, I had my door closed and the light on and the fire going. I think that is all the additional information you require, as I understand from Mr. McConnel's letter.

Jas. J. Larkin, 2nd Lt. R.A.F.

The Society account then made the following comments on the case:

Lt. Garner-Smith's corroborative statement supplies evidence that Lt. Larkin had identified the man who entered his room on December 7, 1918 as Lt. McConnel before he could have had any normal knowledge of the accident which had only just occurred. The identification cannot therefore be due to any trick of memory consequent on the news of the accident. That being so, the only normal explanation which could be made to cover the facts would be one of mistaken identity. It was with this possibility in mind that we questioned Lt. Larkin concerning the lighting of the room. Obviously such a mistake would be far more likely to occur in a dim light. Lt. Larkin's reply on this point is satisfactory. The light, he tells us, was good, and under these circumstances it is very difficult to suppose that Lt. Larkin could mistake a man, with whom he actually had conversation at a distance of only a few feet, for another man with whose voice and appearance he was perfectly familiar.

A further argument against the theory of mistaken identity is that Lt. Larkin observed that the man who entered his room was wearing a naval cap. This was worn by only two other men at the aerodrome besides Lt. McConnel, neither of whom, as we are assured by his father Mr. McConnel, who is personally acquainted with them, "could either in height, or build, or manner, or voice, have been mistaken for my son."

What is described above by a seemingly very reliable witness who by his own admission did not believe in ghosts prior to this event is the apparent completely solid apparition of a fellow pilot who had just died in an aircraft accident. Furthermore, it was clearly documented that the witness, Lt. Larkin, had no knowledge of McConnel's death at the time that he experienced the apparition. This is a ghostly encounter that is quite difficult to explain on any materialistic basis.

What about ghostly apparitional encounters in more recent times? Surveys of the general population have shown that about 15% of people have had, at least once in their lifetime, a sensory perception, often visual, of another person who was physically deceased. Six such encounters have been researched in detail by Stevenson (48). I will describe two of them.

E.W., a woman in Scotland, had the following apparitional experience on May 29, 1975. At about 10 am, E.W. went outside the front door of her house to pick up some delivered milk bottles and she noticed her neighbor, a Ronald McKay, walking out of his driveway across the road and then down the road toward the factory where he was the manager. E.W. and her husband had known that the McKay's were away on vacation and thought that they were still away. She went back into her house and casually told her husband: "I see the McKay's are back". Her husband asked her when they had come back and she replied: "I don't know, but I saw Ron go down the drive".

About an hour later, a senior employee of Ronald McKay's factory came to their house and informed E.W. and her husband that McKay had died at 7 am that morning while on vacation 150 miles away. Naturally, E.W. was quite taken aback by this news, but she swore that she had seen a lifelike McKay walking to work that morning. She said that he appeared completely solid and normal, and that she had him in view for about 10 seconds from about 50 feet away. McKay's widow reported that he had died in bed in his sleep and that he was naked at the time of his death, since he always slept naked. Yet E.W. saw him wearing a nylon shirt tucked into flannel trousers, which McKay's wife said was his normal work attire.

The second case reported by Stevenson happened on January 4, 1965 to a girl D.I., who was 14 years old at the time. Her maternal grandfather, who was dying of leukemia, was living at her home along with the other members of her family. The apparition occurred while she was alone in the house with her grandfather. Here is her account of it (48):

Granddaddy called to me to give him a drink of water. I failed in my attempts to lift him enough to wet his lips. The disease had reduced his once tall, strong stature to a frail, weak invalid. I called mom at work to ask for help, but she told me it would have to wait until dad returned from work at noon. Shortly thereafter I heard granddaddy calling out to his wife, Hazel. Grandmom had died nine years prior (on October 13, 1956), so I thought he must be losing his mind. I ran down the hall to make another attempt to help him. I was amazed to find him sitting up, smiling with his arms reaching out. The room was filled with a warm, bright light. He spoke to grandmom, who was standing at the foot of his bed. Neither of them acknowledged my presence. She was there but a brief moment, and when granddaddy laid back down, his soul escaped with her. He died with a smile on his face.

And I can still visualize it. If this was the room and his bed was here the light came out of that corner there of the ceiling and it came, shone right down at the very foot of his bed. And she was not on the floor. She, her, I didn't see her feet. But she was above the floor. And if a conversation was held between them it was not to my ears. You could see very beautiful, peaceful expressions on their faces. That is the most vivid part of it for me. That they both were just so at peace at seeing each other. And he raised up. By the time I get to the room he didn't even acknowledge that I had come to the room. He raises up and he raised his arms up to reach her and he just laid back. And when he laid back down he had a smile on his face and his eyes were open. And she. When I am looking at him, then I look back and she was gone. And I got hysterical because I knew without even knowing how. I didn't know how to check for vital signs or anything. I just knew that he was dead. That he had passed.

I myself have never seen a ghost. However, I would like to relate the story of a friend of mine who had an apparent encounter with a relative that had just died. My friend had become quite ill and had to be hospitalized. Her condition continued to worsen and was becoming life-threatening. She was getting close to the point of death, and the doctors could do nothing about it. But when things were at their worst, she made a sudden and rapid recovery totally on her own. The doctors could not explain the reason for this recovery. But my friend told me that, at the time, she had a vision of and interaction with her sister who had just died, a fact that was unbeknownst to her at the time. It was right after this interaction with her sister that things turned around and she began her recovery. My friend was quite adamant about this event, and I have always thought that there was something supernatural associated with it.




After Death Communication

Is it possible to communicate with dead people? Can you still interact with loved ones who have passed away? If their essence, their soul, continues to exist in a spiritual realm of reality then one might think that this possibility could exist.

Spiritualist mediums who claimed the ability to communicate with the dead began to appear in the nineteenth century. The first such mediums were the Fox sisters. In 1848, they claimed that they could communicate using rapping sounds with the spirit of a peddler who had been murdered five years earlier and buried in the cellar of their home in Hydesville, New York. They received much publicity and fame as a result of this, but there is considerable controversy as to whether or not the Fox sisters were fraudulent about their claims. In any case, they sparked a wave of spiritualists to come forward in the nineteenth century.

Daniel Dunglas Home is without question the most important spirit medium of the nineteenth century, perhaps of all time. Home wrote a book describing in some detail his life and his spiritual activities (49). Home (Scottish pronunciation "Hume") was born near Edinburgh, Scotland in March 1833. As a child, he and his family moved to America to live in Troy, New York. His psychic abilities first appeared at age thirteen when he saw the apparition of a dead playmate.

Home went on to become a world-renowned spirit medium who held séances for the crowned heads of Europe. The descriptions provided by witnesses of his medium abilities are impressive indeed. In Home's presence, large and heavy objects such as tables were suspended in mid-air, with no observed or possible means of support. Superb musical arrangements were played on an accordion that Home held in only one of his hands, with the other end of the accordion seemingly moving by itself. Apparitions of apparently solid hands and arms appeared that would touch people in his vicinity (however, there was never a full-body solid apparition that occurred in Home's presence). Finally and most spectacularly, many witnesses reported that Home was able to levitate himself and move around freely in the air with no visible means of support!

Of significant importance is the fact that the psychic phenomena displayed by Daniel Dunglas Home were studied scientifically by Sir William Crookes. William Crookes was one of the most distinguished scientists of the nineteenth and early twentieth centuries. He was both a physicist and a chemist, and the discoverer of the chemical element thallium. Crookes also invented the radiometer and the cathode ray tube. He served as President of the British Royal Society, the Chemical Society, the Institution of Electrical Engineers, and the Society of Chemical Industry. Crookes was elected a Fellow of the Royal Society in 1863, received the Royal Gold Medal in 1875, the Davy Medal in 1888, the Sir Joseph Copley Medal in 1904, and the Order of Merit in 1910. He was knighted for his scientific achievements in 1897. To sum up, William Crookes was indisputably a world-class scientist of his day.

Crookes became interested in spiritualist phenomena in 1869. His original motivation was to debunk such phenomena by making rigorous scientific observations of them. In this context, he became involved with the spiritualist D.D. Home, and began to conduct experiments on the spiritualist phenomena that Home displayed. Crookes published a summary of his experimental observations with Home in the January 1874 issue of the Quarterly Journal of Science (50). Here are some of his first-hand scientific observations of phenomena that occurred under controlled conditions in Crookes' own home:

The instances in which heavy bodies, such as tables, chairs, sofas, etc., have been moved, when the medium has not been touching them, are very numerous. I will briefly mention a few of the most striking. My own chair has been twisted partly round, whilst my feet were off the floor. A chair was seen by all present to move slowly up to the table from a far corner, when all were watching it; on another occasion an arm chair moved to where we were sitting, and then moved slowly back again (a distance of about three feet) at my request.

On five separate occasions a heavy dining-table rose between a few inches and 1 1/2 feet off the floor, under special circumstances which rendered trickery impossible. On another occasion a heavy table rose from the floor in full light, while I was holding the medium's hands and feet. On another occasion the table rose from the floor, not only when no person was touching it, but under conditions which I had prearranged so as to assure unquestionable proof of the fact.

The most striking cases of levitation which I have witnessed have been with Mr. Home. On three separate occasions have I seen him raised completely from the floor of the room. Once sitting in an easy chair, once kneeling on his chair, and once standing up. On each occasion I had full opportunity of watching the occurrence as it was taking place. . . . The accumulated testimony establishing Mr. Home's levitations is overwhelming.

A medium, walking into my dining room, cannot, while seated in one part of the room with a number of persons keenly watching him, by trickery make an accordion play in my own hand when I hold it keys downwards, or cause the same accordion to float about the room playing all the time.

Under the strictest test conditions, I have seen a solid self-luminous body, the size and nearly the shape of a turkey's egg, float noiselessly about the room, at one time higher than any one present could reach standing on tiptoe, and then gently descend to the floor. It was visible for more than ten minutes, and before it faded away it struck the table three times with a sound like that of a hard solid body. During this time the medium was lying back, apparently insensible, in an easy chair.

A beautifully formed small hand rose up from an opening in a dining-table and gave me a flower; it appeared and then disappeared three times at intervals, affording me ample opportunity of satisfying myself that it was as real in appearance as my own. This occurred in the light in my own room, whilst I was holding the medium's hands and feet.

A hand has been repeatedly seen by myself and others playing the keys of an accordion, both of the medium's hands being visible at the same time, and sometimes being held by those near him. The hands and fingers do not always appear to me to be solid and life-like. . . . I have more than once seen, first an object move, then a luminous cloud appear to form about it, and, lastly, the cloud condense into a shape and become a perfectly-formed hand. At this stage the hand is visible to all present. It is not always a mere form, but sometimes appears perfectly life-like and graceful, the fingers moving, and the flesh apparently as human as that of any in the room. At the wrist, or arm, it becomes hazy, and fades off into a luminous cloud. To the touch, the hand sometimes appears icy cold and dead, at other times, warm and life-like, grasping my own with the firm pressure of an old friend. I have retained one of these hands in my own, firmly resolved not to let it escape. There was no struggle or effort made to get loose, but it gradually seemed to resolve itself into vapour, and faded in that manner from my grasp.

A luminous hand came down from the upper part of the room, and after hovering near me for a few seconds, took the pencil from my hand, rapidly wrote on a sheet of paper, threw the pencil down, and then rose up over our heads, gradually fading into darkness.

The following is a still more striking instance. As in the former case, Mr. Home was the medium. A phantom form came from a corner of the room, took an accordion in its hand, and then glided about the room playing the instrument. The form was visible to all present for many minutes, Mr. Home also being seen at the same time. Coming rather close to a lady who was sitting apart from the rest of the company, she gave a slight cry, upon which it vanished.

I speak chiefly of Mr. Home, as he is so much more powerful than most of the mediums I have experimented with. But with all I have taken such precautions as to place trickery out of the list of possible explanations.

It is obvious that a "medium" possesses a something which is not possessed by an ordinary being. Give this something a name. Call it 'x' if you like. Mr. Serjeant Cox calls it Psychic Force.

This is the force to which the name of Psychic Force has been given by me as properly designating a force which I thus contend to be traced back to the Soul or Mind of the Man as its source. The difference between the advocates of Psychic Force and the Spiritualists consists in this - that we contend that there is as yet insufficient proof of any other directing agent than the Intelligence of the Medium, and no proof whatever of the agency of Spirits of the Dead; while the Spiritualists hold it as a faith, not demanding further proof, that Spirits of the Dead are the sole agents in the production of all the phenomena.

Crookes ascribed these phenomena to the action of a scientifically unknown "Psychic Force". The scientific community rejected the validity of these experiments, but Crookes, the world-class scientist, had absolute confidence in the reality of his scientific observations of these effects until the day he died.

Sir William Crookes was also involved with the medium Florence Cook, and the famous full-body manifestation of the dead Katie King that occurred in her presence. Florence Cook was born in London in 1856. In 1871 at the age of 15, she acted as the medium for the manifestation of Katie King in physical form. Katie said that she was the daughter of John King, who was actually the infamous pirate Henry Morgan who had died in 1688 in Jamaica. Katie said that she was manifesting because in life she had been an adulteress and murderer, and wanted to atone for her sins by providing proof of an afterlife to the living. Florence Cook made contact with William Crookes in the hopes that Crookes would validate the truth of the apparition of Katie King.

Crookes subsequently conducted detailed experiments on the Katie King apparition with Florence Cook at his home in London. Here is his report of the last set of experiments that he conducted (51):

During the week before Katie took her departure she gave séances at my house almost nightly, to enable me to photograph her by artificial light. Five complete sets of photographic apparatus were accordingly fitted up for the purpose, consisting of five cameras, one of the whole-plate size, one half-plate, one quarter-plate, and two binocular stereoscopic cameras, which were all brought to bear upon Katie at the same time on each occasion on which she stood for her portrait. Five sensitising and five fixing baths were used, and plenty of plates were cleaned ready for use in advance, so that there might be no hitch or delay during the photographic operations, which were performed by myself, aided by one assistant.

My library was used as a dark cabinet. It has folding doors opening into the laboratory; one of these doors was taken off its hinges, and a curtain suspended in its place to enable Katie to pass in and out easily. Those of our friends who were present were seated in the laboratory facing the curtain, and the cameras were placed a little behind them, ready to photograph Katie when she came outside, and to photograph anything also inside the cabinet, whenever the curtain was withdrawn for the purpose. Each evening there were three or four exposures of plates in the five cameras, giving at least fifteen separate pictures at each séance; some of these were spoilt in the developing, and some in regulating the amount of light. Altogether I have forty-four negatives, some inferior, some indifferent, and some excellent.

Katie instructed all the sitters but myself to keep their seats and to keep conditions, but for some time past she has given me permission to do what I liked - to touch her, and to enter and leave the cabinet almost whenever I pleased. I have frequently followed her into the cabinet, and have sometimes seen her and her medium together, but most generally I have found nobody but the entranced medium lying on the floor, Katie and her white robes having instantaneously disappeared.

During the last six months Miss Cook has been a frequent visitor at my house, remaining sometimes a week at a time. She brings nothing with her but a little hand-bag, not locked; during the day she is constantly in the presence of Mrs. Crookes, myself, or some member of my family, and, not sleeping by herself, there is absolutely no opportunity for any preparation even of a less elaborate character than would be required for enacting Katie King. I prepare and arrange my library myself as the dark cabinet, and usually, after Miss Cook has been dining and conversing with us, and scarcely out of our sight for a minute, she walks direct into the cabinet, and I, at her request, lock its second door, and keep possession of the key all through the séance; the gas is then turned out, and Miss Cook is left in darkness.

On entering the cabinet, Miss Cook lies down upon the floor, with her head on a pillow, and is soon entranced. During the photographic séance, Katie muffled her medium's head up in a shawl to prevent the light falling upon her face. I frequently drew the curtain on one side when Katie was standing near, and it was a common thing for the seven or eight of us in the laboratory to see Miss Cook and Katie at the same time, under the full blaze of the electric light. We did not on these occasions actually see the face of the medium because of the shawl, but we saw her hands and feet; we saw her move uneasily under the influence of the intense light, and we heard her moan occasionally. I have one photograph of the two together, but Katie is seated in front of Miss Cook's head.

During the time I have taken an active part in these séances Katie's confidence in me gradually grew, until she refused to give a séance unless I took charge of the arrangements. She said she always wanted me to keep close to her, and near the cabinet, and I found that after this confidence was established, and she was satisfied that I would not break any promise I might make to her, the phenomena increased greatly in power, and tests were freely given that would have been unobtainable had I approached the subject in another manner. She often consulted me about persons present at the séances, and where they should be placed, for of late she had become very nervous, in consequence of certain ill-advised suggestions that force should be employed as an adjunct to more scientific modes of research.

One of the most interesting of the pictures is one in which I am standing by the side of Katie; she has her bare foot upon a particular part of the floor. Afterwards I dressed Miss Cook like Katie, placed her and myself in exactly the same position, and we were photographed by the same cameras, placed exactly as in the other experiment, and illuminated by the same light. When these two pictures are placed over each other, the two photographs of myself coincide exactly as regards stature, etc., but Katie is half a head taller than Miss Cook, and looks a big woman in comparison with her. In the breadth of her face, in many of the pictures, she differs essentially in size from her medium, and the photographs show several other points of difference.

Having seen so much of Katie lately, when she has been illuminated by the electric light, I am enabled to add to the points of difference between her and her medium which I mentioned in a former article. I have the most certainty that Miss Cook and Katie are two separate individuals so far as their bodies are concerned. Several little marks on Miss Cook's face are absent on Katie's. Miss Cook's hair is so dark a brown as almost to appear black; a lock of Katie's, which is now before me, and which she allowed me to cut from her luxuriant tresses, having first traced it up to the scalp and satisfied myself that it actually grew there, is a rich golden auburn.

One evening I timed Katie's pulse. It beat steadily at 75, whilst Miss Cook's pulse a little time after was going at its usual rate of 90. On applying my ear to Katie's chest I heard a heart beating rhythmically inside, and pulsating even more steadily than did Miss Cook's heart when she allowed me to try a similar experiment after the séance. Tested in the same way, Katie's lungs were found to be sounder than her medium's, for at the time I tried my experiment Miss Cook was under medical treatment for a severe cough.

The photographs that William Crookes took of Katie King may be viewed on the internet if you are interested in seeing them. Are these photographs genuine? Crookes was very adamant that they had not been doctored or modified in any way.

What an apparition Katie King was - a walking, talking, physically solid one! Was Katie King an authentic apparition of a person who had died? All that one can say is that the eminent scientist Sir William Crookes thought so, based on his first-hand observations. It is extremely difficult to believe that a person such as Crookes could have been deceived by either the medium Florence Cook or any living person who might have been posing as Katie King. Sir William Crookes was just too fine a scientist. He was an extremely honest scientist who observed real phenomena that he could not explain on a materialistic basis and reported exactly what he had seen.

Do you think that anyone can communicate with the dead? Given the popularity of the television show "Crossing Over" featuring psychic John Edward, a great many people think so. John Edward claims that he receives impressions from dead people, in the forms of thoughts, pictures, words, and feelings that form in his mind. A typical John Edward "Crossing Over" session involves him addressing a live audience. He will begin by saying that someone on the other side is trying to communicate with someone in the audience, and he states a bit of information and asks the audience if there is anyone there who relates to it. Usually an audience member responds, but on at least one occasion the response came from his own camera man. Once a link has been established, Edwards has a relatively rapid verbal exchange with the person and relates additional information that the deceased person, usually a close relative, wishes to relay to the living person. Many who have had such exchanges with Edwards say that they found the information that he provided them, often of a very private nature, to be quite accurate.

John Edward's full name is John Edward McGee, Jr. He was born in Glen Cove, New York in 1969, the only son of a Irish-American policeman and an Italian-American mother. Not surprisingly, he was brought up as a Roman Catholic, but in adulthood fell away from the Catholic Church, although he maintains a strong belief in God and spirituality. Edward says that at age 15, he had a reading from a woman in New Jersey who told him that he would help people and become internationally known for his psychic abilities. He says that this woman also told him details about his life up to that point that no one could know except himself.

In 1998, Edward published a book entitled "One Last Time" describing his ability to communicate with the dead. As a result of this book, he appeared on the Larry King talk show and his appearance caused such a large reaction from the public that he was soon given his own television show "Crossing Over", which originally aired on the SciFi channel. In 2006, he began another television show entitled "John Edward Cross Country", where he travels across the United States interacting with large audiences.

Many skeptics have branded John Edward a fraud who takes advantage of bereaved people. They say that, rather than communicating with the dead, he picks up information from the members of the audience in a variety of ways, such as having accomplices mingle with the audience members before the show to extract information, asking questions that are likely to draw "yes" answers, drawing out information during the course of conversation with an audience member, and observing body language. These techniques are generally referred to as "cold reading".

John Edward as well as other psychics claiming the ability to communicate with the dead have been studied under controlled conditions by Dr. Gary Schwartz, an internationally known professor of psychology, medicine, neurology, psychiatry, and surgery at the University of Arizona and director of its Human Energy Systems Laboratory. Dr. Schwartz received his doctorate from Harvard University and prior to coming to the University of Arizona, was a professor of psychology and psychiatry at Yale University and director of the Yale Psychophysiology Center and co-director of the Yale Behavioral Medicine Clinic. Schwartz is clearly a man with extensive and well-established credentials.

In 2001, Schwartz published a paper entitled "Accuracy and Replicability of Anomalous After-Death Communication Across Highly Skilled Mediums" that reported on the results of a significant in-depth investigation that he had conducted (52). This investigation was described in considerably more detail in his subsequent 2002 book "The Afterlife Experiments" (53).

In his scientific investigation, Schwartz examined the communication-with-the-dead accuracy of five internationally-known psychic mediums: John Edward, George Anderson, Anne Gehman, Suzane Northrop, and Laurie Campbell. The purpose of the investigation was to determine if psychic mediums could provide accurate information by means of communication with dead people.

In these experiments, "sitters" who had deceased relatives were "read" by the psychics. The sitters signed statements indicating that they had no verbal or written communication with any of the mediums prior to the experiments. No information about the sitters was given to the mediums, other than the information that the sitters had lost loved ones in the past ten-year period. For the readings, the sitter and the medium were seated in chairs that were separated by a screen, so that the sitter and medium had no visual contact. They could only hear each other. Each reading involved the psychic asking yes-or-no questions to the sitter. The sitter was only allowed to answer with a Yes or with a No, and provide no additional information to the psychic in their replies. An individual reading lasted for about 20 minutes.

The accuracy of the readings, as assessed by the number of Yes answers that the sitter gave to the questions, was determined to be 85% for the psychic mediums. In order to assess what level of Yes answers might be obtained by chance, a control group of 68 non-psychics were given a standard questionnaire of 70 representative questions based on the content provided by the mediums. The control subjects were challenged to try and guess as well as the mediums had done. It was observed that the accuracy of guesses by the controls was only 36%, as compared to the 85% accuracy achieved by the mediums.

In order to try and determine if there were any telepathic mind reading links between the mediums and the sitters that might account for the accuracy of the information, both mediums and the sitters were instrumented with EEG and ECG monitors during the readings. Analysis of the EEG/ECG data did not indicate any correlation data between medium and sitter that would be suggestive of a telepathy explanation for the accuracy of the medium's information. However, telepathic exchange of information cannot be absolutely ruled out on just the basis of these EEG/ECG results.

Do these scientifically structured experimental results conclusively prove that the psychic mediums are actually able to communicate with the dead? To my mind, the answer is "no" that they are conclusive. But they do suggest that further investigations should be conducted to obtain a larger body of scientific information related to the possibility. What Happens After We Die?

If you ask the average person on the street where they think they will go when they die, the most likely answer is "to heaven if I am good" and "to hell if I am bad". Some Catholics might add "to purgatory if I am just a little bad". Hindus and Buddhists will probably tell you that you go to a temporary place until your next reincarnation. Agnostics will say that they don't know. And atheists will of course say that your question is irrelevant, since you just go away. However, someone might possibly tell you that you go to another dimensional level of existence. Let's explore this concept in a little more detail.

When I was a very young man, my favorite television show was "The Twilight Zone". This show was produced by Rod Serling in the early 1960's and aired in black-and-white. The stories told on the show fired my imagination and kept me enthralled. Reruns of "The Twilight Zone" still appear with regular frequency on today's television programming (and still in black-and-white). That's how excellent it was. Rod Serling introduced each episode with the words:

You're traveling to another dimension, a dimension not only of sight and sound, but of mind. A journey into a wondrous land whose boundaries are that of imagination. Your next stop – The Twilight Zone.

I remember one 1962 "Twilight Zone" episode entitled "Nothing in the Dark" which was about the subject of death. In this episode, an old woman by the name of Wanda Dunn is living in a small, below-street-level city apartment, where she has resided for many years. She is extremely fearful of dying and drastically limits her contact with other people because she is afraid of meeting "Mr. Death". But on this particular day, a police officer is shot outside her front door and desperately needs her help or he will die. She takes him in, nurses him, and they talk. His name is Harold Beldon (who is played in the episode by a very young and handsome Robert Redford). There is a knock on the door and a man barges in to tell the old woman that her building has been condemned and will be demolished in the near future. But this man does not seem to see the policeman in her apartment at all. After the man leaves, the old woman then realizes that the policeman is actually "Mr. Death", the Angel of Death, the spirit visitor that she has been dreading. But he convinces her to take his hand and she discovers that the transition from life to death is painless, as her true spiritual self views her dead body lying on the bed. Then she leaves her apartment forever, happily hand-in-hand with "Mr. Death".

We live in a three-dimensional world, with time as a fourth non-spatial dimension. That's the observable fact of our physical existence here on Earth. But I think there may be other dimensions existing that are perhaps related to a spiritual realm. From our perspective here in the three-dimensional world, what might we understand about them?

There are a couple of interesting references in this regard. The first is a relatively old book, first published in 1884, by Edwin Abbott entitled "Flatland-A Romance of Many Dimensions" (54). In his book, Abbott described the lifestyle of two-dimensional people who inhabit the imaginary two-dimensional world of Flatland. Interestingly, Abbott was neither a scientist nor a mathematician, but rather a school headmaster whose field was the classics. He conjured up a whole two-dimensional society with their own quirks and rules of behavior. Women were straight lines. Soldiers and the lowest classes of workmen were triangles. Middle class Flatlanders were equilateral triangles. Professional men and gentlemen were squares or pentagons. Members of the nobility were hexagons, rising up to polygons. And finally, the priests were circles.

Abbott described some of the physical constraints that would be encountered in such a two-dimensional universe. For a person living in Flatland, the visual appearance of all objects (except women end-on) would be as straight lines, even though they would actually be two dimensional plane figures such as triangles, squares, polygons, and circles. For example, a large circle would appear as a long line, while a small circle would appear as a short line. Two-dimensional objects that might be present inside of the outer objects would not visible to the Flatland observer. Thus, the "internal organs" of Flatland inhabitants could not be seen. Nor could the insides of the Flatland dwellings, which by the way, were universally pentagonal in shape.

A line feature would present an absolute physical barrier to a Flatlander. He could only circumvent it by going around it peripherally. Gaining entrance to a pentagonal home in Flatland could only be had by passing through open line segments on the faces of the pentagon.

Given the above, one question you may ask is how a Flatlander would be able to distinguish between triangles, squares, polygons, and circles. The answer is that he would have to go round their periphery and note the number of vertex discontinuities, as well as the relative distances between vertex discontinuities. In the case of circles, there would be no vertex discontinuities around the periphery and this observation would automatically indicate that it was a circle. Line segments (the Flatland Women) would have only two discontinuities, one on each end of their line segment. Obviously, the identification of inhabitants would be a much more difficult process in Flatland as compared to the process in three-dimensions (Spaceland in Abbott's terminology).

While Flatland is an amusing little book in terms of its two-dimensional social commentary, its concepts have been extended to out-of-body and near-death experiences in an article published by Brumblay (55).

Brumblay considered what a two-dimensional being might experience if he were suddenly thrust into a three-dimensional environment. Basically, the Flatlander is elevated and floating above his two-dimensional landscape.

When this happens, many of the two-dimensional constraints will be immediately removed. The Flatlander will be able to see through his two-dimensional line barriers. He will have a 360 degree view of his two-dimensional environment, and will be able to see the shapes of the triangles, squares, polygons, and circles that he previously could only see in the form of line segments. He will also be able to see any features that may be present inside of these two-dimensional figures.

Now he can see through what to him were previously "walls", and look inside Flatlander houses. He would be able to see the Flatlanders in their true forms, and also to see their "internal organs". Naturally, this would be very disconcerting to him, since he would still possess his two-dimension way of thinking and discerning.

In moving from two-dimensions to three-dimensions, the extracted Flatlander would become invisible to the inhabitants of Flatland, because he now existed in the third-dimension, which is completely inaccessible to them.

The extracted Flatlander would also have the ability to predict the future experiences of his fellow Flatlanders to some degree. To see this, consider a Flatlander who is moving through a two-dimensional maze. The extracted Flatlander would be able to know in advance what future events the maze Flatlander would encounter based on the choices that were made while traversing the maze. He would know what the future event-options were for the maze traversal.

In his new three-dimensional environment, the extracted Flatlander would have freedom of movement in three dimensions, rather than just two. He could essentially traverse his previous line "walls" by simply hopping over them. He could translate and rotate his three-dimensional "astral body". The extracted Flatlander would be aware of a three-dimensional environment that was totally foreign to him and his two-dimensional way of thinking. He would be forced to learn about and adapt to his new higher dimensional universe.

Given this background as to what could be expected in going from two- to three-dimensions, the next logical step is to extrapolate as to what might be expected in going from three- to four-dimensions.

In our three dimensional world, we know of left-right, up-down, and forward-backward. But we have no concept at all of the nature of a fourth spatial dimension, which I will, for lack of a better terminology, call "in-out". What the dickens might "in-out" be? We haven't the slightest idea until we can actually experience it. Abbott devoted a significant section of Flatland to attempts by a three-dimensional being to describe the third dimension to a two-dimensional being, with absolutely no success.

So what might a three-dimensional person who somehow finds himself in a four-dimensional "astral body" experience? Here are some speculations, based on the two- to three-dimensional scenario.

First, he would be completely invisible to three-dimensional observers. He would be able to see through walls and see the interior features of closed, three-dimensional objects - he could see the internal organs of his fellow three-dimensional humans. It is possible that he might have a completely spherical field of view, that is, he would be able to see in all of the spherical directions simultaneously. Time as we know it in the three-dimensional world might be different, perhaps even non-existent, in the four-dimensional world. It might be possible to view past, present, and future simultaneously. Just as with the two-dimensional being in three-dimensions, there would be a very significant dislocation in perception of the higher dimensional reality. Our fourth-dimensional voyager would be quite confused and apprehensive, until he obtained at least a little familiarity with his new surroundings. It would take him a while to modify his three-dimensional view of the four-dimensional world.

Some theoretical physicists today conceive of eleven-dimensions as the reality of our universe. While an eleven-dimensional universe can be formulated mathematically, visualizing and understanding such a place (places really) is essentially impossible within our three-dimensional perspective. Does this mean that such things cannot exist? Is it tantalizingly possible that such extra dimensions might be a potential home for a spiritual realm?

If so, it is highly unlikely that we could even begin to describe the true nature of such a higher-dimensional reality. We simply do not have the conceptual basis in our current three-dimension world in order to do so. Just as the three-dimensional world of Spaceland was completely incomprehensible to the two-dimensional residents of Flatland, so a higher-dimensional reality to a three-dimensional one is to us. However, one aspect seems assured. Just as the richness of existence increased dramatically in moving from Flatland to Spaceland, so would our current richness increase in transitioning from Spaceland to Beyond Spaceland.

My personal intuition is that at death we make a transition to another dimension of reality, a much more expansive reality than the three-dimensional one that we currently find ourselves in. But how long do we stay in this more expansive reality? After living our present lifetime, are we then there for eternity? Or do we spend some non-eternal period in this higher-dimensional reality to "recharge our batteries" so to speak, before coming back and living additional lives on Earth until we attain sufficient perfection to reside permanently in this more expansive reality? This naturally leads us into the question of reincarnation.

There is basic disagreement amongst the major religions of the world about reincarnation. Hinduism and Buddhism definitely ascribe to it. You continue to reincarnate until you have removed all your negative karma. After that, you transition permanently to a spiritual existence. However, the Religions of the Book - Judaism, Christianity, Islam - say no, there is no reincarnation. They tell you that you only have one life to live here on Earth and this is it. Thereafter, you go to Heaven (or Hell), depending on how you lived your one life. So religious teachings do little to resolve the reincarnation question one way or the other. Is there anything more quantitative that exists concerning reincarnation? Are there any facts regarding reincarnation out there rather than just beliefs?

The more quantitative studies that have been conducted on reincarnation can be placed into two groups. The first is that of hypnotic regression in which people relate information, while they are in a hypnotic state, about past lives that they have experienced,. The second group comprises detailed case studies of living people who have conscious memories of past lives. Let us discuss the hypnotic regression reincarnation studies first.

Hypnosis has been around as a practice since the 19th century. Today, it is an established medical procedure for dealing with psychiatric, pain, and habit disorders. Yet, the scientific and medical communities have very little real understanding of the nature of the hypnotic state. Hypnosis appears to be a state of altered consciousness. Based on brain wave measurements, it is certainly not a state of sleep. Under hypnosis, people can remember things that they cannot recall in their conscious state. They can recall very specific details of events they have experienced, even many years after the fact. This aspect is sometimes used in the investigative work of criminal cases. While hypnotized, people can be made to perform physical feats that they would normally find quite difficult or impossible to do in their conscious state, such as holding out their arms motionless for extended periods of time or immersing a hand in ice water for a long time. People can also be given post-hypnotic suggestions by the hypnotist, which they then proceed to follow, apparently unconsciously, once they are out of the hypnotic state.

A study of the functional neuroanatomy of hypnosis has yielded some important observations (56). In this study, brain function during the hypnotic state was monitored by determining the distribution of regional cerebral blood flow, which was taken as an index of local neuronal activity. Positron-emission tomography (PET) scans were employed for this.

The PET results indicated that during the hypnotic state there was a great deal of activity in the occipital, parietal, precentral, prefrontal, and cingulated cortices of the brain. They showed that the hypnotic state exhibits cerebral processes that are different from those of simple memory, and suggested that this state was related to the activation of sensory and motor areas of the brain, but without any actual external sensory inputs or movement responses. Brain activation during the hypnotic state occurred to a greater extent in the left side of the brain than in the right side.

During the hypnotic state, monitored EEG recordings did not show any sign of sleep (e.g. spindles, K complexes). Instead, the waking alpha rhythm was fragmented and replaced by periods of slower theta rhythms. Oculograms showed the occurrence of slow, roving eye movements.

The researchers concluded that the hypnotic state was not one of sleep, nor was it related to schizophrenic hallucinations. They stated that it was a particular cerebral waking state where the subject, while seemingly in a sleepy mode, experiences a vivid, coherent, memory-based mental imagery that pervades the person's consciousness.

The ability to enter the hypnotic state varies from person to person. Some people can be hypnotized very easily, but some cannot be hypnotized at all. The reasons for this disparity are as unknown as the nature of the hypnotic state itself. Some hypnotists say that those who have practiced meditation over extended periods of time or those who can focus their minds on specific tasks are the types of people who can be hypnotized relatively easily.

The most famous case of hypnotic past-life regression is that of Bridey Murphy (57). Morey Bernstein, a businessman and amateur hypnotist living in Pueblo, Colorado, had been hypnotizing people at a house party and noticed that one of the guests, a 28 year old Pueblo housewife by the name of Virginia Tighe, was easily hypnotizable. Bernstein had heard about early hypnotic regression cases and convinced Virginia to be his subject in a hypnotic past-life regression that he would perform on her. Under hypnosis, Virginia Tighe (whom Bernstein called Ruth Simmons in his subsequent book) described a past life lived in the 19th century in Ireland as a woman by the name of Bridey Murphy. In the hypnotic trance, Bridey spoke with a heavy Irish accent and recounted her life from her birth in 1798 to her death in 1864 at the age of 66.

Bridey recounted many details about this previous life. She said that she had been named Bridey in honor of her grandmother whose name was Bridget (Bridey being a contracted form of the name Bridget at that time in Ireland). She said that her father's name was Duncan Murphy, her mother was Kathleen, and that she had one living brother whose name was also Duncan (there was also an additional brother who had died as an infant). She stated that her father was tall, had reddish hair (Bridey's was also red), and worked as a barrister in Cork, Ireland. Her mother was of medium build and had black hair.

Bridey related that she was originally a Protestant, but married a Catholic man by the name of Brian MacCarthy (Brian's father was named John MacCarthy and was a barrister in Cork), and that they then went to live in Belfast. They had no children. Bridey stated that they attended a St. Teresa's Catholic church in Belfast, and that the priest there was named Father John Gorman. Bridey indicated that prior to her death in 1864, she had fallen down the stairs and broken her hip, which had left her as an invalid dependent on her husband for daily assistance. She said that she died on a Sunday while her husband Brian was at church. Bridey stated that she watched the burial of her body (she referred to it as being "ditched"). She said that she also saw her tombstone, which had the dates 1798 and 1864 on it and the name Bridget Kathleen MacCarthy.

Bridey also recounted her existence as a spirit after her death in 1864. She said that she remained in spirit form in her Belfast home. She was present in the house when her husband Brian died, but said that Brian did not stay with her in spirit form. She stated that she remained in the house until Father John died (he had often visited her home), but left after that and went to the house of her brother Duncan in Cork (she said that her brother looked so old to her).

Bernstein asked Bridey to describe her existence as a spirit who was still bound on Earth. He asked her if she liked being a spirit and she said that it was not better than being alive because her existence as a spirit was not full enough. You couldn't do anything, accomplish anything, or talk to anyone (presumably other spirits) for long, since they would go away after a short time. Bridey related that as a spirit there was no pain, you didn't have to eat or sleep, and that it was neither hot nor cold. You couldn't touch or smell things, but you could see and you could hear. Bridey said that there were no laws or regulations in the astral world, and that no one gave her any instructions while she was there. She indicated that she moved herself from her house in Belfast to her brother's house in Cork simply by willing herself there. She said that male or female spirits appeared the same, but that you just knew who was male and who was female. She mentioned that you could see some aspects of the future of events on Earth but did not provide any details about these future events.

Bridey said that there was no death in the spirit world. You just passed from one existence to another. Bernstein also took Virginia Tighe back to a life before the Bridey Murphy life. She indicated that she was a little baby and that her parents were named John and Vera Jamieson and that they lived in New Amsterdam in America. She said that she died as an infant in that life. When Bernstein tried to take her back to an earlier life than this, she did not remember any.

Bridey said that when she left the spirit world, she found herself born as a baby in Iowa. She said that this transition happened suddenly. One instant she was Bridey the spirit and the next she was "Ruth Mills" in Iowa (this was the maiden name of "Ruth Simmons").

Morey Bernstein attempted to substantiate the information about Bridey's life in Ireland that she had provided to him. He had investigators in Ireland probe through the records there in detail. With regard to birth and marriage records for a Bridey Murphy in Cork, there were none, since such records were not kept in Cork before the year 1863. This was quite unfortunate because these records could have substantiated major elements of Bridey's life. Bernstein did determine that there was a John MacCarthy who was a barrister in Cork in 1830 and that this John MacCarthy was a Roman Catholic.

Bernstein could not find any record of a St. Teresa's Catholic church in Belfast, nor a priest there by the name of Father John Gorman. Bridey stated that her husband Brian MacCarthy had taught at Queen's University in Belfast, and that his name had appeared several times in the Belfast News-Letter. However, no records could be located in this newspaper that would substantiate this.

Bridey said that she had purchased "foodstuffs" from a greengrocer by the name of John Carrigan and from a William Farr. Records for both of these individuals as being grocers at the time in Belfast were actually discovered.

In sum, very little evidence corroborating the Bridey Murphy account was obtained by historical searches in both the towns of Cork and Belfast and this is indeed an unfortunate aspect of the Bridey Murphy case.

Inspired by Bridey Murphy, many hypnotherapists began to conduct past-life regression sessions with people interested in past lives. The most prominent was Helen Wambach who documented more than a thousand of such regressions (58). Her best subject was a man by the name of Robert Logg, who was a San Francisco businessman. Here is her account of the many lives of Mr. Logg.

The first time I hypnotized Bob, I realized that I had a very unusual subject, one of the very small percentage who could speak easily and well while in the hypnotized state. He seemed able to hold his consciousness at two levels, getting impressions from the deeper layers of the personality but able to relate them easily through the conscious mind. In our many hypnotic sessions, Bob has shown the ability to write hieroglyphics while in the hypnotized state and to speak foreign languages. We are still evaluating this material.

With Bob, I explored fourteen past lives. The dates of these lives are somewhat confused, because Bob often found the numbering system in our human concept of time difficult to deal with when he was in an altered state. He occasionally gave overlapping dates, but in general the time period was precise enough to allow checking of some data.

His most impressive and powerful past life was in Egypt, around 2000 BC. He said his position was that of a high priest, but he himself did not feel religious. His primary job was to expand trade routes, and to arrange terms with neighboring tribes and bring about a peaceful exchange of goods and services to replace the warfare that had gone on prior to his rise to power. I asked Bob to give details about the non-Egyptian peoples he dealt with around 2000 BC.

One tribe, which he called the Kawakanish, he described as "a rather aggressive Semitic, light-skinned people living in the region to our northeast, who specialize in livestock raising and the production of rye and popa."

"What land lies to the east behind this tribe?" I asked him.

"The lands are controlled by the invaders from the far continent. They adorn themselves and are rather artistic in the use of winged bull-like creatures. I believe the name is Assyrian for this highly developed civilization. Our Phoenician allies are constantly in fear and confusion from these land-based aggressors."

"Are there any slant-eyed people in your country?"

"There are slaves who were brought to our kingdom in an earlier conflict. We have slant-eyed yellow-skinned individuals who are considered poor in their work attitude. We call them the Skitchnia."

I asked Bob if he knew of any different races in his area.

"The peoples who brought the knowledge are long-headed people. They have elongated ear lobes and rather strange noses. There are very few of them left, and they are mostly a matter of legend. But there are a few still in the population. They are the long-headed people of the olden times."

Bob gave many details about his life in that time period, and we are continuing to check whatever data can be checked from four thousand years ago. Thus far, Bob's information about clothing and artifacts has proved accurate.

The second of Bob's fifteen lives was lived around 1300 BC and was in startling contrast to his life as a high priest, for in this lifetime he was a driver of a cart that brought grain to some central storehouse in Egypt. He lived in a small adobe house with a young wife and seemed to have little interest in the world around him, though he was aware of a new group of slaves, who had just been brought to the central granary. His major emotional impression in this life was his terrible sorrow at the death of his young wife; he reported that she had been bringing meat back to their dwelling when she was set upon by a pack of dogs and killed. He lived out the rest of his life in loneliness.

In these two early lives Bob had been male. In his next life, around 400 BC, he was again in Egypt, but this time he was a woman of a merchant or trading caste, and was involved in intrigue centering around the throne. As a woman, he married someone of higher station – though not the Pharaoh or one of his direct relatives – and schemed to siphon off wealth from the royal household to the family he had belonged to before he married. The woman he was in this lifetime was cold and materialistic, becoming enraged when her husband died without leaving her any power or influence at the court. But, she reported, "My family now has influence, because they now have money. I'm tired of this struggle, it was all for nothing. The battle has been lost – lost – lost; the struggle is lost."

When I asked her how her husband had died, she responded, "A very ignoble death, of a common malady, and I shall take the noblest means to follow."

I asked Bob to see this body after death, and he said, "My body is treated as it should, with due respect to my status, and it is properly processed and placed with my chosen one. We are in an antechamber to the east of the main chamber in the cave of Kurakama."

The fourth life that Bob reported – as a male again, but this time in western Lebanon – was a very happy one for him. He had a wife whom he felt warmly toward and five children (he was particularly attached to one son who had a physical disability). His job was making cheeses from goat's milk and distributing them on the trade routes that ran through his small village. He was also very interested in the Jewish religion and said that his village had no rabbi, but that his father, whom he deeply respected, served as a kind of common-law rabbi and counseled the others in the village. In this lifetime, Bob conducted himself with great dignity and spoke in a thoughtful and solemn manner. He apparently enjoyed the position of prosperous tradesman in the village, and he was very attached to the land, which he described as remarkably beautiful, with trees and rolling hills. In this lifetime he died when a very old man, surrounded by his family and full of feelings of satisfaction about a life well lived.

Although he was again a male in his fifth life, everything else was very different. The time was around 100 AD, and Bob found himself in Greece, orphaned at an early age and the ward of a powerful Roman governor of Greece. His relationship to the older man was sexual in nature. Bob described this life as sensual and pleasurable, but he had no feelings of accomplishment. He died of a disease when fairly young.

There is a long stretch of time from around 100 AD to 1300 AD that Bob and I have not yet explored, since he has not gone spontaneously to lifetimes in this time period. The next life he reported was as a woman in 1300 AD, living a very primitive life in a village in Central America. The family village was small, and apparently there was no one to marry because intermarriage among the villagers was forbidden. So it was with considerable pleasure that the woman of this lifetime reported a raid from a neighboring tribe when she was sixteen, in which she was captured and married to one of the invaders. There was much enjoyment reflected in this account; being a captive apparently was much better than staying in the isolated family village. By age twenty-five in that lifetime, this woman already had several children and was contentedly living in a village on a river. She described thatched huts that sat on stilts over the water, and said that her favorite occupation was weaving bamboo-like shoots. But when she was twenty-eight, an epidemic broke out in the village, and she died of a fever. Everyone else was also ill, and apparently the entire village was wiped out in this epidemic.

In Bob's seventh life he was again a woman, this time in Portugal in 1450 AD. The woman of this lifetime lived in modest circumstances and had a peaceful though rather short life. She described vividly the town square of the city she lived in. She too died of illness, but was unable to tell what the illness was. Apparently, she was in a coma when she died, because she found the time of departure from the physical body difficult to pinpoint.

After two lives as a female, Bob was a male in his eighth life, in the 1500's. This time he returned to a higher status, being an Italian nobleman in a village just south of Naples. But it was a cold and unsatisfying life. He seemed to have little with which to occupy himself, and he felt "turned off" by the other noblemen around him. He had no power himself, and bitterly resented it when a neighboring duke levied taxes on him.

"They're all talking about the latest tax levy," he said, "something to do with a war levy. It is either gold or personnel to fight. I personally prefer to send two men, rather than to deplete my monetary resources. This duke is preparing to battle the next kingdom, and I am completely annoyed and fed up with constant levies and useless conflicts." In this lifetime, he married for political reasons, and his relationship with his wife was unhappy. He died of old age, surrounded by his family, but feeling little warmth for anyone about his bedside.

In his ninth life, from 1590 to 1618, he was again a female. In this life, he lived in Wales. It was an unusual life in that the Welsh girl who he was had a romance with a Spanish seaman, who had apparently been shipwrecked near the shore where she lived, and became pregnant. The seaman disappeared and the girl suffered great shame for carrying an illegitimate child. She died in childbirth, full of bitterness and fear, sure that she would be condemned to hell for her sin. When I took Bob to the between-life experience after death as the Welsh girl, he explored the purpose of that lifetime and became aware that the Spanish sailor in the Welsh lifetime had also been the wife of the Egyptian cart driver in the earlier life.

In Bob's next lifetime, the tenth, he was once more a male, this time a French peasant who tended fields of millet and whose only possession was a wooden spoon that he treasured deeply. After Bob came out of hypnosis, he was amused at his deep pride in his wooden spoon and remarked, "When I think of all the worldly goods I have now, I think that that French peasant valued his spoon more than I value all the furnishings in my home."

In his eleventh lifetime, Bob was a prosperous English businessman who dealt in woolens, a successful merchant able to afford a home in a London square. He managed his business until he was around sixty-five and then turned it over to his son. His marriage was happy and he felt close to his wife and children. He seemed to enjoy his work, which took him to Scotland and France, both the buying of wool from peasants and distributing the woolen goods of his company. Since the span of this lifetime was from 1715 to 1790, I asked him if he was aware of the war with the Colonies. He responded angrily, "The colonies! Their cotton is hurting our wool business!"

Life number twelve was a shift in race again. Bob was a male in a lifetime from 1810 to 1870, he was supervising machinery in a cotton mill. Again he was involved with fabrics, but now the material was cotton, and his job was to work with new machinery imported from England. The English woolen merchant succeeded by the Egyptian cotton-gin engineer represented an interesting transition. In this lifetime in Egypt, he had only one son, and his wife died young. He focused most of his attention on his work, and died of a heart attack at the age of sixty.

In Bob's thirteenth lifetime, he was a male again, born within four months of his death as an Egyptian engineer. This time he was an urchin who hung around the docks of London, England, evidently living by his wits, although in his earlier years he had been cared for by an old woman. When he was around eleven years old, the captain of an English ship called the Dolphin took him on board as a cabin boy. He developed a father-son relationship with this captain as they sailed around the world. Especially noteworthy in this lifetime was a stop the ship made in a South Sea island near New Zealand, where Bob, as a young cabin boy, became close to a native chieftain. Apparently, the captain of the Dolphin was very much interested in the myths and legends of the island natives, and the captain, the native chief, and the cabin boy spent several months together on the island. Interesting stories about the myths of these peoples came out of this recall, but of course there is no way to check their accuracy. All we were able to find out was that there was an English ship called the Dolphin under British registry in that time period.

Bob's fourteenth life was as a female who was born in 1900 and died in 1902 in Baltimore, Maryland. This was a death in early childhood, so after Bob experienced the death, which was again nontraumatic, as deaths in infancy seem to be in my samples, I asked him why he had died so young.

"I seemed to know after I'd been born that I'd chosen the wrong parents," he replied. "Apparently, I knew this wouldn't work out well, so I just left."

Bob's fifteenth life is as a male born in California in 1930. In this present lifetime he has utilized the skills of the merchant, the fabric dealer, and now, in his later years, some of the insights he felt he acquired in ancient Egypt.

Other than the interplay of vocational interests, it is hard to see a clear karmic pattern emerging from this panorama of fourteen past lives. Bob lived nine lives as a male and five as a female. He seemed to enjoy the male lives more than the female lives, but again there is a stretch of eight hundred years in which we have no past-life recall. He seemed to resist becoming aware of females lives, so it is possible he did not recall lives in this period because they were female. If so, a balance closer to fifty-fifty would have been achieved. Racially, he was Egyptian, Central American Indian, and Caucasian. He reported no lives in Asia.

We were able to check some of the material Bob gave us about the lifetimes in ancient Egypt. The hieroglyphics he drew while in the hypnotic state were analyzed by an Egyptologist, who reported that 80 percent of them were used in ancient Egyptian scripts, but the style of writing was that of someone who was drawing a picture he had seen rather than writing the way a scribe would have written. The Egyptian Bob spoke was more difficult to analyze. The Egyptologist said that 50 percent of the syllables were apparently used in Egyptian speech, but obviously we have no tape recordings of ancient Egyptian language, so this is only an estimate.

Some of the material on Bob's life as an English woolen merchant did check out, but in most of his other lifetimes, all that could be researched was the general appropriateness of his dress, living conditions, and climate in the places where he reported he had lived.

I could find no instances of errors or anachronisms in these fourteen lives. Bob is a well-educated subject who reads widely and is knowledgeable about history. He had no way of knowing Egyptian hieroglyphics except through having seen them in books.

Robert Logg was indeed quite a subject for hypnotherapist Helen Wambach. He described fourteen past lives in detail to her under hypnosis! What are the possible explanations for Logg's hypnotic accounts? Well, he might have completely made up these past lifetimes from the content of his subconscious mind. Or he might have been able under hypnosis to somehow tap into the life memories of fourteen other individuals who had actually lived in the past. Finally, the third possible explanation is that Logg was, while in the hypnotic state, relating past lives that he himself (or herself) had actually lived in the past.

Wambach had a large sample of past-life events (1088) and so she did an analysis of her regression information. She found that, in her sample, 50.9% of the past-lives were lived as male and 49.1% as female. Thus, the past-life experiences matched the male/female population ratio. She analyzed the number of past lives that were reported in various different time periods and found that the number of past lives reported by her subjects doubled from 400 AD to 1600 AD, and then doubled again from 1600 AD to 1850 AD. This observation is consistent with increases in the world population during these time periods. Wambach found that her subjects reported upper class past-lives 5% of the time, middle class past-lives 30% of the time, and lower class past lives 65% of the time. Such percentages are consistent with the relative numbers of social class strata. In terms of race, nearly all of Wambach's subjects were white, middle-class Californians. However, their reported past-life experiences were split approximately as 33% Caucasian, 33% Asian and Indian, and 33% Black and Near Eastern, so their past lives were multi-racial in nature.

Wambach also asked her subjects to describe the death experience. An average of 49% experienced feelings of deep calm and peace and accepted their death with no difficulty. Another 30% felt very positive feelings of joy and release. An average of 20% reported seeing their bodies after their death, and floating above the body while watching the activity around it. They stated how pleasant it was to die, and what a sense of release they had after they left their bodies. Said one subject: "Dying was like being released, like going home again. It was as though a great burden had been lifted when I left my body and floated up toward the light. I felt affection for the body I had lived in that lifetime, but it was so good to be free!"

The second general class of information about reincarnation involves detailed investigations of people who claim to be reincarnated, and who have memories of previous lives (usually just the last previous life) in their conscious memories while they are children. As these children grow up, their previous-life recollections tend to fade from their conscious memories. The foremost authority on this class of information is Ian Stevenson, who performed detailed investigations on over six hundred cases of claimed reincarnation. Stevenson's book "Twenty Cases Suggestive of Reincarnation" is a classic in the field (59). Stevenson personally collected extremely detailed, first-hand, eyewitness information from the principals involved in his reincarnation cases. The twenty cases in his book are representative of the hundreds of cases of reincarnation that he studied. Let me describe in detail only one of Stevenson's cases, the case of Swarnlata in India.

Swarnlata Mishra was born in Shahpur, District Tikamgarh, Madhya Pradesh on March 2, 1948, and lived in the town of Panna. When she was three and one-half years old, she began talking to the other children in her family about details of a previous life in a town called Katni that was about 100 miles from Panna. Swarnlata said that she had been a member of a family there named Pathak, and revealed fragments of her apparent memories, mostly to her brothers and sisters, but also to some extent to her parents.

In 1958, Swarnlata, whose family had by this time moved to Chhatarpur, met the wife of Professor R. Agnihotri, who came from the area of Katni and whom Swarnlata claimed to recognize from having known her during her previous life in Katni. This convinced her father that she might actually be relating information about a previous life, and he started to write down some of Swarnata's statements.

In March 1959, a Mr. Banerjee spent two days investigating Swarnlata's case with the Mishra family. He then went to Katni, where he met the Pathak family, the family Swarnlata claimed to have been a member of in her previous life. Before going to Katni, Banerjee had noted nine statements Swarnlata made about the Pathak residence and he confirmed these upon arriving there. Prior to Banerjee's trip to Katni, the Mishra family did not know which Pathak family it was that Swarnlata had been speaking about (there were a number of families named Pathak in Katni). Banerjee said he was guided by Swarnlata's descriptions into finding the right Pathak house. He found that the statements made by Swarnlata corresponded closely with the life of Biya, daughter of one particular Pathak family in Katni. Biya was also the deceased wife of Sri Chintamini Pandey, living in the town of Maihar. Biya had died in 1939.

Before Banerjee's trip, the Mishra and Pathak families had never met or had any form of contact with each other. In the Summer of 1959, members of the Pathak family and of Biya's marital family traveled to Chhatarpur, where they were recognized by Swarnlata, even though she had never seen them before. Shortly after these visits, Swarnlata and members of her family went first to Katni and subsequently to Maihar (and nearby towns) where the deceased Biya had lived much of her married life and where she died. In Maihar, Swarnlata recognized additional people and places and commented on various changes that had occurred since the death of Biya. Sri Mishra, Swarnlata's father, made written records of these recognitions shortly after they occurred.

In the Summer of 1961, Stevenson spent four days in Madhya Pradesh and interviewed a number of people concerned with the case at Chhatarpur, Katni, Sihora, and Jabalpur. Swarnlata had continued to visit Biya's brothers and children, for whom she showed the warmest affection.

The Mishra and Pathak families firmly denied any acquaintance with each other prior to their meeting in connection with the verification of Swarnlata's statements. The wife of Professor Agnihotri had known Biya in the Maihar-Katni area. But neither Swarnlata nor her family had known the Agnihotri family prior to the time when Swarnlata made her initial statements about Katni. Both Sri Mishra and Sri Agnihotri stated that the families had never met until the occasion when Sri Agnihotri, having heard of Swarnlata's claims to remember a previous life, invited her and her father to his home to tell some friends of his about the previous life. At that time, Swarnlata learned that Srimati Agnihotri came from the Katni area and asked to see her. Swarnlata's recognition of Srimati Agnihotri then occurred. This happened in July 1958, when Swarnlata was ten and had already been talking about her previous life for six years.

In 1961, Stevenson personally interviewed the key people associated with the Swarnlata case. The following is only a partial list of the many aspects that Stevenson verified concerning the statements of Swarnlata about her past life as Biya (59):

The Pathak house was white. The house had four stuccoed rooms, but other parts were less well finished. The doors were black. The doors were fitted with iron bars. The front floor of the house was of stone slabs. The family had a motor car. There was a girls' school behind the house. A railway line could be seen from the house. Lime furnaces were visible from the house. – correct.

Recognition of Sri Chintamini Pandey, husband of Biya. – correct. Sri Chintamini Pandey and his son Murli arrived in Chhatarpur and concealed their identities from residents of that town. A meeting was arranged at which Swarnlata was asked to name the people present. The two anonymous visitors were present with nine other men from Chhatarpur, some known and some unknown to Swarnlata. When she came to Sri Chintamini Pandey, she said she knew him in Katni and Maihar and looked bashful as Hindu wives do in the presence of their husbands. She also recognized Sri Chintamini Pandey in a group photograph of nine people taken forty years earlier.

Sri Chintamini Pandey, husband of Biya, had taken 1200 rupees from a box in which she had kept money. – correct. Sri Chintamini Pandey stated that no one except Biya and himself knew about his having taken this money.

Recognition of Sri Murli Pandey, son of Biya. – correct. During their meeting in Chhatarpur, Murli tried to mislead Swarnlata and for almost twenty-four hours insisted against her objections that he was not Murli, but someone else.

Recognition of Biya's other son, Naresh. – correct. Sri Murli Pandey tried to mislead Swarnlata by saying that Naresh was someone else called Bhola. Swarnlata insisted he was Naresh.

Recognition of Sri Hari Prasad Pathak, brother of Biya. – correct. Sri Hari Prasad Pathak arrived unannounced at the Mishra home in Chhatarpur. He did not introduce himself to Sri Mishra. Swarnlata at first called him Hira Lal Pathak, but recognized him as her younger brother. Then she called him correctly "Babu", the name by which Biya had known him.

Recognition of Sri Rajendra Prasad Pathak, brother of Biya. – correct. Swarnlata correctly assigned his place as the second brother of Biya.

Recognition of Sri Vishwambar Prasad Pathak, brother of Biya. – correct. Swarnlata correctly assigned his place as the third brother of Biya.

Recognition of Sri Brij Kishore Pathak, brother of Biya. – correct. Swarnlata correctly assigned his place as the youngest brother of Biya.

Recognition of the room in the house at Tilora where Biya had died. – correct. Swarnlata correctly identified the room where Biya had died.

One can readily see from the above account the very detailed amount of investigative work that went into each and every one of Stevenson's reincarnation cases. What are the possibilities in assessing the reincarnation case of Swarnlata described by Ian Stevenson?

The first possibility is that an awful lot of people were lying about what they reported. Here is what Stevenson had to say about this.

In judging various possibilities, we may consider first that a rather widespread conspiracy among all the witnesses, especially the Mishras, Pathaks, and Pandeys. But a family of prominence, with extensive business interests such as the Pathaks have, is not going to participate in a hoax to which a large number of false witnesses would have to subscribe, any one of whom might later defect. If a hoax has occurred in this case, it must have come from the Chhatarpur side. Nothing I learned about the character of Sri. M.L. Mishra among people who knew him in Chhatarpur gave grounds for any suspicion whatever that he had perpetrated a hoax. According to his own statement, he doubted for a long time the authenticity or veridicality of his daughter's statements, and he made no move to verify them for more than six years. When Sri Banerjee visited the area of the case in 1959, he indicated a wish to observe personally any recognitions of the Pathak family on the part of Swarnlata. He was therefore chagrined when the two families got together without notifying him so he could be present. In a letter to me of August 6, 1962, Sri Mishra stated that he did not want Sri Banerjee present because he feared Swarnlata would not accomplish the recognitions and that this would publicly embarrass him. We can suppose that if he had contemplated some gain to himself from fraud, he would have wished to involve independent witnesses to lend support and fame to the case.

So the possibility that the Swarnlata case was a hoax and a fraud is an unlikely one.

The second possibility is that Swarnlata's mind was able to access the memories of Biya's relatives, friends, and acquaintances, via some sort of extrasensory perception or psychic route. With regard to this, Stevenson concluded that Swarnlata's memories appeared to be patterned by the personality of Biya, rather than just being a collection of memories telepathically extracted from other people's minds.

The next possibility is that the personality of Biya was somehow residing in the mind (and body) of Swarnlata. In other words, that Swarnlata was partially "possessed" by the personality "spirit" of Biya, which had survived Biya's physical death.

Finally, the fourth possibility is that Swarnlata was actually recalling memories from a previous life that she, or rather her spirit, had experienced. So the possible explanations for the Stevenson's Swarnlata case are fraud, extrasensory perception, possession, or reincarnation. If fraud can be ruled out, as Stevenson believed, then we are left with extrasensory perception, possession, or reincarnation as possible logical explanations of the observed facts. Two of these three possibilities would be indicative of a continued spiritual existence after physical death.

Another interesting aspect of reincarnation studied by Stevenson is that of unusual birthmarks or birth defects on children who have described previous lives that were ended by violent death (60). Here are some examples that Stevenson documented.

An Indian child who remembered the life of a man that had been killed at close range by a shotgun blast to the chest had a prominent birthmark on his chest in the same location as that of the deceased man.

A Thai child remembered the life of a man who was killed when he was struck on the back of the head with a heavy knife. This child exhibited a major skin abnormality (epidermal nevus) in exactly that location.

Stevenson mentioned 18 child reincarnation memory cases in which two birthmarks on a subject corresponded to gunshot wounds of entry and exit. In 14 of these, one birthmark was larger than the other. In 9 of these 14, the evidence clearly showed that the smaller birthmark (usually round) corresponded to the wound of entry and the larger one (usually irregular in shape) corresponded to the wound of exit. These observations reflect the fact that bullet wounds of exit are nearly always larger than wounds of entry.

A Thai woman had three separate linear hypopigmented scarlike birthmarks near the midline of her back. As a child she had remembered the life of a woman who was killed when struck three times in the back with an ax.

A woman of Burma was born with two perfectly round birthmarks on her left chest. As a child she said she remembered the life of a woman who was accidentally shot and killed with a shotgun.

Another Burmese child said that she remembered the life of her deceased aunt, who had died during surgery for congenital heart disease. This child had a long, vertical linear hypopigmented birthmark close to the midline of her lower chest and upper abdomen. This birthmark corresponded to the surgical incision for the repair of the aunt's heart.

With regard to birth defects, a child in India whose fingers on his right hand were almost absent congenitally due to unilateral brachydactyly remembered the life of another child who had put his right hand into the blades of a fodder-chopping machine and lost his fingers.

A Burmese girl born with the congenital absence of her lower right leg remembered the life of a girl who had died by being run over by a train, which severed her right leg in the process.

Then there is the phenomenon of xenoglossy. Xenoglossy is a word that may not be familiar to you. The term xenoglossy means the expression of a language that has not been learned. The speaking in ancient Egyptian by Robert Logg which was previously discussed in association with the hypnosis studies of Helen Wambach is an example of xenoglossy.

Ian Stevenson performed research on cases of xenoglossy (61). He extensively documented the xenoglossy case of Gretchen. In this case, in 1970 a woman in Mt. Orab, Ohio who had absolutely no knowledge of any German during her life, under hypnosis began speaking in German as the personality Gretchen, who had lived in the nineteenth century. During these hypnotic sessions, the Gretchen personality spoke only in German. In Stevenson's words, here is how the case began (61):

Carroll Jay (hereafter referred to as C.J.) was the hypnotist for the experiments from which this case developed. He was (and is) a Methodist minister who had developed an interest in hypnosis and skill as a hypnotist. He had begun studying and practicing hypnosis in about 1954. …… He experimented with his wife, Dolores (hereafter referred to as D.J.) and found that she was an excellent subject for hypnosis. The present case, however, did not develop from explicit suggestions by C.J. to D.J. that she should regress to a "previous life". Instead, it began as follows. C.J. had hypnotized his wife one day in order to give her relief from a backache, and in the course of this he asked her: "Does your back hurt?" To his surprise she replied: "Nein." This occurred on May 10, 1970. Although he had and has no effective knowledge of German, C.J. knew that nein means "no" in German, and a few days later, on May 13, 1970, he tried to evoke the presumably German personality again. He succeeded, and the new trance personality identified herself by saying: "Ich bin Gretchen" ("I am Gretchen"). Over the next few months further sessions were held, and Gretchen gradually emerged more fully and gave more details about herself.

Stevenson, who spoke German, conducted conversations in German with Gretchen but was only able to obtain sketchy information about her life. She said that her name was Gretchen Gottlieb and that she lived in Eberswalde, Germany. Gretchen said that her father, a Hermann Gottlieb, was the mayor of Eberswalde, and that her mother, Erika, had died when Gretchen was about eight years old. She said that she lived on Birkenstrasse in a stone house.

Gretchen related that she did not go to school, had never done so, and could not read or write. She seemed to have little knowledge of the geography in the vicinity of Eberswalde, and little knowledge of events happening outside her immediate life. She described herself as "stupid" ("dumm" in German). Gretchen stated that she was a Roman Catholic and that the head of the church was Pope Leo. She made negative comments about Martin Luther. Gretchen said that she died at the age of sixteen. Based on the sketchy information that she supplied, Stevenson deduced that Gretchen had lived in the nineteenth century, and until at least 1878 when Leo XIII became Pope.

The woman, Dolores Jay, who manifested the German-speaking Gretchen while under hypnosis, had never learned German or been exposed to German speaking people in her life. She was born into a lower middle class family in Clarksburg, West Virginia, where her father worked as a cutter in a local glass factory. She attended the local grade school, middle school, and high school. At the age of eighteen, she married her husband Carroll Jay, whom she met in high school. Carroll Jay was also from the Clarksburg area. At the time of the Gretchen manifestations, she and her husband were living in Mt. Orab, Ohio, a small town close to Cincinnati.

On April 23, 1975, Dolores Jay signed the following statement about her knowledge of German:

This is to state that, prior to the development in 1970 of the experiments at which the Gretchen personality emerged and began speaking German, I had no conscious knowledge of the German language or any awareness of having learned it, or of being able to understand or speak it.

Prior to 1970, I never studied the German language in school or elsewhere and was never, so far as I know, in the presence of anyone who spoke the German language to me or in my presence. The only spoken German that I am aware of having heard (prior to the development of the "Gretchen experiments" in 1970) occurred during radio and television programs on which some German would be spoken, as in productions dealing with the Second World War.

Dolores Jay was given a polygraph test, the results of which verified her written statement. Her parents provided a signed statement that there were no relatives, friends, or neighbors who spoke German while Dolores was growing up, and that she had never studied German in school.

So there you have the Gretchen case of xenoglossy. A middle class American woman speaking the German language as the personality Gretchen while under hypnosis. It seems abundantly clear that Dolores Jay was completely incapable of speaking even the most rudimentary German sentence in the conscious state. How was she able to do it during hypnosis? Assuming that there was no conspiracy of fraud, there would seem to be only two possible explanations. Either she was manifesting the independent spirit of Gretchen, or she was recounting aspects of a previous life that she lived as Gretchen.

I will end this discussion about reincarnation with the recent case of a young boy who related to his parents that he had lived a previous life as a World War II fighter pilot that was shot down and killed by the Japanese near the end of WWII. His very interesting story is described in the book "Soul Survivor" (62).

James Leininger was born in 1999, the son of Bruce and Andrea Leininger. At age two, James appeared obsessed with airplanes and seemed to have an uncanny knowledge of World War II planes. He also began to suffer from severe, recurring nightmares about his plane crashing. After one of these nightmares, James cried out: "Airplane crash! Plane on fire! Little man can't get out!" When Andrea, James' mother, asked him why his plane crashed, he said that it was shot down by the "Japs". A very strange account indeed for a two-year-old child.

James gradually revealed additional details. He said that the little man was "me", and that "little man's" name was also James. He stated that the airplane that the little man flew was a Corsair, which was indeed a World War II fighter aircraft that entered carrier service in 1944. He said that the airplane took off from a boat with the name "Natoma". James' father, Bruce, remarked that the ship name sounded Japanese, but James said no, that it was an American ship.

James began drawing pictures about his memories. The pictures were battle scenes with aircraft overhead, propeller-driven aircraft. James could even name the aircraft that he was drawing. He called them Wildcats and Corsairs. And he could also name Japanese planes which he drew with the red sun on their fuselages. He called the Japanese planes Zekes and Bettys and, when asked why they had boys and girls names, he said that the boy planes were fighters and the girl planes were bombers.

Bruce Leininger, James' father, was a staunch Christian and, as such, he was very reluctant to believe that James was recounting a previous life as a fighter pilot in World War II. He wanted to prove that what James was relating was wrong. So he started digging into the internet to see if he could find a World War II ship that was named Natoma. And he did! There was a USS Natoma Bay, which was an escort carrier that fought in the Pacific.

James eventually even recalled the name of a fellow World War II pilot of the "little man". He said his name was Jack Larsen. He said that the "little man" was shot down during the battle of Iwo Jima, and indeed the Natoma Bay had been at the Iwo Jima battle.

Bruce, James' father, eventually started attending veteran reunions of the Natoma Bay, under the guise that he was writing a book about the ship. From these veterans, he learned that a Jack Larsen had indeed been a pilot on the Natoma Bay at the battle of Iwo Jima, and that Jack was still alive and living in Springdale, Arkansas. Bruce also found a list of eighteen pilots on the Natoma Bay who had been killed in World War II. One of the dead pilots was a person by the name of James M. Huston Jr.. He was the only pilot on the list with the first name of James. So it seemed highly likely that James Huston was the "little man" being described by the young child James Leininger.

Bruce eventually met personally with Jack Larsen and Larsen clearly remembered the day that James M. Huston Jr. died. It was on March 3, 1945, when Larsen and Huston were both on an aircraft group strike at Chichi-Jima, in support of the Iwo Jima operation. Larsen said, however, that he did not see Huston's plane go down. The official government account of the account which was recorded right after the battle stated the following (62):

The sixteenth day at Iwo Jima, 3 March 1945, was eventful. It opened with a strike on a reported concentration of large enemy transports at Chichi-Jima. Eight FM-2s from this squadron participated in the attack. . . . . On the first attack as the fighters were retiring toward the entrance to Futami Harbor, the FM-2 piloted by Lieut. (j.g.) James M. Huston Jr. was apparently hit by anti-aircraft fire. The plane went into a 45-degree dive and crashed into the water just inside the harbor. It exploded on impact and there was no survivor or wreckage afloat. He was one of the squadron's better pilots. He was quiet and unassuming, always alert and his keen eyes tally-hoed everything within sight. He was always the first to sight aircraft and shipping; he tally-hoed (spotted) the only submarine sighted by the squadron. He was credited with the destruction of four airborne enemy planes.

At age five, the young James Leininger met with Jack Larsen and with James Huston's sister, Anne Huston. With his parents he also visited the actual site at Chichi-Jima where James Huston's airplane was shot down and Huston died.

How did the World War II memories about the death of James Huston Jr. come to be present in the mind of the young child James Leininger? The only two possibilities appear to be the possession of young James by the deceased James Huston, or that James Leininger was actually the reincarnation of James Huston. Which do you prefer?

After the extensive discussion presented above about reincarnation, you may have gotten the impression that I believe in it - you would be right. My intuition about reincarnation is based on admittedly vague personal feelings. For example, I have a long-standing and deep-rooted fear of knives. If I see a knife lying around in our home, I have the urge to put it somewhere out of the way so that it cannot harm me. The thought of being severely injured by a knife is something that seems buried in my psyche. Why? Where does this fear come from? There is nothing in my present life that would cause such a fear. I have never experienced a traumatic event with a knife that I can remember. I even asked my mother once if I ever had any accidents with a knife when I was a very little child, and she said no there had been none. Is it possible that I was killed by a knife in a previous existence?

Also, for some unknown reason, I seem to have a fondness for the time period from the 1890's to the beginning of World War I. The feelings in my mind of this time period are warm and pleasant, and I have perceptions of bucolic surroundings, slow-moving events, and loving personal relationships. Perhaps I grew up during this time somewhere in Europe or America, but met an untimely death in the trenches during the First World War. The only way that I know to attempt obtaining a more definitive answer regarding the possibility of my own reincarnation (or reincarnations) is to subject myself to hypnotic past-life regression and then see what I might (or might not) have to say. Maybe I will do this someday.




Your Personal Exit Strategy

Suppose you went to your doctor for a minor ache or pain and he ended up telling you that you have terminal cancer and only a few months to live. How would you react? Such a scenario happens every day. It is said that there are a number of well-defined stages that people go through when given such news.

The first stage is shock. You cannot believe what you have just heard from your doctor. It's not possible that something like that could happen to you. You feel a numbness in your psyche at this sudden dramatic turn of events.

The second stage is denial. The doctor can't be right, he's made a mistake. Or maybe the test results were wrong. This can't be happening to me, I've always been so healthy. I need to see another doctor and get a second opinion. But then you get that second opinion and it is the same as the first.

Bargaining is the third stage. You might think: "Please God let this not be true. Let there be some mistake. I promise that I will (fill in the blanks that apply) if You will just spare me from this trial and suffering.

After that comes guilt. Maybe if I had just (fill in the blanks that apply), then this would not be happening to me. If only I had done this-or-that, I could have saved myself this grief.

Next is anger. You are angry over the fact that you have terminal cancer, while other people are walking around healthy and normal. You are a good person, why did this awful thing happen to you. You do not deserve such a fate.

Then comes depression. What's the point in life since I am soon going to die. I don't care anymore about anything or anyone. I just want to curl up into a ball and go to sleep.

Finally, one achieves acceptance of their situation. They accept the fact that they will die in a few months and start taking the actions necessary for their affairs and their loved ones.

You know that, unless you die suddenly, this scenario will likely happen to you in some shape or form. There is no getting around it. If you have spent some time in advance thinking about death, then you will be able to move more quickly to the final acceptance stage when your time comes.

However, also consider this question. What should you be doing while you are still living that will be important to you when you are dead?

One way to think about this is to consider a situation where you have died suddenly, say from an auto accident, heart attack, or gun shot. One minute you are fully functional in the physical world, and the next minute you find yourself isolated in a place of blackness as just a point of pure consciousness, with only your thoughts to keep you company. Everything physical has been stripped away. There are no physical sensations, all is blackness, no sight, no sound, no smell, no taste, no touch - a complete lack of any physical sensory input.

Picture yourself in this state. What will be important to you at that moment? Will it be your physical appearance and abilities? You no longer have a body. Will it be the money you have made? It no longer means anything. What about your accomplishments, honors and awards? They are totally irrelevant. Will it be power over others? There is no one there but you.

In such a state, what is it that has any value to you? You will think to yourself: Am I doomed to spend eternity alone in this blackness, this nothingness? Is there anything that I can do to save myself from this awful condition? What you are likely to do is to plead for someone, anyone, to rescue you from the blackness. But the only one who can do that is the Creator of the blackness, God if you will. So you will plead to God to save you. You will do this even if you enter the blackness not believing in God. But why should God help you? The answer then becomes obvious. Because you have helped others during the time you were living. Only the help that you gave to others is of any value in the blackness.

What you need to do to prepare for death is trivially simple. Love God and Love Others. These four words are what you need to focus on during your life.

Have you thought about the day that you will die? For most people, this will have crossed their minds at least on rare occasion. Most people see that day in the hopefully far future, although in actual fact it could be tomorrow. Will it be a sunny day or a cloudy one? A hot summer day or a cold winter one? Will it be in the spring with the birds singing and new growth all around? Some people wonder what the next day will be like with them not in the world any longer. I know that I have had this thought.

People also occasionally dwell on the manner in which they will die. Some people say that they would like to die quickly and cleanly, such as in an airplane crash or an automobile accident. Others say that they want to die peacefully, at home surrounded by their relatives and closest friends. Some people wish to drift away during their sleep, going from a dream state to the spiritual state in a relatively continuous process. Still others want to go out in a blaze of glory, such as the 300 Spartans at Thermopylae. Almost no one wishes to die in a sterile hospital environment after a long and painful illness. And almost everyone seems to view the day of their death as a very bad day, one to be regarded with total dread. Your last day on Earth. How can you best prepare for that day? It will definitely come.

The best way to prepare is to live your life with the spiritual reality constantly in view. You are more than your physical body - much, much more. What will you take with you on your dying day? Will it be any of your material possessions or your worldly honors? No way. The only things that you will take with you are your love of God and the love of neighbor that you have expressed through the deeds of your life. These are your true possessions on your dying day.

What will happen on that last day when you transition from the worldly reality to the much more expansive spiritual reality? I will tell you what I personally believe happens when you die. This is my opinion based on reports of near-death experiencers and on my own intuition.

First, at the moment of death your soul leaves your physical body behind. You experience quite directly and definitively that "you" are not your body at all. The "you" is your mind/soul entity that is now remote from your body but still quite alive and aware. At death, your conscious mind dies with your brain, but your subconscious mind now becomes the consciousness of your soul.

For a while, you may observe things around you in the physical realm. You may see your body and wonder at the sight of it from a remote location such as near the ceiling of the room. If you are in a hospital, you may view the scene of medical personnel scurrying around trying to revive your dead body. But eventually the consciousness that is "you" will be transported to a very different environment.

Some people say that what you initially experience immediately after death depends a great deal upon what you believe that you will experience. If you are a Muslim and expect gardens under which rivers flow, then that is what you will initially see. If you expect to see the pearly gates of heaven, you will see them. If you expect to go to hell, you will be transported to a hellish-like place. And if you believe that death is the end of your existence, your consciousness will dwell in a void of nothingness, a total nada. Fortunately for those who believe them, these initial situations of hell and nothingness will only be temporary.

Whatever you initially expect and experience, eventually you will find yourself transported into a region of light. It is dazzling, brighter than the sun, but somehow you are not harmed by it and you can still see within it. And within the light, you will be welcomed by beings who seem to be made of light. Some may be beings that you recognize such as deceased relatives, some may be entities you do not seem to know but who somehow know you. Some you may interpret as religious figures. You have an overpowering feeling of unconditional love in the light as it envelopes you and permeates you. You feel that the light is Love and that the light is God. And you feel that you are home. You have been born again into the spiritual world. The beings welcome you with expressions of love and acceptance but their communication is totally non-verbal. They will talk to you with their consciousness, and you hear them in your consciousness.

You become aware that you now exist in a timeless realm. Hard as it is for any physical human being to comprehend, there is no "time" in the spiritual realm. There is no one-way sequential flow of events. There is only the "now", which somehow encompasses all of past, present, and future simultaneously. This "no time" aspect is the most difficult after-death reality for me to try and grasp. Yet this is what near-death experiencers report. Events that happen in "no time" can only be expressed as sequential in our physical reality, so that is what I am forced to do in order to describe what happens "next".

The welcoming phase of your spiritual rebirth eventually finishes, and you (that is, your soul, your consciousness) then proceeds to the next phase, which is a life review.

The life review is an extremely comprehensive review of the events of your entire life, from your first awareness to your last moment before death. You experience this review not only from your own memory and perspective, but also from the perspectives of all those whom you interacted with during your life. You feel the things that you felt during the various events in your life, but you also experience the feelings of those you affected. When you caused someone to feel happiness, you feel their happiness. When you caused them pain, you feel their pain. Think about the number of people you have interacted with and influenced in some way during your life. How many do you think it was? Included in this number are people that you didn't even realize that you influenced. How many times have you frowned at a stranger passing on the street rather than smiling at them. What affect did that frown have? During the life review, you feel all of this yourself.

The purpose of this life review is not to torture you, but rather for you to see firsthand the things that you learned, or did not learn, for your spiritual development during the life that you have just lived. The purpose of the life review is not to judge you. God does not judge. God loves you with unconditional love. If there is any judge during the life review, it is yourself. You realize what you did or did not accomplish for your spiritual growth.

For those who led spiritually-oriented lives, the life review should be a rather pleasant experience, but what about those whose lives were not so spiritually-oriented or who might have done evil things. What was Hitler's life review like? It is hard to imagine the hell that it must have been, the hell that he caused for himself. Perhaps he is still experiencing it. To feel the pain and suffering that he caused millions upon millions of human beings. That is truly God's justice for Hitler. Hitler is judging himself.

There are those who might say that Hitler was so evil that either he will be eternally suffering in hell, or that his essence, his soul, will be destroyed by God. I have to say that I don't believe either of these scenarios. I do not think that any soul, however evil it may have become through its free will, will ever be destroyed by God. God created that soul from Himself and God will never destroy it. The soul is a little "bit" of God. Remember that He loves every soul unconditionally and unconditional love forgives all things. God does not punish the evil soul. Rather, the evil soul punishes itself by causing itself to be severely retarded in its spiritual growth towards eventual reunion with God. It will exist in a condition that is removed from closeness to God, essentially it will exist in a hell of its own making, until it finally begins again to grow spiritually towards God.

What happens when the life review is completed? I don't know, no one knows for sure. Perhaps we spend some "time" in a spiritual heaven or hell of our own making, before reincarnating into another life to allow us to continue working off our bad karma. And our ultimate destiny? My intuition is that we are all destined to reunite with God, to be completely absorbed back into the totality of the Source, the Whole, the Cosmic Consciousness. The individualized spiritual drop that is "I" is ultimately absorbed into the Spiritual Ocean from whence it came. But we may have to experience many physical lifetimes and many spiritual lifetimes before complete reunion with God.

But you need to know this: The day of your death is more joyous than the day of your birth. So do not be afraid. You are making the journey back to your true spiritual home. You are re-entering a much more expansive realm of existence.

You have so much to look forward to.




References

1. B. Russell, "A Free Man's Worship", Thomas Bird Mosher, Portland, Maine, c. 1923.

2. R.G. Mays and S.B. Mays, "The Phenomenology of the Self-Conscious Mind", Journal of Near-Death Studies, vol. 27, no. 1, 5-45 (2008).3. The Egyptian Book of the Dead, written and illustrated circa 1250 BCE by scribes and artists unknown, translated by R.O. Faulkner, Chronicle Books, San Fransciso, second revised edition 1998.4. The Bhagavad Gita, translated by E. Easwaran, Nilgiri Press, Tomales, California, c. 1985.5. The Tibetan Book of the Dead, translated by R.A.F. Thurman, Bantam Books, New York, c. 1994.6. The Gospel of Mark, translated by W. Barclay, Westminster John Knox Press, Louisville, Kentucky, c. 1975.7. The Gospel of Luke, translated by W. Barclay, Westminster John Knox Press, Louisville, Kentucky, c. 1975.8. The Gospel of Matthew, translated by W. Barclay, Westminster John Knox Press, Louisville, Kentucky, c. 1975.9. The Gospel of John, translated by W. Barclay, Westminster John Knox Press, Louisville, Kentucky, c. 1975.10. "The Blood and the Shroud", Ian Wilson, Simon and Schuster, c. 1998.11. "The Church History", Eusebius, translation and commentary by P.L. Maier, Kregel Publications, Grand Rapids, Michigan, c. 1999.12. R.N. Rogers, "Studies on the radiocarbon sample from the shroud of turin" Thermochimica Acta, vol. 425, 189-194 (2005).13. Wikipedia: List of unusual deaths.14. "The Definition of Death", edited by S.J. Youngner, R.M. Arnold, and R. Schapiro, The Johns Hopkins University Press, Baltimore, Maryland, c. 1999.15. Duncan MacDougall, "Hypothesis Concerning Soul Substance Together with Experimental Evidence of The Existence of Such Substance", American Medicine, April 1907.16. A.J. Deikman, "I = Awareness", Journal of Consciousness Studies, vol. 3, no. 4, 350-356 (1996).17. D.J. Chalmers, "The Puzzle of Conscious Experience", Scientific American, December 1995, 62-68. 18. "Sleeping, Dreaming, and Dying: An Exploration of Consciousness with the Dalai Lama", edited and narrated by Francisco J.Varela, Wisdom Publications, Somerville, Massachusetts, c. 1997.

19. R.G. Mays and S.B. Mays, "The Phenomenology of the Self-Conscious Mind", Journal of Near-Death Studies, vol. 27, no. 1, 5-45 (2008). 20. "The First Principles: A Scientist's Guide to the Spiritual", John Joseph Petrovic, BookSurge Publishers, c. 2008.21. "Into the Light", John Lerma, Career Press, Franklin Lakes, New Jersey, c. 2007.22. "Learning From the Light", John Lerma, Career Press, Franklin Lakes, New Jersey, c. 2009.23. "Life After Life", Raymond A. Moody Jr., Bantam Books, New York, c. 1975.

24. "The Republic", Plato.

25. "Moralia", Plutarch.

26. "Memories, Dreams, and Reflections", C. Jung, Pantheon Books, New York, c. 1961.

27. "The Man Who Came Back From the Dead", by John McNeil of Challenge Weekly, Christchurch, New Zealand, April 30, 2007.

28. P. van Lommel, R. van Wees, V. Meyers, I. Elfferich, "Near-death experience in survivors of cardiac arrest: a prospective study in the Netherlands", The Lancet, vol. 358, 2039-2045 (2001).

29. S. Parnia, D.G. Waller, R. Yeates, P. Fenwick, "A qualitative and quantitative study of the incidence, features and aetiology of near death experiences in cardiac arrest survivors", Resuscitation, vol. 48, 149-156 (2001).

30. S. Parnia and P. Fenwick, "Near death experiences in cardiac arrest: visions of a dying brain or visions of a new science of consciousness", Resuscitation, vol. 52, 5-11 (2002).

31. B. Greyson, "Incidence and correlates of near-death experiences in a cardiac care unit", General Hospital Psychiatry, vol. 25, 269-276 (2003).

32. R.H. Smit, "Corroboration of the Dentures Anecdote Involving Veridical Perception in a Near-Death Experience", Journal of Near-Death Studies, vol. 27. no. 1, 47-61 (2008).

33. "Recollections of Death", Michael B. Sabom, M.D., Wallaby Books, New York, NY, c. 1982.

34. "Light and Death", Michael Sabom, M.D., Zondervan Publishing House, Grand Rapids, MI, c. 1998.

35. K. Ring and S. Cooper, "Near-Death and Out-of-Body Experiences in the Blind: A Study of Apparent Eyeless Vision", Journal of Near-Death Studies, vol. 16, 101-147 (1997).

36. E.W. Cook, B. Greyson, and I. Stevenson, "Do Any Near-Death Experiences Provide Evidence for the Survival of Human Personality After Death? Relevant Features and Illustrative Case Reports", Journal of Scientific Exploration, vol. 12, no. 3, 377-406 (1998).

37. "What Happens When We Die", Sam Parnia, M.D., Ph.D, Hay House, Inc., Carlsbad, California, c. 2006.

38. "Sleeping, Dreaming, and Dying: An Exploration of Consciousness with the Dalai Lama", edited by Francisco J. Varela, Wisdom Publications, Somerville, Massachusetts, c. 1997.

39. C.T. Tart, "Psychophysiological Study of Out-of-the-Body Experiences in a Selected Subject", Journal of the American Society for Psychical Research, vol. 62, 3-27 (1968).

40. "Journeys Out of the Body", Robert A. Monroe, Doubleday, New York, c. 1971.

41. C.T. Tart, "Second Psychophysiological Study of Out-of-the-Body Experiences in a Selected Subject", International Journal of Parapsychology, vol. 9, 251-258 (1967).

42. "Mind Trek", Joseph McMoneagle, Hampton Roads Publishing, Charlottesville, Virginia, c. 1993.

43. "Memoirs of a Psychic Spy", Joseph McMoneagle, Hampton Roads Publishing, Charlottesville, Virginia, c. 2002.

44. "Far Journeys", Robert A. Monroe, Broadway Books, New York, c. 1985.

45. "On Death and Dying", Elisabeth Kubler-Ross, Tavistock Publicatons Limited, Great Britain, c. 1969.

46. "On Life after Death", Elisabeth Kubler-Ross, Ten Speed Press, Berkeley, California, c. 1991.

47. "Phantasms of the Living", E.M. Sidgwick, Arno Press, New York, c. 1975.

48. I. Stevenson, "Six Modern Apparitional Experiences", Journal of Scientific Exploration, vol. 9, no. 3, 351-366 (1995).

49. "Incidents in My Life", D.D. Home, A.J. Davis & Company, New York, c. 1864.

50. W. Crookes, "Notes of an Enquiry into the Phenomena called Spiritual during the years 1870-1873", Quarterly Journal of Science, January 1st 1871.

51. "Voice From Beyond", Gilbert Roller, Popular Library, New York, c. 1975. (Letter from William Crookes that appeared in spiritualist journals in April 1874).

52. G.E.R. Schwartz, L.G.S. Russek, L.A. Nelson, and C. Barentsen, "Accuracy and Replicability of Anomalous After-Death Communication Across Highly Skilled Mediums", Journal of the Society for Psychical Research, vol. 65, 1-25 (2001).

53. "The Afterlife Experiments", Gary E. Schwartz with William L. Simon, Atria Books, New York, c. 2002.

54. "Flatland-A Romance of Many Dimensions", Edwin A. Abbott, (first published in 1884 under the pseudonym "A. Square"), Dover Publications, New York, c. 1992.

55. R.J. Brumblay, "Hyperdimensional Perspectives in Out-of-Body and Near-Death Experiences", Journal of Near-Death Studies, vol. 21, 201-221 (2003).

56. P. Maquet, et.al., "Functional Neuroanatomy of Hypnotic State", Biological Psychiatry, vol. 45, 327-333 (1999).

57. "The Search for Bridey Murphy", Morey Bernstein, Doubleday, New York, c. 1956.

58. "Reliving Past Lives", Helen Wambach, Harper & Row, New York, c. 1978.

59. "Twenty Cases Suggestive of Reincarnation", Ian Stevenson, University Press of Virginia, Charlottesville, Virginia, c. 1974.

60. I. Stevenson, "Birthmarks and Birth Defects Corresponding to Wounds on Deceased Persons", Journal of Scientific Exploration, vol. 7, no. 4, 403-410 (1993).

61. "Unlearned Language: New Studies in Xenoglossy", Ian Stevenson, University Press of Virginia, Charlottesville, Virginia, c. 1984.

62. "Soul Survivor: The Reincarnation of a World War II Fighter Pilot", Bruce and Andrea Leininger with Ken Gross, Grand Central Publishing, New York, c. 2009.
---